Ho ho ho! 'Tis the season to be jolly, and nobody knows more about being jolly than our favorite A-listers! Have you always wondered how the rich and famous spend their holidays? Turns out it's not all that different from us regular people. Last year, most of the Hollywood stars chose to spend Christmas at home surrounded by their family and friends, and honestly – I can't think of a better way to spend the holidays! However, even when they stay in, they do it with style, and so looking at their Christmas photos is always a treat and an inspiration, because when they do something – they go all the way.
Kim Kardashian and Kanye West
If there's anyone in this world you can count on for having a fancy Christmas celebration, it's Kim Kardashian. Like anything else in her life, Kim Kardashian went all the way in her 2018 Christmas celebration – in the pictures below you can see the Christmas decoration in her house. It's funny though, because not too long ago Kim and Kanye decided to go minimalist and emptied their house completely out of furniture, but I guess this was just a phase.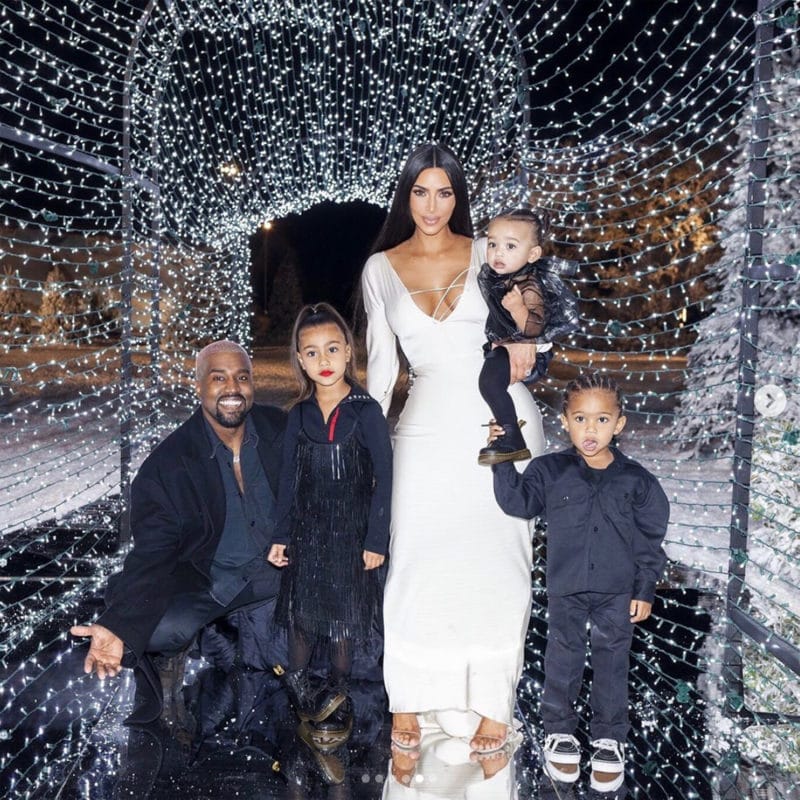 These Christmas photos prove otherwise! Since Christmas is a family holiday, and as we all know, the Kardashian's are a close family, every year they celebrate the holidays together at an impressive Christmas bash, usually hosted by the mother of the household – Kris Jenner. This year, though, the annual dinner party was hosted by Kim and Kanye at their Calabasas mansion for all the Kardashian-Jenner crew, and it was the image of luxury.
The Kardashian's
We had to put another photo of the extended family, because they put so much effort into it! This is the Kardashian's 2018 Christmas card – wouldn't you like to get one of those? Kim posted the picture saying this was an extremely busy year for all of them, so they took the picture spontaneously and at the last-minute.
This doesn't seem neither spontaneous not last minute to me, but everything this family touches always somehow turns out glamorous. While most people choose to wear green and red Christmas sweaters for their Christmas cards, in the spirit of the holiday, the Kardashian's chose a more clean, angelic look. They tend to do things a little differently than most of us, but that's why we love them.
Jennifer Lopez
Last year many celebrities, including Jennifer Lopez, chose to stay in for the holidays and celebrate Christmas at home with the family. Jennifer Lopez and Husband Alex Rodriguez stayed home, wore matching pajamas, and invited the entire family for a cozy Christmas celebration. Jennifer's mother and kids from previous marriages also joined in on the fun.
The multi-talent also posted photos of her decorating the tree with the children – a Christmas tradition that doesn't pass over the celebrities! Though it seems like they are always on the move, constantly planning their next big hit, even celebrities celebrate Christmas with the family and cherish those little moments. This year, however, the singer will have a more adventurous holiday, and it started with her opening performance of the Saturday Night Live Christmas special.
Joe Jonas and Sophie Turner
The newlyweds spent the holiday together in England – in Sophie's hometown. She hosted a Christmas dinner party at her house in Warwick, and (almost) the entire Jonas family flew from the U.S to attend the festive dinner. Nick Jonas and his new bride actress Priyanka Chopra were also spotted at the family dinner, but the third Jonas link was missing – he preferred to spend the holidays in the U.S.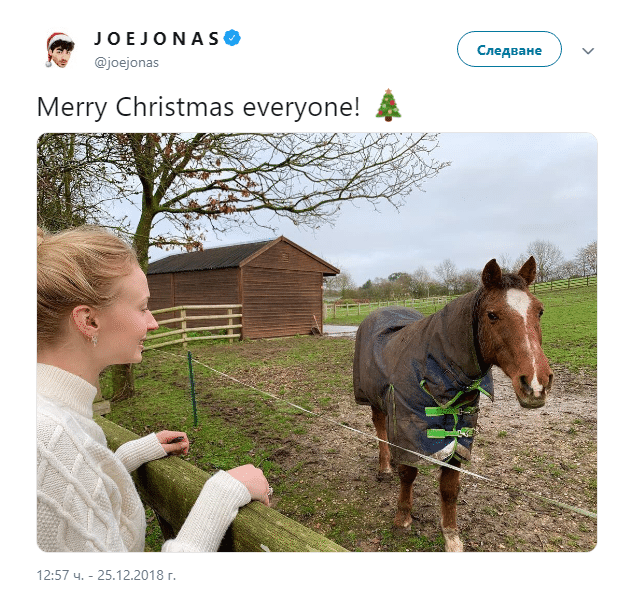 They made an entire trip out of it, and throughout the holiday, the extended family traveled and enjoyed Warwick's countryside. Even the Queen of the north takes a break from her duties sometimes to spend time with the people she loves. Since last year it was in her hometown, perhaps the couple will spend this holiday season in the U.S with Joe's family.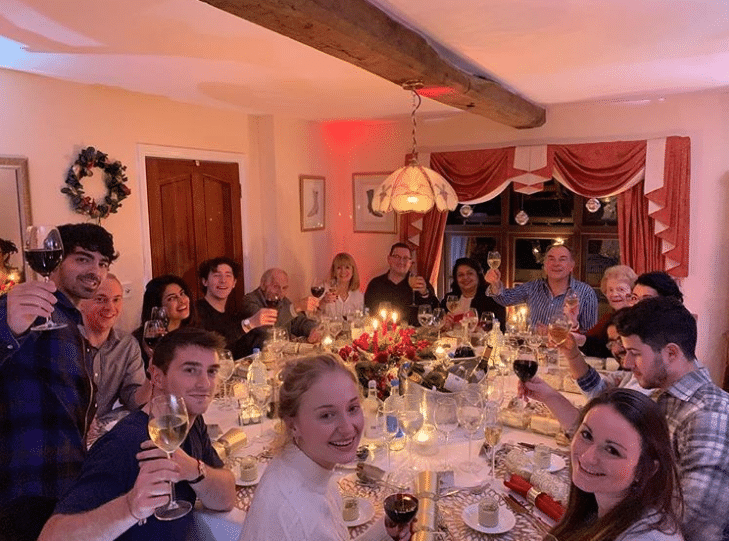 Katy Perry
Hands down, Katy Perry is the celebrity with the best Christmas spirit! From her very first video way back when – we could tell the singer has a soft spot for costumes and theatrics – she likes being over the top and she isn't afraid of looking silly, and that's something we can appreciate! But we never suspected she'd go as far as being a Christmas tree.
However, the holiday cheers bring out the best of us, and for Katy Perry that means dressing up as a tree, for her fans to feel the Christmas vibes all the way. Last year at a New York show, she went up on stage dressed as a Christmas tree (with makeup to match) – and it was magnificent. We hear that this year she has something special planned for us as well, with a very merry new video in the spirit of Christmas; stay tuned!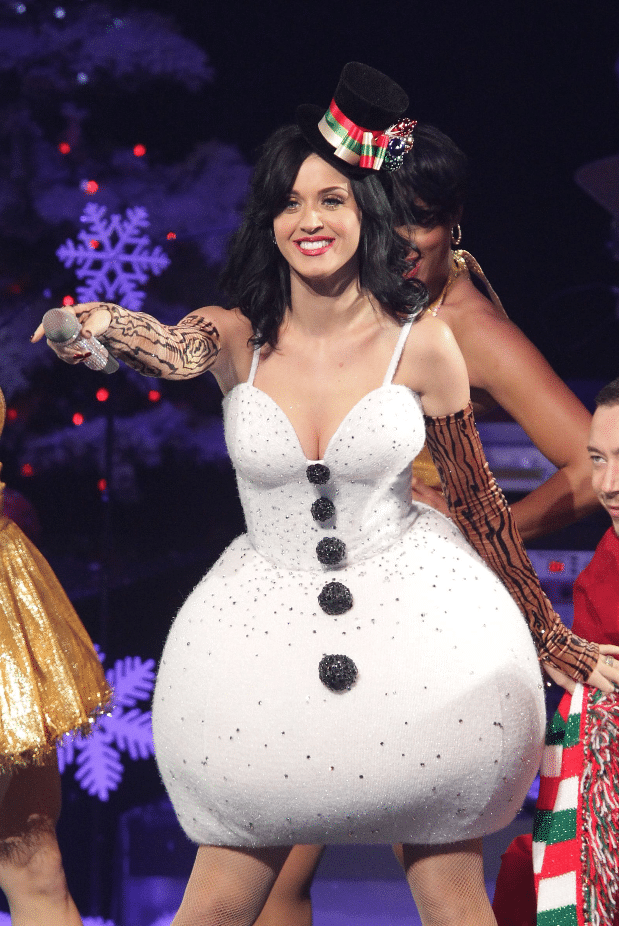 Will Smith
Runners up after Katy Perry for the best holiday spirit are Will Smith and Jada Pinkett Smith dressed as Santa Claus and his helper Rudolph the Reindeer. This was on Christmas morning, and you must admit, they make a more attractive version of the famous duo. The actor captioned this photo on his Instagram page, "We look a 1970's Cop Duo patrolling the North Pole! Claus & Rudy – Sleighin' All Night! Slayin' All Day!"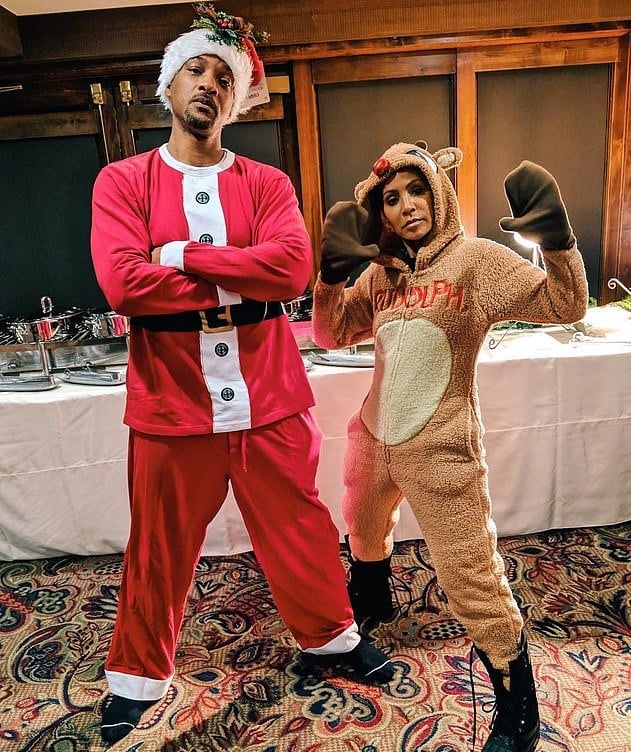 On Christmas eve the couple celebrated a (not so quiet) night in with the family, with their kids who aren't really kids anymore – his youngest daughter is already 20. It's nice to see that even when the kids are all grown up, they still spend Christmas at home with the family. There's something about this holiday that brings people together.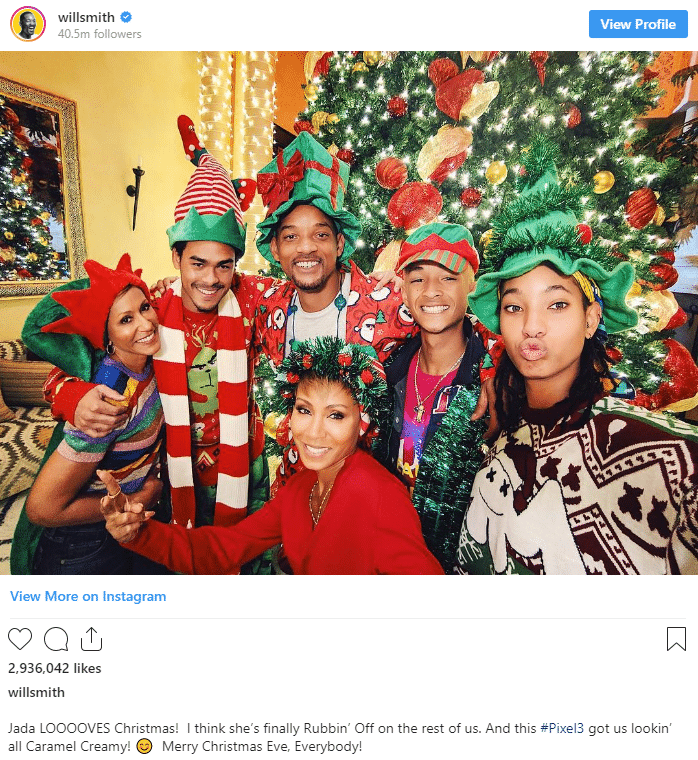 Lady Gaga
While most celebrities chose to stay in this holiday season, this wasn't the case for Lady Gaga, who was busy as a bee. On Christmas eve, she was spotted getting off an airplane with her dog in Las Vegas. She was arriving Christmas eve to prepare for her much-anticipated Enigma residency in Vegas, a 'tour' of concerts held exclusively in Las Vegas.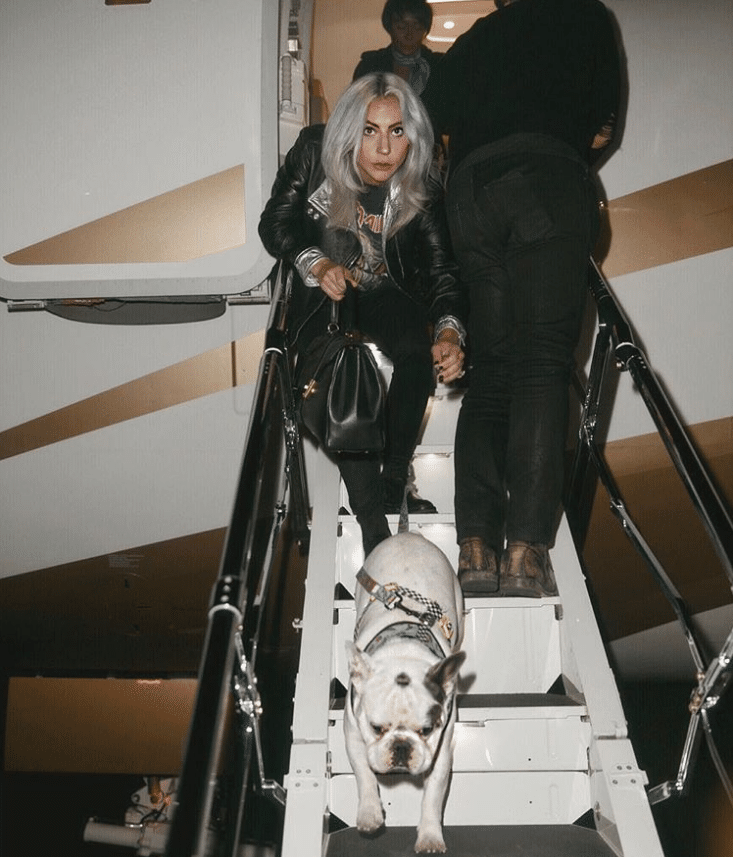 The Enigma tour opened on December 28, and so on Lady Gaga is one of the few celebrities who didn't get to spend the holidays with their loved ones, but had to work hard in preparation for her big concert! At least she wasn't completely alone – as the picture shows, she brought her dog Gustavo for moral support.
Kris Jenner
Who knew the glamorous Kris Jenner can spend hours at the kitchen making Christmas treats? I didn't see her as one to stand with an apron and decorate gingerbread houses, but apparently the holiday spirit works its magic on everyone! Last year Kris Jenner posted this heartwarming photo on Instagram along with the caption "I love to cook especially on Christmas." Apparently, she has been up cooking from 4 a.m! Can anyone relate?
This photo only shows the gingerbread house, which is quite impressive on its own, with the names of the family covering it, but it's only a small portion of the treats she had prepared! Whoever follows Keeping up with the Kardashian's knows that Kris is a very homey person, and she cherishes her family, and so it shouldn't really come as a surprise that she spends every holiday season with the family.
Mariah Carey
Mariah Carey is a Christmas symbol of sorts: she was branded Queen of Christmas after giving one of the most memorable performances of "All I Want for Christmas is You" at the Beacon Theater every year since 2014. Later, her hit song "All I Want for Christmas is You" became one of the biggest selling singles of all time, and for good reason!
The singer performs her Christmas tour every year since 2014, including last year (and this year – and every year it gets better!), but somehow she also found the time to spend time at home with her kids, and take a horse ride! Celebrities excel at multi tasking, and even when their busy with business and career duties, they always find the time to have fun.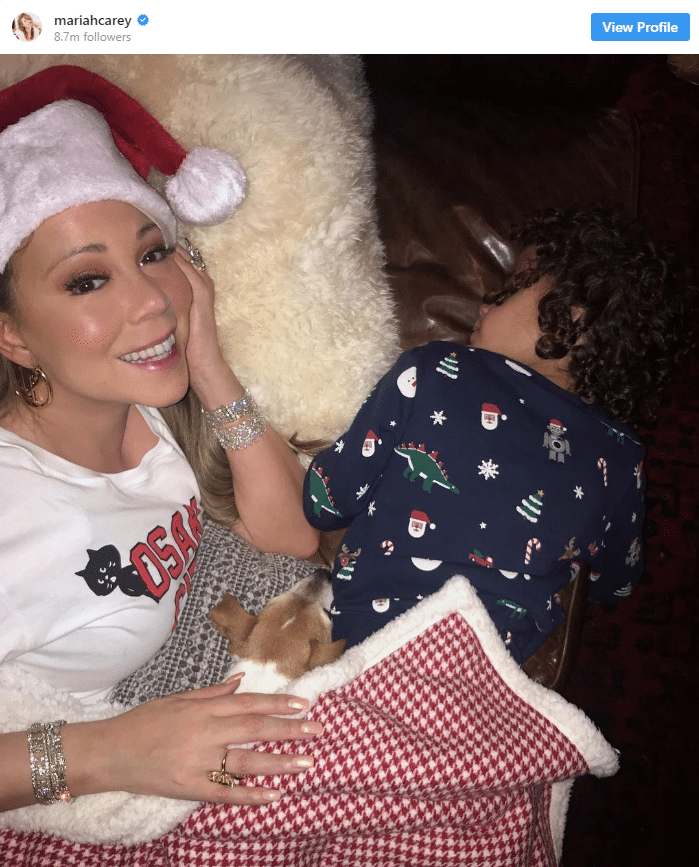 Kaley Couco
You probably didn't know this about her, but Kaley Couco is a major dog person! She has three dogs, which she consider her babies. That's why it only makes sense that she spent the holiday season with them. Her Christmas card, by the way, was a photo of her dogs dressed up in front of the Christmas tree, no pretentions or anything too fancy. Wouldn't you like to get a card like that? I know I would.
Of course, her dogs aren't her only family, and so she spent the holidays with her friends and husband as well, all in adorable matching pajamas in the spirit of the holiday – that's how you do it! In case you were wondering, she dresses her dogs up every year, and she also rocks those Christmas sweaters (the embarrassing ones) with her husband. That's what I call a Christmas spirit.
Zac Efron
The actor spent Christmas 2017 in quite a different way than most people (and most celebrities). After wrapping up the shoot of his new film The Greatest Showman, Efron needed a little break from life, and what better way to do it than go hiking in the mountains? Naturally, this photo that he posted on his Instagram account was a hit among his followers. After all, Christmas isn't exactly the time to go topless.
Instead of wishing his fans the usual "Merry Christmas" greeting, Efron captioned his photo "May your holidays be epic" – it's understandable that the actor wanted to escape the cold Christmas weather and enjoy himself after several intense months of work, though if you ask us – there's nothing more relaxing than staying in with a cozy Christmas sweater, some eggnog and a good Christmas movie.
Julianne Hough
Dancing with the Stars champion Julianne Hough celebrated Christmas with the family, including, of course, her cat. No, she's not pregnant, in case you were wondering – unless being pregnant with Christmas cheer counts! Hough is a cat person, and she has her own little army of cats (and dogs) which are part of the family. Every year she spends Christmas with the family wearing adorable jumpsuits (and posing for adorable pictures).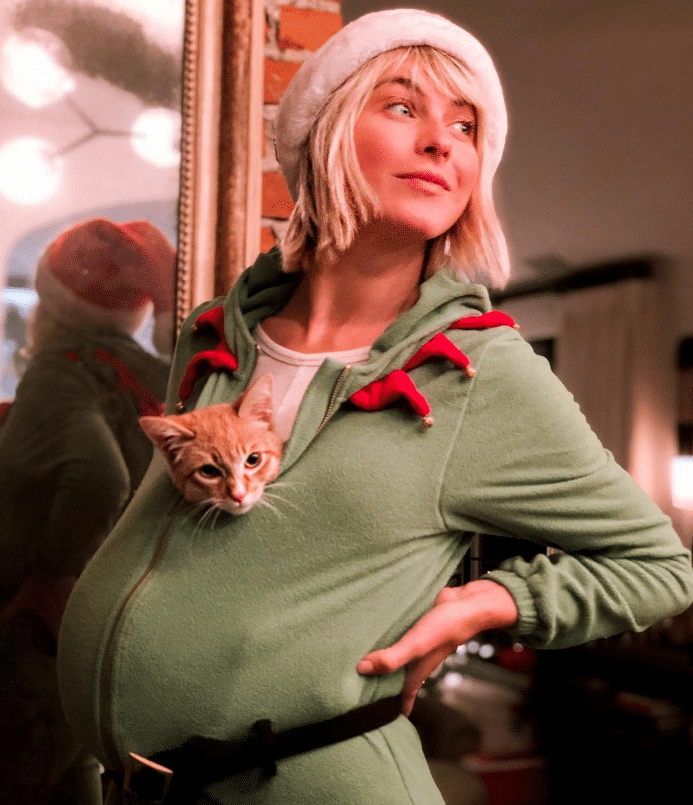 This year, though, the actress and her talented dancer brother, Derek, have something special planned for us – they will be hosting an NBC special Christmas show – Holidays with the Houghs. On top of that, Julianne also rocked the stage dancing on the NBC Christmas special last week in Rockefeller Center. It seems like this holiday season the actress might not have the extra time to spend with her beloved pets, as sh'es jumping from one Christmas performance to another.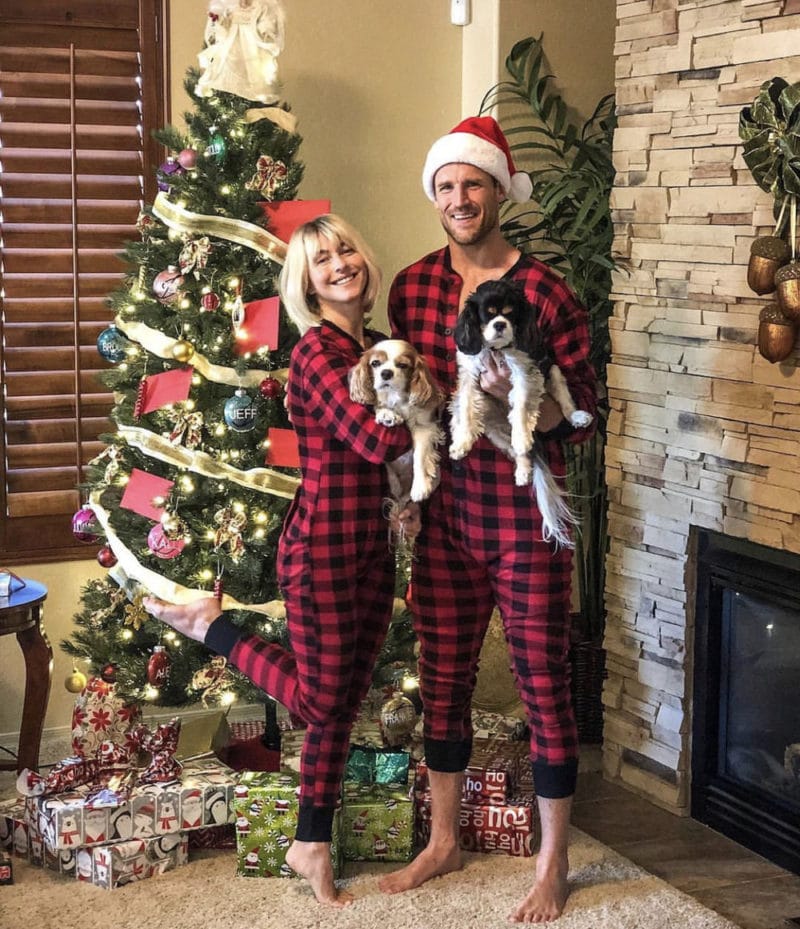 Hilary Duff
Lizzy McGuire actress Hilary Duff has a soft spot for Christmas, perhaps because it makes her nostalgic. Last year she posted this adorable picture of her kids meeting Santa for the first time! Meeting Santa is for the first time is always an exciting event, sometimes for the parents even more – it's a big milestone for their children. However, her 1one month old baby, Banks, doesn't seem too happy about it! Unlike her older son. Perhaps she wasn't ready for the occasion just yet.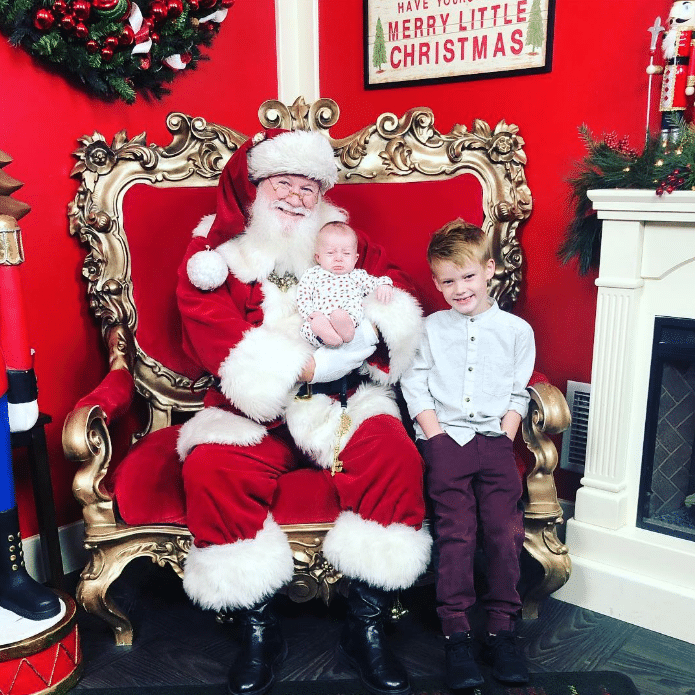 It didn't hamper Duff's Christmas spirit, though, as she later posted pictures of her happy little family at home on Christmas eve, decorating the tree and enjoying each other's company. This is the first Christmas Duff celebrated with her fiance Matthew Koma (engaged, that is, since their relationship dates years back), and they now have a little family to share it with!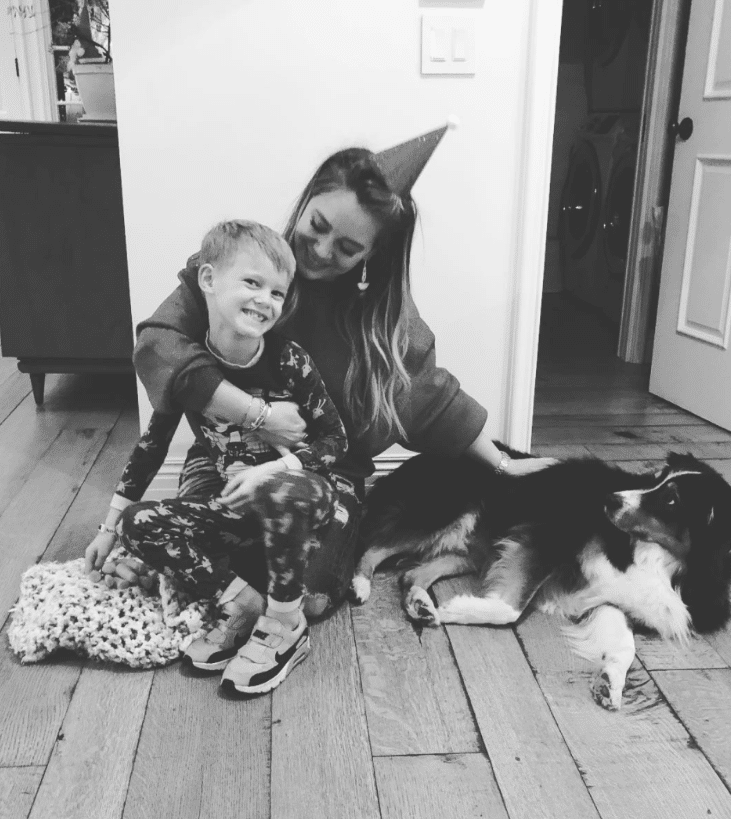 Oprah Winfrey
Every year right before Christmas and new year's eve, Oprah Winfrey posts a list of her favorite things – a list of suggestions for holiday gifts (in case you haven't done your Christmas shopping yet, it's recommended to take a look on Oprah's magazine – it's bound to give you some ideas). She also celebrates Christmas with the family, and there's almost nothing she appreciates more than this time of the year.
Last year she posted a video of her big family wishing her fans a happy holiday. Her plans were watching Christmas classics and, of course, eating! After all, what are holidays for if not spending time with family and eating? It shouldn't come as a surprise that Oprah enjoys spending the holidays with her big family in matching pajamas – she's the ultimate image of the perfect family.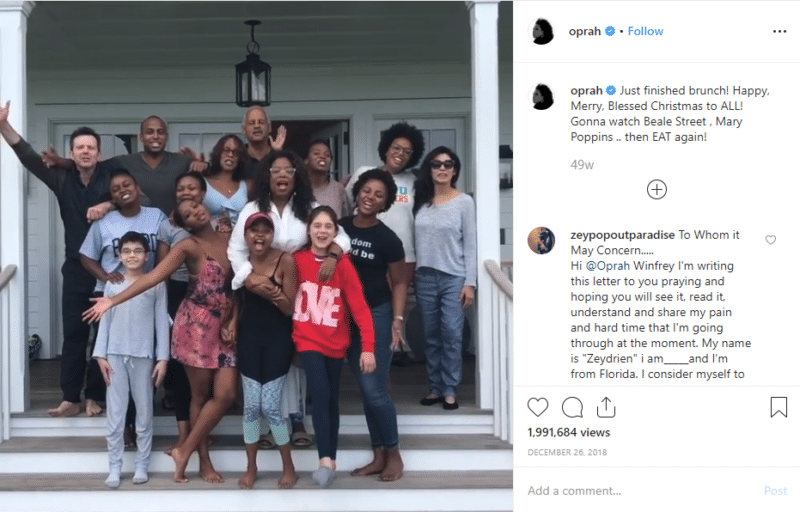 John Legend
The last holiday season was a busy one for the singer John Legend, as he released his very first Christmas special album – A legendary Christmas. He spent the two months from Thanksgiving to Christmas touring his new album, but luckily, he made it back home just in time to celebrate the holiday with his growing family!
The singer spent Christmas eve with his wife Chrissy Teigen and their three year old daughter. Last Christmas Chrissy was pregnant with their first son, and so this year the couple will be celebrating the holidays with two children! What's curious is that though they were only three people in the household, the tree is full of Christmas gifts!
Reese Witherspoon
The Legally Blonde star (yes, that's how we'll always remember her, though she has won an Academy Award for her role in Walk the Line), is a Christmas-buff. Witherspoon loves the holidays, and so it seems like a match made in heaven that she's the brand ambassador of Crate & Barrel. That's why her Christmas starts early every year (and why she always picks the best Christmas gifts).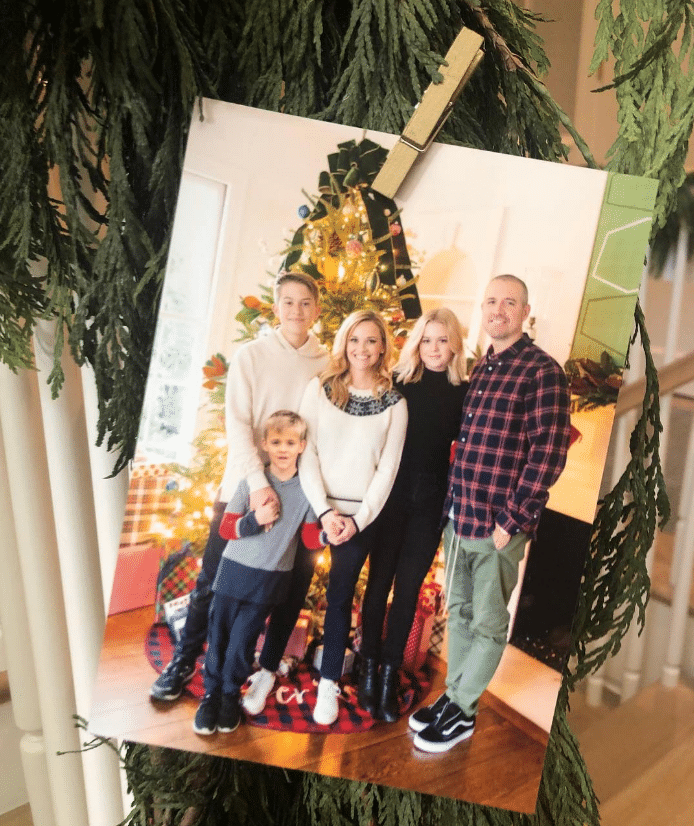 Last year the actress celebrated with her family and made the cutest Christmas card with her husband and three children. Reese Witherspoon knows a lot about Christmas, and here's a cool tip you can take from her: put your Christmas card on your tree as decoration!
Gigi Hadid
The supermodel was up to something special the last holiday season. In a surprising collaboration, she was asked to design the new uniform for the toy soldiers of the major toy chain Schwarz, and she participated in the glamorous opening of the New York Schwarz in a playful soldier suit. Who knew she had this hidden talent? I guess Christmas really is a time when anything can happen.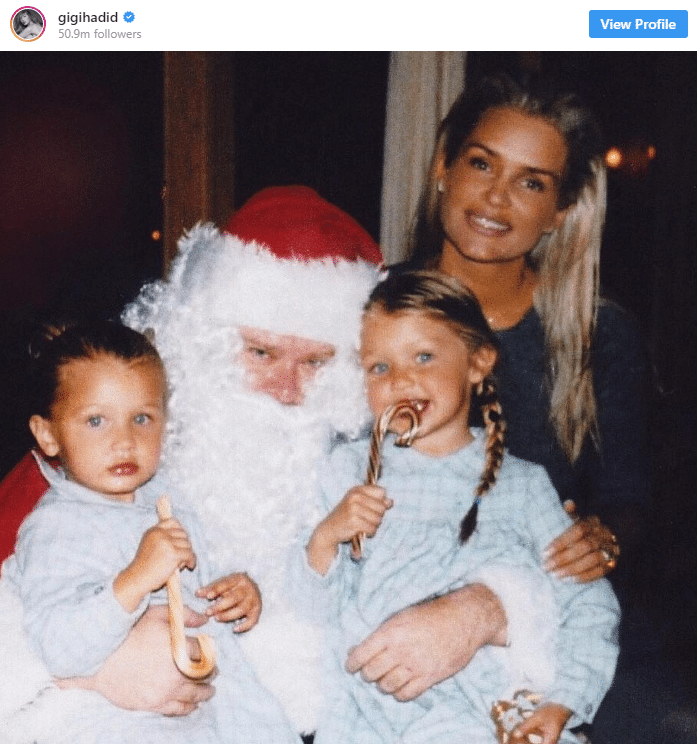 The model also shared that she's an extremely sentimental person, and so she took the opportunity to reflect on her family's Christmas traditions. As the picture shows, one of these traditions involved her father dressing up like Santa to surprise the girls on Christmas eve. She also shared that the holidays are a time for family in the Hadid household, and every year they spend Christmas at the family's farm house cooking, watching Christmas movies and spending time together.
Eva Longoria
2018 was the first year the actress spent Christmas with her 6 months old baby (at the time), and you can imagine how exciting that must have been for her. The little family spent the holidays in Mexico, but Eva's favorite attraction wasn't the beach nor the food, but her little baby boy Santiago. She said that the thing she was looking for most in this holiday season was napping with her baby.
This was a special occasion not just for baby Snatiago celebrating his first Christmas, but for Eva, as it was her first holiday season as a parent! Perhaps the 43-year old actress was used to attending glamorous parties and events before her first son was born, but this changed things for her, and she couldn't be more thankful for this blessed change. For comparison, in 2016 the couple spent Christmas on the beach (complete with a tree!)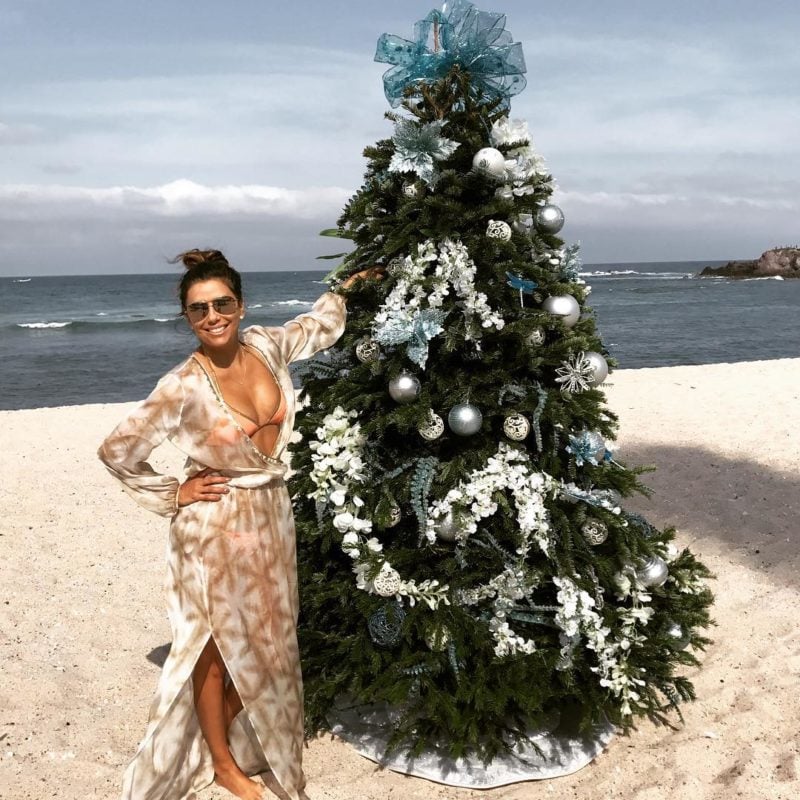 Madonna
The photo of Madonna as a Christmas tree is an old one, but we had to share it! Madonna has had her fair share of Christmas shenanigans, parties, performances and scandals over the years, and so last year she decided that enough was enough, and she spent the holidays in with the family. Well, she did reach her sixties, so there's no better time to finally settle down and enjoy some quiet quality time with the family.
On Christmas eve last year she posted a family photo with four of her six children, aged 6-13. Christmas isn't the only holiday for family-time, and the Queen of Pop also celebrated this year's thanksgiving with her four adopted children. They spent the holiday in Malawi, the home country of her four adopted kids; the singer said she was most thankful for her kids that entered her life only a few years ago and illuminated it since.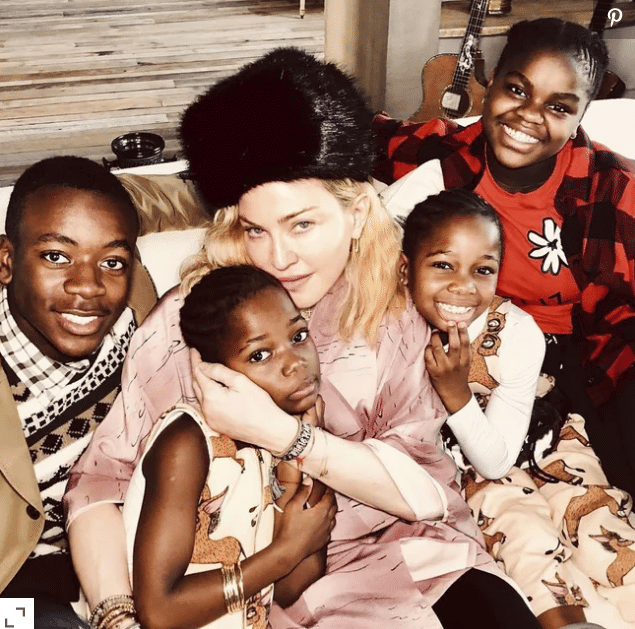 Celine Dion
What more can a person need to have a merry Christmas than being surrounded by loved ones? The Grammy-winning singer celebrated the last holiday season with her elder son R.C and twins Eddie and Nelson, and of course the two family dogs, Charlie and Bear (don't ask me who's who).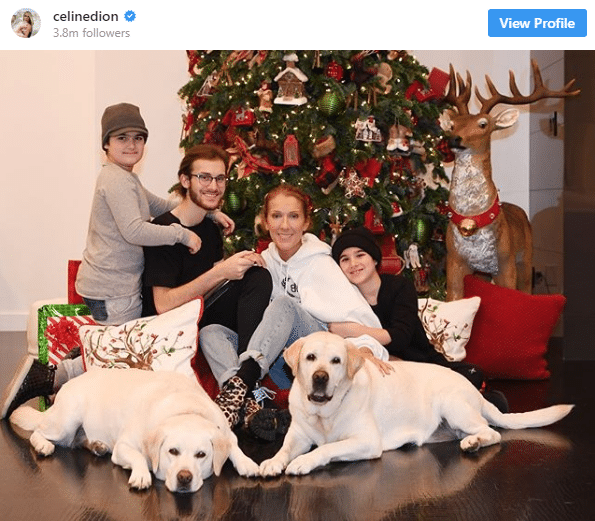 Since her husband's tragic death three years ago, after battling a disease, Dion has become especially close with her three children. It was a tough time for the family, and it made them closer, since all they had for support was each other. This was their third Christmas without their husband and father, but as the singer shared, he is always in their hearts.