Imagine your dream house. Now imagine it ten times bigger, ten times prettier and ten times more expensive! Even if you tried, you couldn't imagine in your wildest dreams some of these celebrities' houses. Summer is the season for moving; something about the hot weather makes people itching to relocate, and just like everything else, there's no better place to turn to for some style inspiration than our most glamorous celebrities. You might not be able to afford these houses, as some of them cost over $80 million, but the celebrities' magnificent houses are sure to give you the inspiration that you need.
Taylor Swift
Taylor Swift's house review is the hardest, because she doesn't have just one house, but eight! Choosing the nicest one is probably one of the hardest things you'd ever have to do. Our favorite is one of her New York apartments, located in the trendy neighborhood of Tribeca.
The successful singer has several apartments in New York, a home in Nashville (which she considers her hometown), an estate in Beverly Hills, a Rhode Island beach house, how many did we count yet? Together they're estimated at around $84 million.
Kendall Jenner
Whoever keeps up with Keeping Up with The Kardashians knows that Kendall is the most modest out of the five sisters. That being said, her house is still pretty extravagant, to say the least.
In 2017 she moved from Hollywood to the more secluded Mulholland Estates of Beverly Hills, to a house worth $8.5 million, with no less than 6 bathrooms. This house has a legacy of celebrities, as Jenner purchased it from Charlie Sheen.
Khloe Kardashian
If Kendall is the most modest out of the five sisters, Khloe just might be the opposite. Her latest house is the former house of Justin Bieber in Calabasas. It may have cost less than Kendall's house (only $7.2 million), but it has a massive wine cellar and a guest house.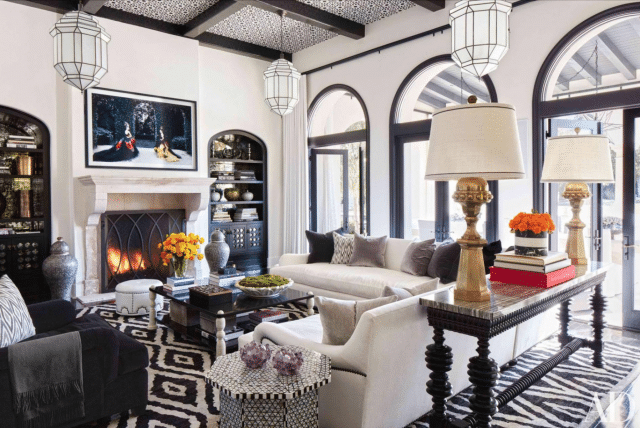 Her decorating scheme is the best part though – it consists of mostly black, white and grey furnishing – you can't go wrong with that. We don't know about you, but we're drooling with envy already.
Justin Bieber and Hailey Baldwin
The Beverly Hills mansion the recently married couple purchased was built in 1930 (but not to worry, it was recently renovated). Now it has both a vintage and a modern look.
The mansion, named by its former owner "The Tropics," cost $8.5 million. In case you thought otherwise, what you see in the picture is only one of the living rooms in the house.
Blake Lively and Ryan Reynolds
Hollywood's hottest couple, that's going strong since 2012, live in the suburbs of New York (where else can the New Yorker in heart Serena Van Der Woodson set her home?) in an estate estimated at $5.7 million.
Lively and Reynolds value their privacy, so unfortunately for us there aren't many photos of the interior of their house, but rumor has it that they are well-liked around the community and are spotted constantly at the local hang-out places.
Adam Levine
As if it's not enough that he's super talented and suspiciously good-looking, Adam Levine has an amazing house as well. Located in Beverly Hills, it's estimated at $47 million.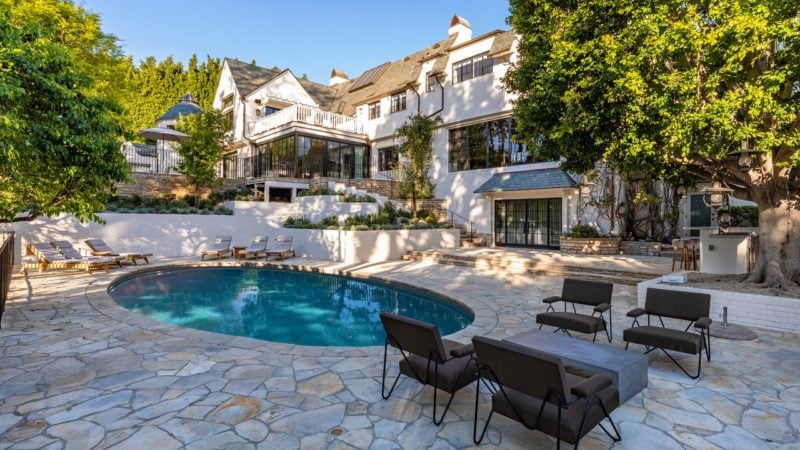 The only question is – why is he selling this gem? Levine recently put out his house on the market, and rumor has it that Ellen DeGeneres is interested.
Jennifer Lopez
What's up with all the celebrities selling their amazing houses? If I lived in a house like this, I'd never want to move out! J. Lo and Alex Rodriguez recently put their New York condo on the market.
It has three bedrooms and 4.5 bathrooms (what's a half bathroom?), on the 36th floor of a tall Park Avenue tower. While they bought it less than a year ago for $15 million, they're now hoping to sell it for no less than $17.5 million.
Kim Kardashian and Kanye West
You might have heard that Kim and Kanye decided to go with the latest trend of minimalism and emptied their house of (almost) every piece of furniture. Here's a peek of what it looked like before the renovation (aka the biggest mistake of their lives):
The house might be empty and somewhat creepy now, but it's still huge and impressive. It's 8,000 square feet (which seem even larger now without the furniture), estimated around $20 million.
Rihanna
Hurry up before it's too late: Rihanna's house is for rent at only $35,000 per month. The singer bought this Hollywood estate about a year ago for $6.8 million.
Perhaps the reason she's leaving this dream house is that someone broke in to the house while she was away and spent an entire night there! Who would feel safe after something like that?
Kylie Jenner
This isn't Kylie Jenner's only house but her latest one. At the age of 21, she purchased this house for the sum of $16 million. The mansion is located in Hidden Hills, California, close to her sisters.
It seems as if the youngest sister has the most expensive taste: the mansion has eight bedrooms, 11 bathrooms (a bathroom for each sister and nephew?) and is extremely tasteful and modern.
Scott Disick
Lord Disick lives in a house suitable for a lord. Practically a Kardashian by now, although he's no longer married to Kourtney, Scott Disick learned something from them about style and luxury.
Located in Hidden Hills (staying close to Kourtney and the kids), it has a massive backyard overlooking Los Angeles, a movie room (a must have in every apartment these days), and a billiard room.
Tyra Banks
Among her many talents you can add interior decorator. In the past few years she's been buying houses, renovating and selling them. Turns out she can do make overs for houses as well, not just models.
Her own house, in Beverly Hills, is up for sale for $7.75 million. Banks has lived in the house for over a decade and is now seeking to relocate (she's not moving too far, though).
Leonardo DiCaprio
It seems unfair to talk about Leo DiCaprio's impressive property history without mentioning his island. Yes, the guy has an island. In Belize. But that's not what we're here for today.
His latest purchase (out of many) is a five-bedroom estate in Los Angeles, which he bought for around $5 million. He bought this mansion from no other than the musician Moby.
Bruce Willis
It's hard to keep track with all of Bruce Willis' homes, but we'll try. He has two houses in New York, a property in Los Angeles and a house in Malibu, a ranch in Montana, and let's not forget the beach house in Turks and Caicos that he's currently trying to sell (again we ask – why?)
Currently, he lives in one of his New York apartments on the Upper West Side. I don't know about you, but it's one of my favorites on the list so far.
Ellen DeGeneres
DeGeneres and her wife Portia de Rossi are currently looking for a new place (and they have their eye on Adam Levine's breathtaking house), but let's have a look at what they're giving up on.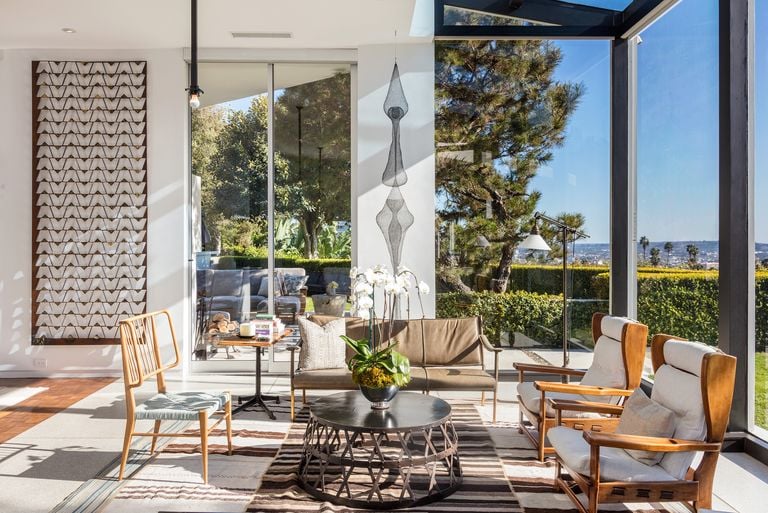 It's a $33 million Beverly Hills mansion decorated by the celebrity architect Hal Leavitt. Not many words are needed to describe this piece of heaven, the picture speaks for itself.
Beyoncé and Jay Z
We've reached the most expensive house on our list (so far). Beyoncé and Jay Z's dream house cost no less than $88 and it was not easy to find either – it took them three years of house hunting to find it, but I think it was worth the wait.
The house is a Bel Air mansion of eight bedrooms, eleven bathrooms, four pools and one basketball course. Talk about fresh royalty of Bel Air.
Kourtney Kardashian
This list simply won't be complete without all five Kardashians on it. With all due respect to Beyoncé and Bruce Willis, no one really knows luxury better than the Kardashians.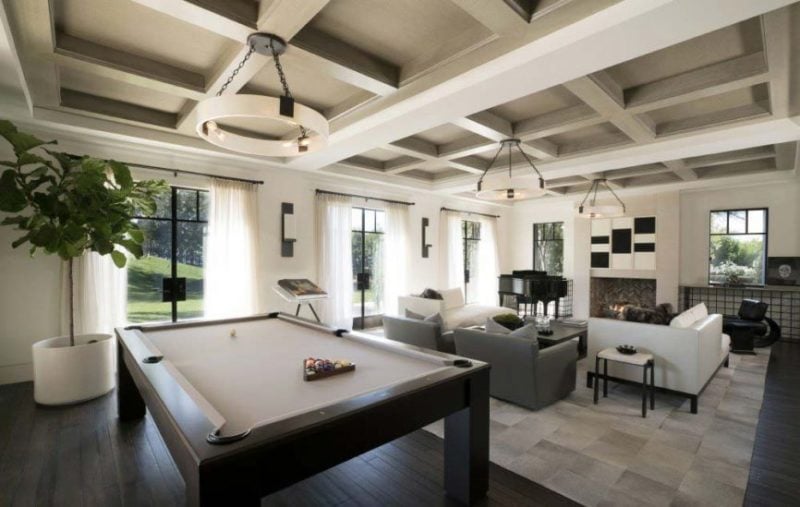 Kourtney's house, of course, is in Calabasas, close to her family. If the black and white theme looks familiar, it's because Kourtney used the same decorator as her sister Khloe.
John Legend and Chrissy Teigen
The lovely couple's humble abode is a $28 million Beverly Hills mansion where they live with their son and daughter.
It has five bedrooms, eight bathrooms and a massive pool, not anything we haven't yet seen. At this point in the list, it takes much more than that to impress us.
Jennifer Aniston
Aniston continues to reside in the Bel Air mansion she shared with ex-husband Justin Theroux, and with good reason. We wouldn't give up a house like this so easily either.
After several months of renovations, she gave the magazine Architecrual Digest a tour of her masterpiece, and it's incredible. Btw, the house she shared with Brad Pitt and the couple spent years renovating is now up for sale!
Johnny Depp
DiCaprio is not the only actor on our list who owns an island. Johnny Depp, among his many assets, owns an island in the Bahamas, as well as a village in France. Try to top that.
His main residence, though, is in Hollywood Hills, where he owns a mansion estimated at $1.8 million. His house, very fittingly, looks like a castle.
Shonda Rhimes
You know her, the producer behind "Grey's Anatomy" and "How to Get Away with Murder". Turns out her house is one of the nicest looking houses of Hollywood stars.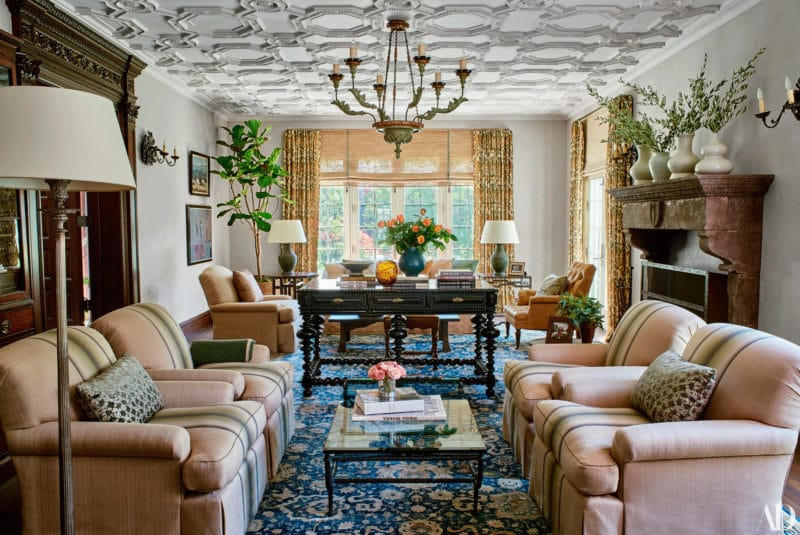 She admits that when she first saw the house, she found it incredibly ugly. But she saw the potential behind it. It took her five years to remodel and remake this house, but just like her TV shows, it turned out to be a masterpiece.
Tom Brady and Gisele Bundchen
You can count on a super model and a quarterback to have good taste in apartments. Their $20 million Tribeca apartment is one of the more luxurious ones in the neighborhood and fitting for the a-list couple.
But perhaps even more impressive than the apartment itself are the building amenities, which include athletic facilities, a café and a children's playroom for their kid.
Miley Cyrus and Liam Hemsworh
After their Malibu house tragically burned down in the Woolsey Fire, the Hollywood couple relocated to Nashville, Miley's hometown.
It might be a complete change in scenery, but their Nashville house is no less dreamy. It's a $8.2 million property with ceilings as high as 20 feet and very fitting to the area – a log cabin.
Jennifer Lawrence
As Hollywood's highest paid actress, it's only fitting that Jennifer Lawrence lives in an $8 million Beverly Hills palace.
The house was formerly owned by Ellen DeGeneres and later by Jessica Simpson. The real treat of the house is the backyard, which looks like it was taken out from a proper fairytale.
Oprah Winfrey
You get a house, you get a house, everybody gets a house! And Oprah Winfrey gets six. Oprah Winfrey has 6 houses in the total worth of over $100 million.
She has two houses in California, another one in Hawaii (exotic), a recent purchase on Orcas island, and more. The one she mainly resides in is one of her houses in Montecito, CA, and it wouldn't shame a queen.
Mindy Kaling
Mindy Kaling's two houses are just as colorful as her personality. One of them is located in New York's Nolita neighborhood, the other in Los Angeles, and it's hard to decide which one is more beautiful.
To be sure, they're both filled with light and good vibes, just like the person who owns them. For the two houses she used two decorators to help her tone down her style just a pinch, otherwise she says it would've been "over the top." I think that there's no such thing as over the top when it comes to celebrity houses.
Brad Pitt and Angelina Jolie
You didn't really think that Brad and Angelina have just one house, right? Among the many properties they acquired together is a house in New Orleans, an apartment in New York's Waldorf Astoria, a property in Los Feliz, California, and the best one – a palace in France.
They bought the French estate in 2012 for $60 million and that's where they got married two years later. I can't think of a more romantic place to tie the knot.
George and Amal Clooney
The classic couple live in a classic English mansion worth $13 million and located in the middle of an island in the River Thames of London. Quite a spot.
This is of course only one of their assets. They have a house in LA, like every good celebrity, a villa in Italy, a mansion in Berkshire, a New York apartment, and two beach houses.
Kaley Cuoco
The Big Bang Theory star purchased Khloe Kardashian's former house for $5.4 million. It has seven bedrooms, six bathrooms and a driveway with room for more than 15 cars (is that really necessary?).
The recently engaged star is now trying to sell the house for $6.9 million. Seems like it's worth it.
Will Smith
In the Kardashian's neighborhood of Calabasas, you'll find another impressive mansion – that of Will Smith and Jada Pinkett-Smith.
The mansion is fitting enough for the Fresh Prince of Bel Air, and it's worth no less than $42 million. It took seven years (only?) to build the house, but seems like it was worth the wait.
Drew Barrymore
Like many other celebrities, Drew Barrymore is currently trying to sell her magnificent house. I told you that summer is the season of moving.
The house she's selling comes with a lot of memories – she bought it in 2010 and got married in it just last year. While she bought it for $5.7 million, she's trying to sell it for $7.5 million.
Reese Witherspoon
The Hollywood sweetheart has an impressive houses portfolio. She currently lives in the one in Los Angeles.
As fancy as it seems from the outside, its exterior is homey, welcoming and matches the actress' sunny personality – she has a doormat welcoming the guests with the greeting "Hey Ya'll" (I want one too!)