From the cans tied to the bumper to the bouquet toss, the engagement ring is perhaps the most important wedding tradition of them all, and definitely the most dazzling one. The perfect proposal must be accompanied by the perfect ring, as everyone knows, and the celebrities never fail to come up with new and inspiring designs. If you're looking for some ring inspiration (or just looking to be awed), you've reached the right place.
Meghan Markle and Prince Harry
Who knows more about jewelry than the royal couple? While Harry's proposal was humble and simple, on a cozy night at home, the ring he gave to Meghan is the opposite of humble, ornamented with diamonds from Princess Diana's personal collection.
In a weird way, this reminds us of Mike's proposal to his paralegal girlfriend Rachel, on Suits. Is that where Harry got his inspiration from?
Kate Middleton and Prince William
Prince Harry and Meghan Markle might be the current hot couple of the royal family, but let's not forget that his big brother was the first to pop the question, almost 10 years ago. He also topped him with the wedding ring, which was no other than William's mother, Princess Diana's ring.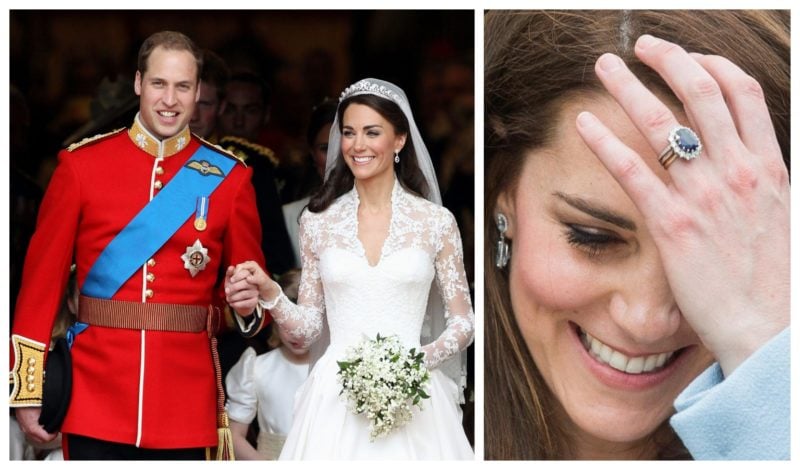 The sapphire ring is a twelve-carat ring, surrounded by fourteen smaller diamonds. We already established that no one knows jewelry better than the royal family.
Sophie Turner and Joe Jonas
From the Princess of Britain to the Queen of the North, Sophie Turner's engagement ring wouldn't shame a real queen. Comprised of two bands and a sapphire diamond at the middle, the ring isn't just beautiful but is also symbolic of the couple's love – the two bands symbolize their connection.
You wouldn't guess it by the ring's elegance, but the couple had a Vegas wedding complete with an Elvis Presley look alike as a reverend. But don't worry, they had another, fancier wedding, one that is more appropriate for the Queen of the North.
Kim Kardashian and Kanye West
Kim's engagement ring is proof that before the couple decided to go minimalist and emptied their house from every piece of furniture, they were the most extravagant couple in Hollywood. No celebrity on our list can compete with this twenty-carat emerald cut diamond ring, estimated US$5 million.
The proposal came in bad timing though, a few months after Kim declared that material things don't mean much to her anymore and decided to swear off jewelry. But this isn't just any jewelry, after all, it's a symbol of Kim and Kanye's love.
Khloe Kardashian and Lamar Odom
While Khloe is no less extravagant than her sister, maybe even more, her engagement ring is humbler (in Hollywood terms, that is). A twelve-carat diamond ring, while it is extremely glamorous, it's no competition for her sister's bling.
They say that diamonds are forever, but Khloe and Lamar's love unfortunately isn't.
Beyoncé and Jay Z
She was the one to say, "if you like it then you should've put a ring on it," and Jay Z did. Beyoncé's engagement ring is no less dazzling than the person wearing it.
But what's more interesting is what's underneath the ring – an engagement tattoo. Yes, apparently that's a thing. Beyoncé and Jay Z have matching tattoos under their engagement rings.
Mila Kunis and Ashton Kutcher
The couple who met on the set of That 70's Show likes to keep it simple. How simple you ask? They bought their wedding rings at Etsy for $190 (for both rings)!
The Etsy ring wasn't Kunis' engagement ring, though. This part they did properly, with a diamond ring like the tradition requires.
Blake Lively and Ryan Reynolds
It's only fitting that the Upper East Side fashionista have a fashionable engagement ring. Just like Blake Lively herself, her ring is somehow eye-catching and delicate at the same time.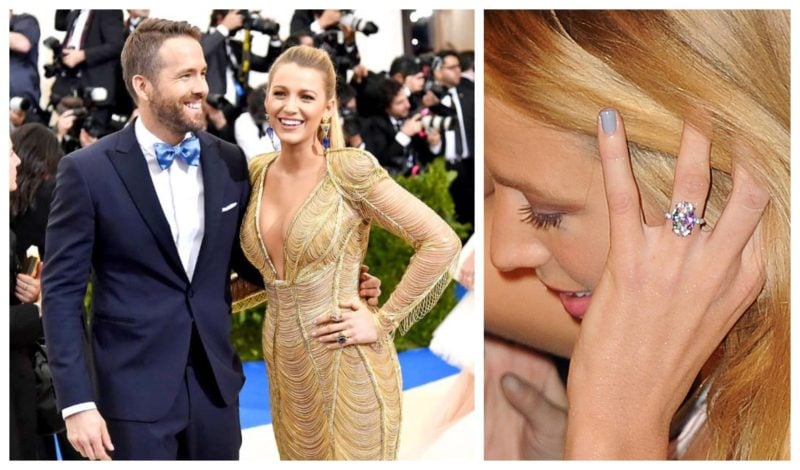 Ryan Reynolds and Blake Lively kept their engagement a secret until after they were married. A rock like this is pretty hard to hide, but somehow they managed…
Miley Cyrus and Liam Hemsworth
Miley's ring is so fabulous that Hemsworth couldn't help but bragging about it on The Tonight Show. But the ring is probably classier than even Hemsworth knows. The jeweler who made it said it was a 19-century cushion-cut stone.
The couple decided the ring was fancy enough and tied the knot in a low-key ceremony in Miley's house with only a group of their closest family and friends.
Hilary Duff and Matthew Koma
Third time's a charm for Hilary Duff and Matthew Koma. The couple was dating on and off for years, they have a six-month old child together, and finally the proposal came, and the ring was worth the wait.
The ring is a 3-carat cushion cut diamond, the same style we saw in Kim Kardashian's and Jennifer Lawrence's rings.
Anne Hathaway and Adam Shulman
Even Princess Mia Thermopolis couldn't imagine an engagement ring like this one. It's a 6-carat emerald cut diamond, estimated at around $150,000. You can't go wrong with a classic ring.
It's no coincidence that the ring is so classic, simple yet impressive. Adam Shulman, Hathaway's husband, is a jewelry designer.
Rose Leslie and Kit Harington
Turns out Jon Snow knows something about engagement rings. It's not uncommon for co-stars to fall in love on set, but Jon Snow and Ygritte's had the most romantic setting of them all – the shooting of their scenes took place in Iceland.
In a complete contrast to the role of the rough free folk she plays in GOT, Rose's wedding ring is delicate and elegant.
Kyla Itsines and Toby Pearce
Our favorite fitness guru tied the knot with her boyfriend and the ring is just as lovely as their relationship. First it was her Bikini Body Guide that swept us off our feet, and now it's her wedding ring.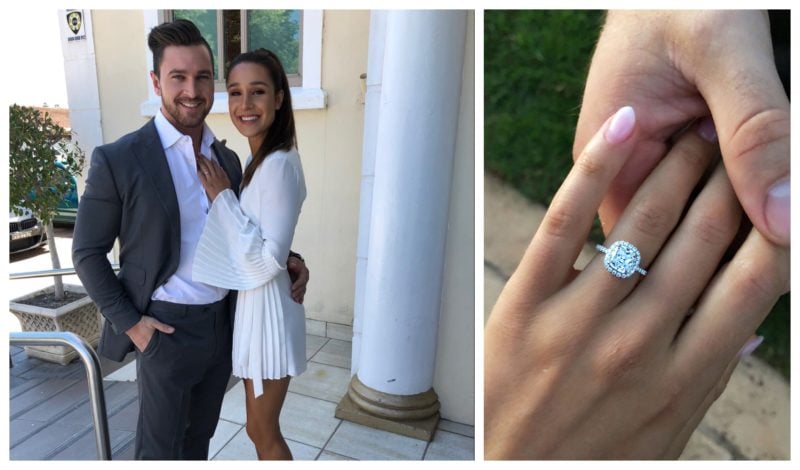 With two dogs and a hugely successful fitness business, it was time for Kayla and Toby to take their relationship to the next level.
Jennifer Lawrence and Cooke Maroney
Being an art dealer, Jennifer Lawrence's fiancée must know something about style. It's no surprise then that her 4-carat engagement ring is so beautiful.
Lawrence and Maroney kept quiet about their relationship until their recent engagement. Since then, though, Lawrence has been gushing about wedding details.
Jennifer Lopez and Alex Rodriguez
After four engagements you already know what kind of a ring you want, and apparently Jenny from the block has a specific, very expensive taste in wedding rings.
A 10-15 carat ring estimated between $1 to $5 million did the trick. This is J. Lo's fifth engagement, and the ring, we must say, is probably the most stunning one yet.
Natalie Portman and Benjamin Millepied
Natalie Portman's ring is literally one of a kind. It was created by a New York ballerina and jeweler. The jeweler knew the couple personally and worked with choreographer Benjamin Millepied in the New York City Ballet.
Having an artist for a husband has its advantages. The jeweler who made the rings makes every ring one of a kind; she doesn't take requests for stone or style, but works with her heart and intuition.
Katy Perry and Orlando Bloom
Did someone say cheesy? Orlando Bloom popped the question on Valentine's day, and if that's not cheesy enough for you, the ring is shaped like a flower with a pink diamond in its center.
The colorful, unique ring matches Katy Perry colorful character and career. The couple posted the engagement photo on Instagram with the caption "full bloom."
Hailey Baldwin and Justin Bieber
The Biebs knows his rings. estimated $500,000, Baldwin's ring has a diamond that wouldn't shame Kim Kardashian.
But forget about the ring – the proposal takes first prize here (well, the competition isn't fierce). Bieber proposed to Baldwin on a trip to the Bahamas – what's a better setting than that?
Pippa Middleton and James Matthews
Once the bridesmaid: Kate Middleton's ring is hard to compete with, but Pippa gives a good fight. Her ring is large, art-deco, a three-carat diamond surrounded by smaller diamonds.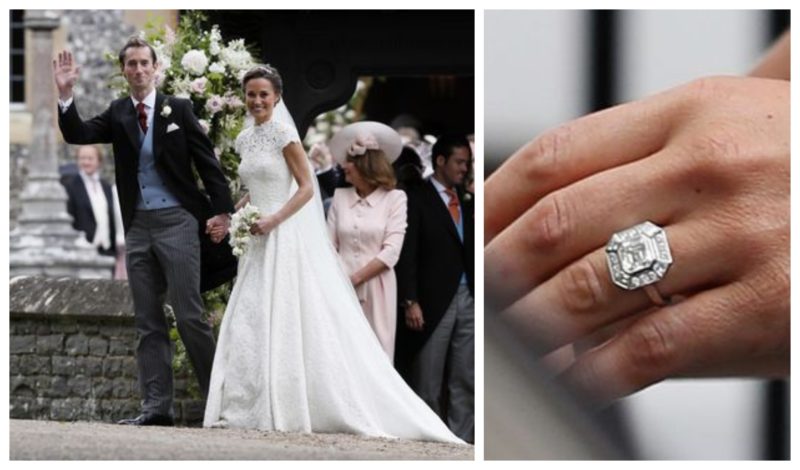 Though Kate's ring is Princess Diana's legendary ring, its value is estimated to be much less than her sister's ring, which is worth half a million pounds. But no one keeps score.
Nicole Kidman and Keith Urban
Congratulations: Kidman and Urban recently celebrated 13 years of marriage. Her engagement ring is rather untraditional – it's missing a rock. It might be only a band, but certainly a dazzling one.
This isn't the original ring Urban proposed with.The original one had three large stones, and Kidman altered it right before their wedding.
Kaley Couco and Karl Cook
Leonard the physicist couldn't compete with the ring Kaley Couco received from her husband Karl Cook. Cook captioned the ring on his Instagram page, "absolutely brilliant" – and there's really no better way to describe it.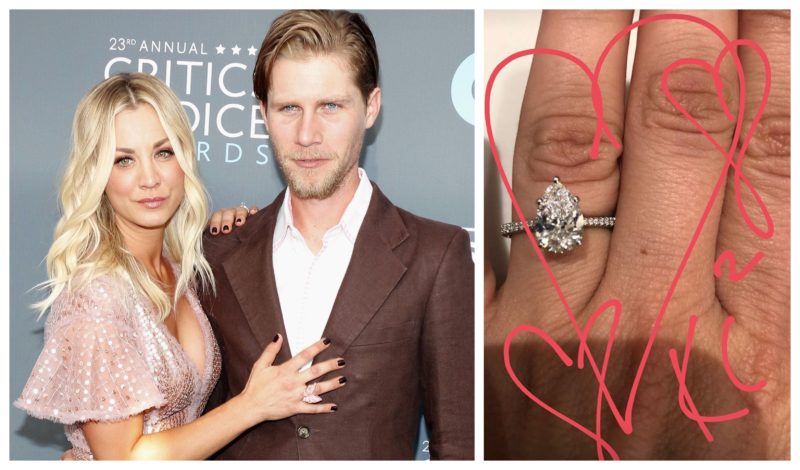 The Big Bang Theory star posted on Instagram a video of the shocking proposal, where you can see her crying form happiness.
Olivia Wilde and Jason Sudeikis
This isn't your typical wedding ring, but I guess they're not your typical couple either. We had Kate Middleton's sapphire ring and Kary Perry's pink one, but it's the first ring ornamented in yellow emerald.
That's not to say we didn't like it. This is a brave choice of Sudeikis, but it suits Olivia Wilde's green eyes perfectly. Who knew men had such good taste?
Sarah Jessica Parker and Matthew Broderick
Carrie Bradshaw, the eternal fashion icon, would approve of this ring. The ring that Matthew Broderick gave Sarah Jessica Parker is a five-carat diamond in a simple, classic cut.
A New Yorker in heart, their wedding was a small ceremony on the Lower East Side, and the ring, an impressive diamond sitting on a golden band, is accordingly sophisticated.
Angelina Jolie and Brad Pitt
This ring is unique to Jolie's personal style. It's a 16-carat ring that cost around $500,000. Trying to avoid comparisons, Pitt says that it's the exact same amount he spent on his ex-wife Jennifer Aniston's ring at the time.
It took Pitt a full year to perfect this ring together with the jeweler, and it was worth the effort. We haven't seen a ring like this one yet.
Amy Schumer and Chris Fischer
Amy Schumer's ring is no joke. The ring she received from the chef husband Chris Fischer is a 5-carat glittering diamond ring, to match the comedian's glittering personality.
Although Schumer's ring puts to shame other engagement rings on our list (not to mention names), fans online bashed it for being too small.
Katherine Heigl and Josh Kelley
It came down from 27 dresses to one engagement ring: the eternal bridesmaid got her happy ending, with a 4-carat diamond ring.
The happy couple tied the knot in 2007 and since them live happily ever after with their three children.