[two_third]
It's hard to believe that these celebrities are not related to each other because they look so much alike. What's fascinating about these celebrities is that many of them were born on different continents with different upbringings and obviously different parents and yet they seem to have inherited the same DNA. Another interesting fact is that although they share similar facial features many are also the same height. You have to see these to believe them.
Lucy Hale and Selena Gomez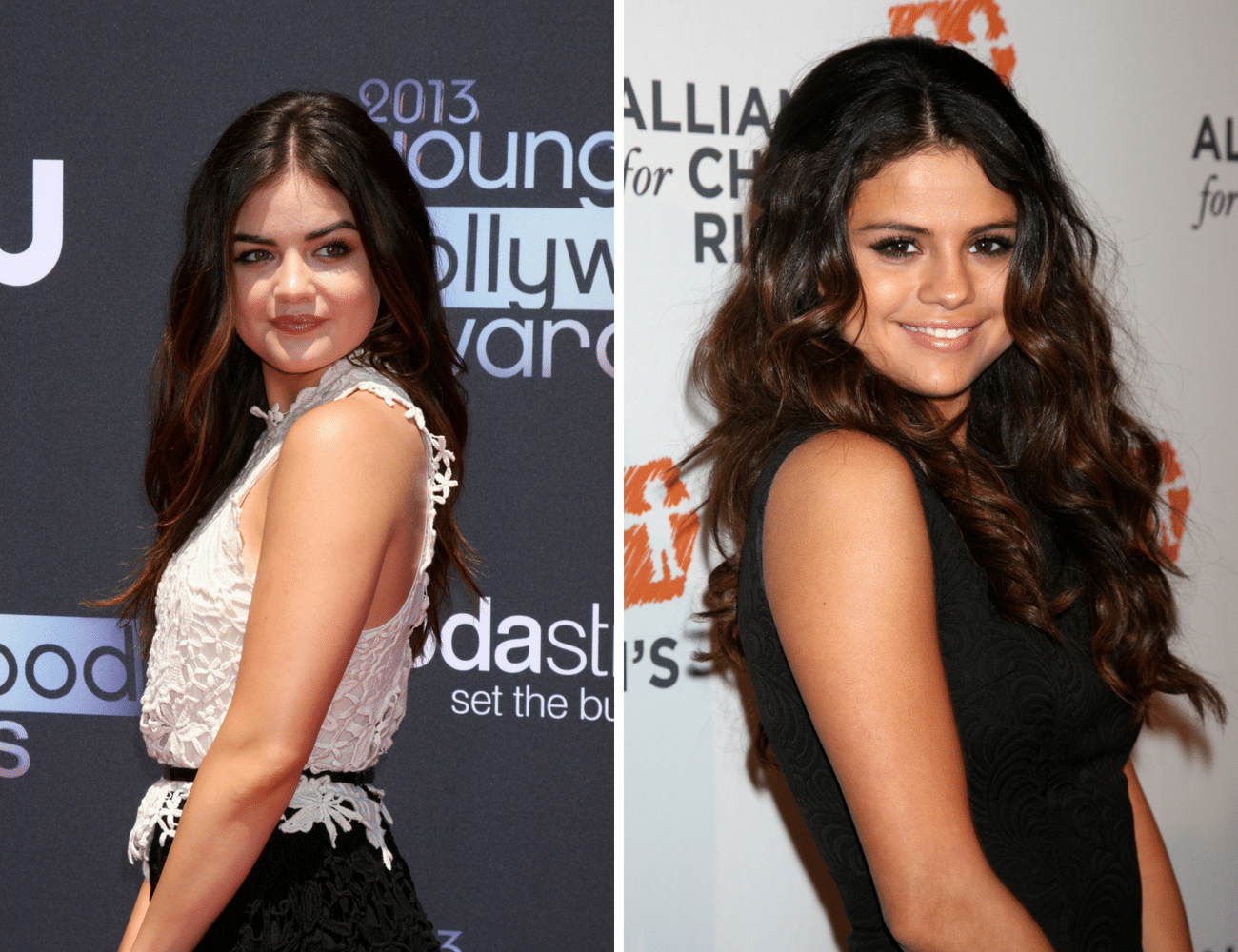 "Pretty Little Liars" star Lucy Hale admits that she and Selena got mixed up frequently when Selena Gomez appeared in 'Wizards of Waverly Place'. Hale said that one time an older lady in an airport took a picture with her and when they started talking she realized the woman thought she was Selena but Lucy didn't correct her because she didn't want to "crush her dreams." On another occasion, someone tried to steal her cell phone in order to call Justin Bieber!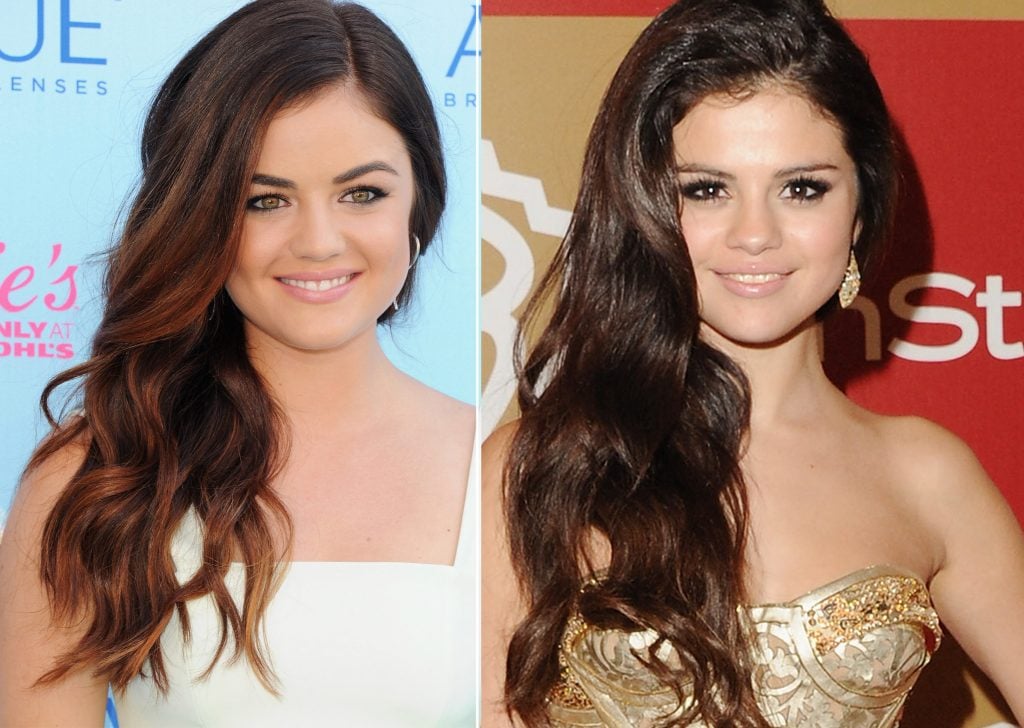 This is why we said it would almost be like a real life Ezria if Selena dated Ian Harding.
Ryan Reynolds and Ryan Gosling

Credit: Anna Di Cesare
The two Ryans are not only heartthrobs but they have hot careers as well. Both are Canadian and over 6 feet tall. Ryan Reynolds stars in the wildly successful Deadpool movies. He's married to actress Blake Lively and has two children. La La Land actor, Ryan Gosling is in a long-term relationship with actress Eva Mendes and they are also the proud parents of two cute kiddies.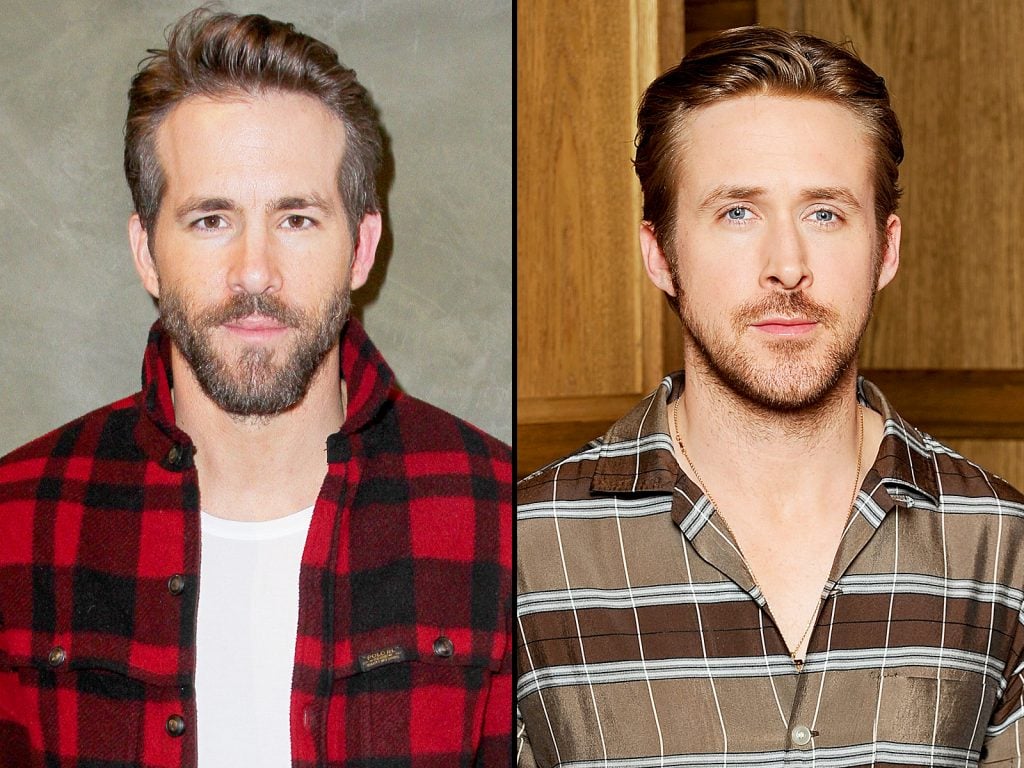 Ryan Reynolds and Ryan Gosling are NOT the same person, Reynolds explained in a NSFW tweet Thursday
Logan Marshall Green and Tom Hardy
Is it Tom Hardy or Logan Marshall-Green? Whether you are a Mad Max fan or a Spiderman fan you will still have a hard time telling the two apart. They were both born in the mid-'70s but separated by a large ocean as Tom Hardy is from London and Logan Marshall-Green is from South Carolina (and has a twin brother!).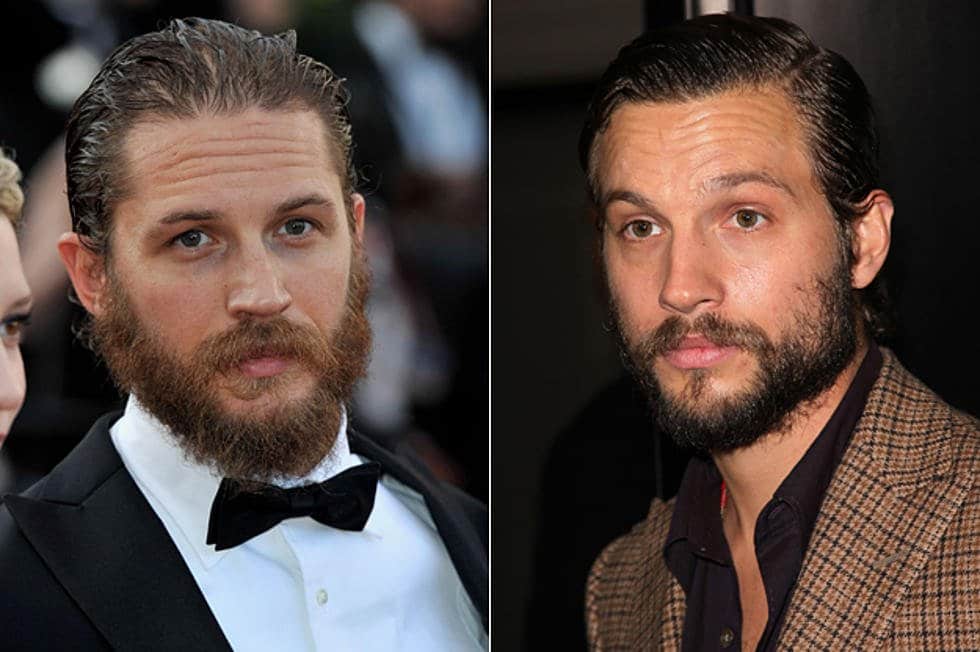 We can only assume that filming the most-anticipated movie of the summer left Hardy exhausted enough to let his face run wild, but now there's practically nothing differentiating him from Logan Marshall-Green. Actually, it's a little closer to the 'Prometheus' star from his 'Across the Universe' hippie days. All Hardy needs now is some reefer and he could've played Paco in that movie.
Thandie Newton and Zoe Saldana
The British actress, Thandie Newton, admitted that even Spice Girl, Victoria Beckham confuses her with American actress Zoe Saldana. Newton, 45, was born in London to a Zimbabwean mother and English father. She who stars in Line of Duty and Westworld.
Saldana, 39, stars in Guardians of the Galaxy. Her father is from the Dominican Republic and her mother from Puerto Rico. But they look so alike they really could be sisters.
Amy Adams and Isla Fisher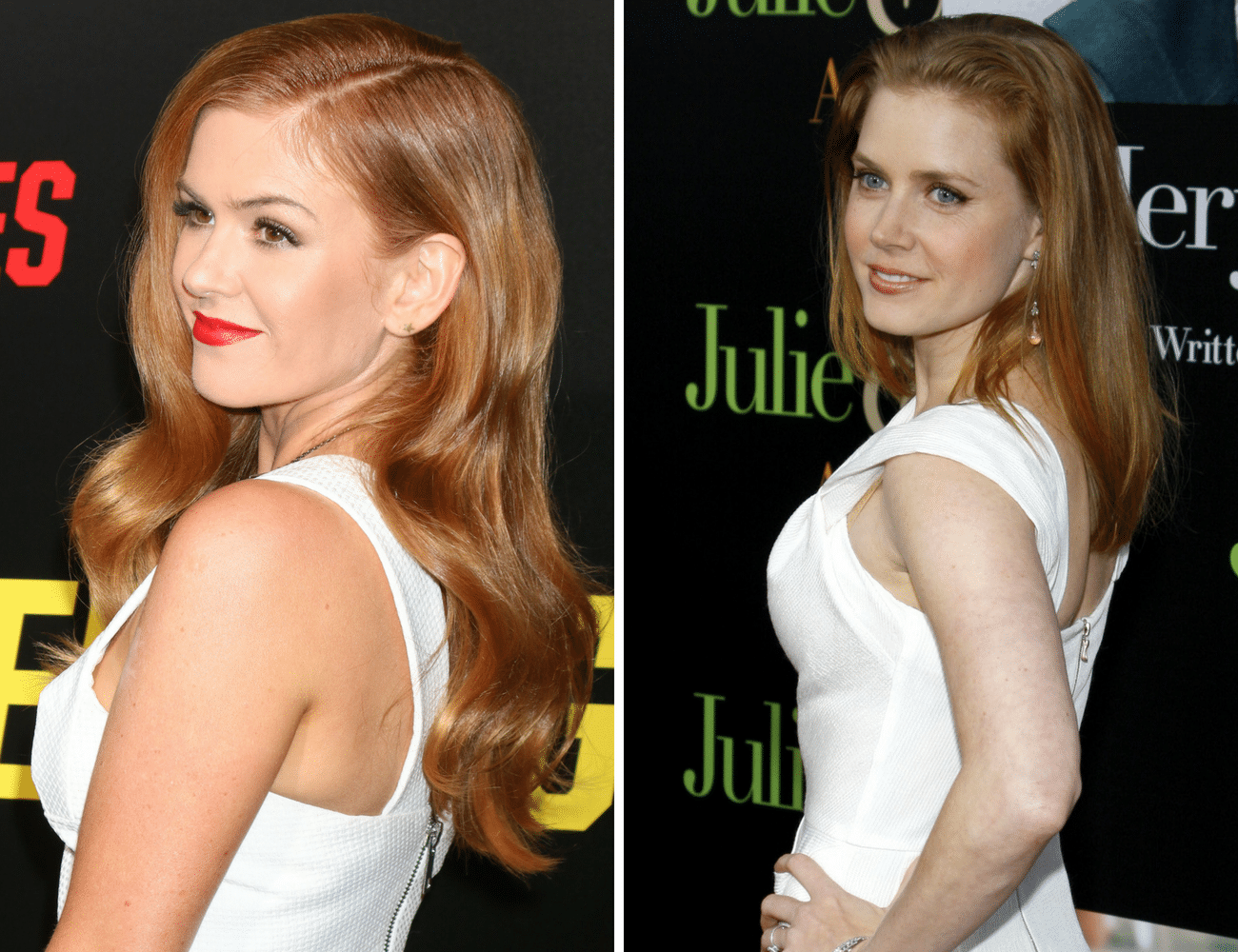 Redhead Isla Fisher admits that people confuse her with actress Amy Adams all the time. It got so bad that Isla had to put out a press release clearing up the error. Once at an Oscar after party, Lady Gaga said to her, 'Thank you. Your performance in American Hustle, Amy….'" And Isla didn't correct her! However, both Isla and Amy starred in the thriller, Nocturnal Animals which proves they are two different women.
Jeffrey Dean Morgan and Javier Bardem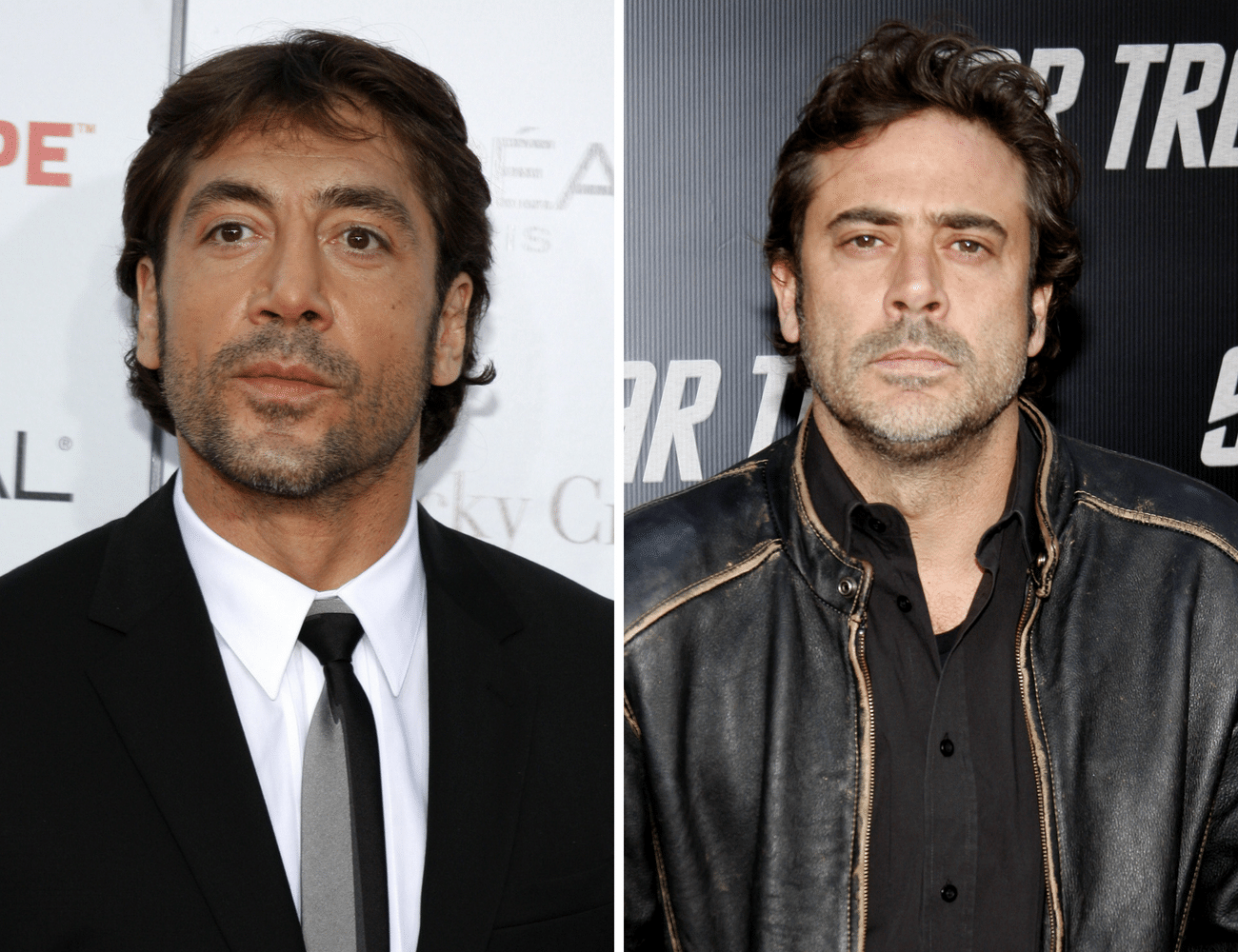 American actor Jeffrey Dean Morgan looks amazingly similar to his Spanish counterpart, Javier Bardem. 52-year-old Morgan, the star of Walking Dead, is married with two children. 49-year-old Barden, who won an Academy Award for his performance in "No Country for Old Men" is married to actress Pen?lope Cruz and also has two children. Her lookalike can be found further on in this gallery.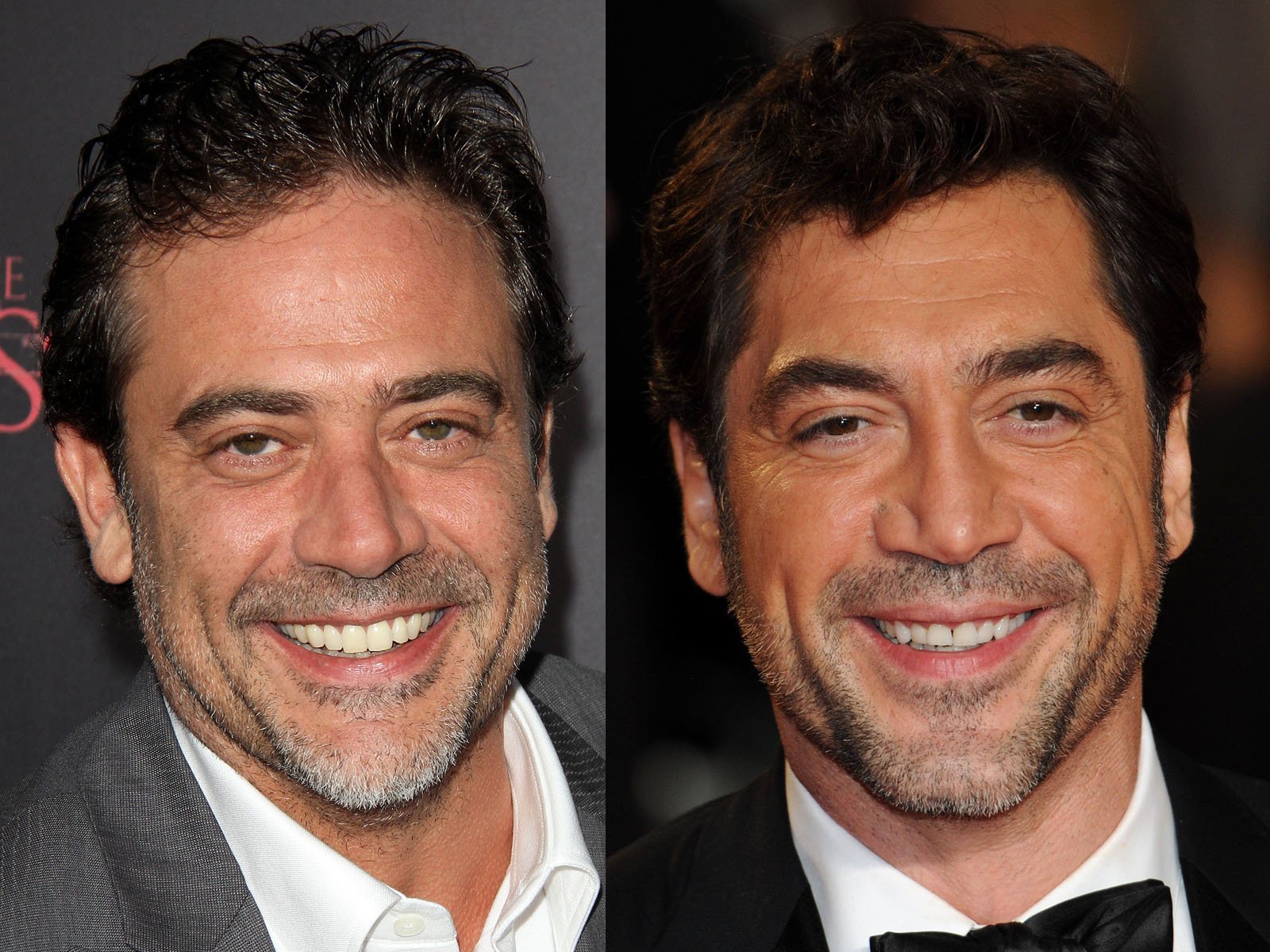 Katy Perry and Zooey Deschanel
These doe-eyed beauties have been mistaken for each other and Zooey Deschanel doesn't like it one bit. She admitted: "It's a little bit annoying, to be totally blunt." The 38-year-old New Girl actress is the mother of two children and a member of the band, She & Him. 33-year-old Katy Perry is one of the best-selling music artists of all time and holds four Guinness World Records.
Elizabeth Banks and Parker Posey
Blonde beauty Elizabeth Banks, 44, is well-known for her role as Effie Trinket in The Hunger Games film series and as Gail Abernathy-McKadden in the Pitch Perfect film series. She looks incredibly similar to indie movie queen Parker Posey, 49, who is currently appearing on TV in the Lost in Space series. Both Banks and Posey are 5′ 5′ tall!
Will Ferrell & Chad Smith

Credit: @Chad Smith
The frequent mix-up between Red Hot Chili Peppers drummer Chad Smith and comedian Will Ferrell has led to some truly funny moments, such as the drum-off on The Tonight Show with Jimmy Fallon. It all started when Ferrell acknowledged the resemblance between himself and the musician during a question and answer session on Reddit.com prompting Smith to challenge him to a drum battle. The Anchorman actor took him up on the offer and they not only brought the house down but raised money for charity.
Ed Sheeran and Rupert Grint
These British stars are three years apart and have completely different careers and yet people confuse them. Rupert Grint of Harry Potter fame appeared on The Late Late Show With James Corden and said that practically half the people who stop him on the street think he's the singer Ed Sheeran. "It's kind of 50/50 now," he told Corden. "If someone stops me, it could go either way. I could be Ed, or I could be me."
Daniel Radcliffe & Elijah Wood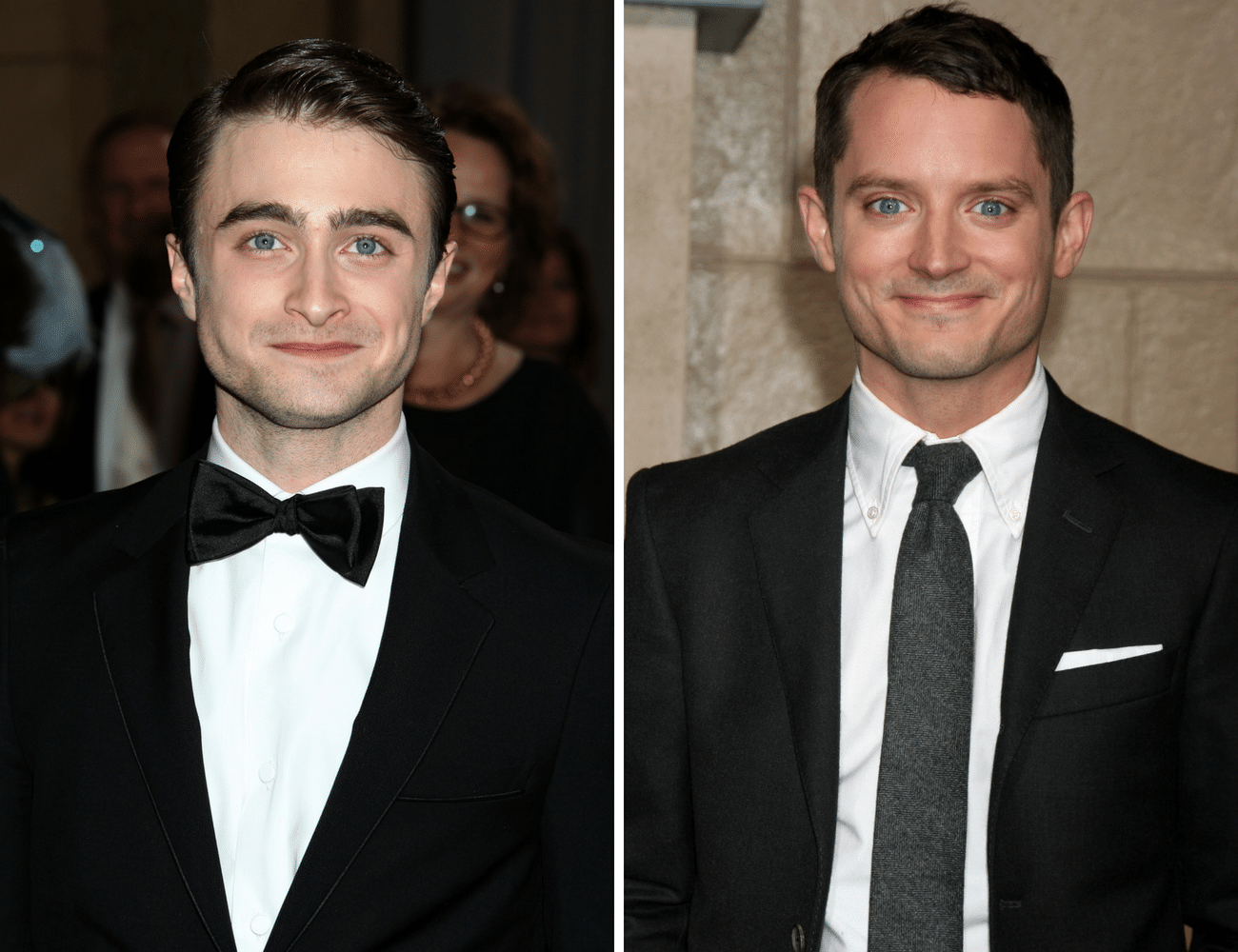 Not only does Daniel Radcliffe, 29, have to be diplomatic to his millions of Harry Potter fans he also has to deal with hordes of Lord of the Rings fans as well. People think he is Frodo Baggins, played by Elijah Woods, 37. Radcliffe said that while in Japan someone held out a photo for him to sign but he didn't know how to explain the mix-up in Japanese. Instead, Radcliffe wrote on the photo, "I'm not Elijah Wood but thanks anyway, Daniel Radcliffe."
Bryce Dallas Howard and Jessica Chastain
Jurrasic Park actress Bryce Dallas Howard has been mistaken for Zero Dark Thirty actress Jessica Chastain since their college days in New York and way before they were famous. Howard said: "The first time I went into a Starbucks and I went up the cashier and went to order something and he was like, No Jess, your drink's over there. I was like, No I haven't ordered yet. I remember it was a little unnerving because he was so certain we were the same person."
Zach Braff and Dax Shepard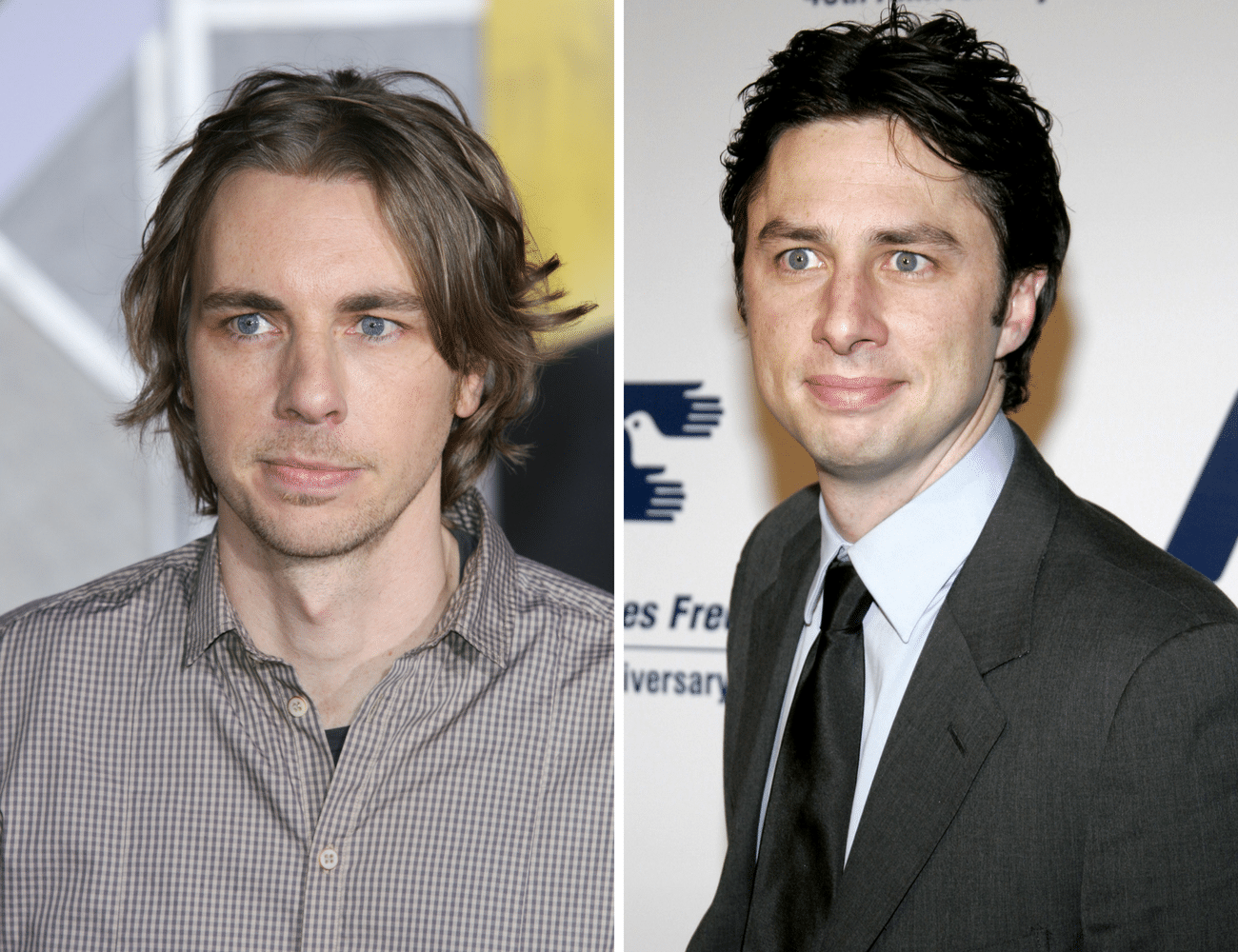 Alex, Inc. star Zach Braff and funny guy Dax Shepard both joke around on their Twitter accounts about how much they look alike. The actors admitted that people often point it out. "@zachbraff its been 2 hours since someone has pointed out that we look alike. I think Twitter might be broken!" Shepard wrote on Twitter. "Dax! I am honored to be as handsome as you," responded Braff. "There's buddy-cop movie with Ray Ramano in this somewhere…"
Lily Collins and Camilla Belle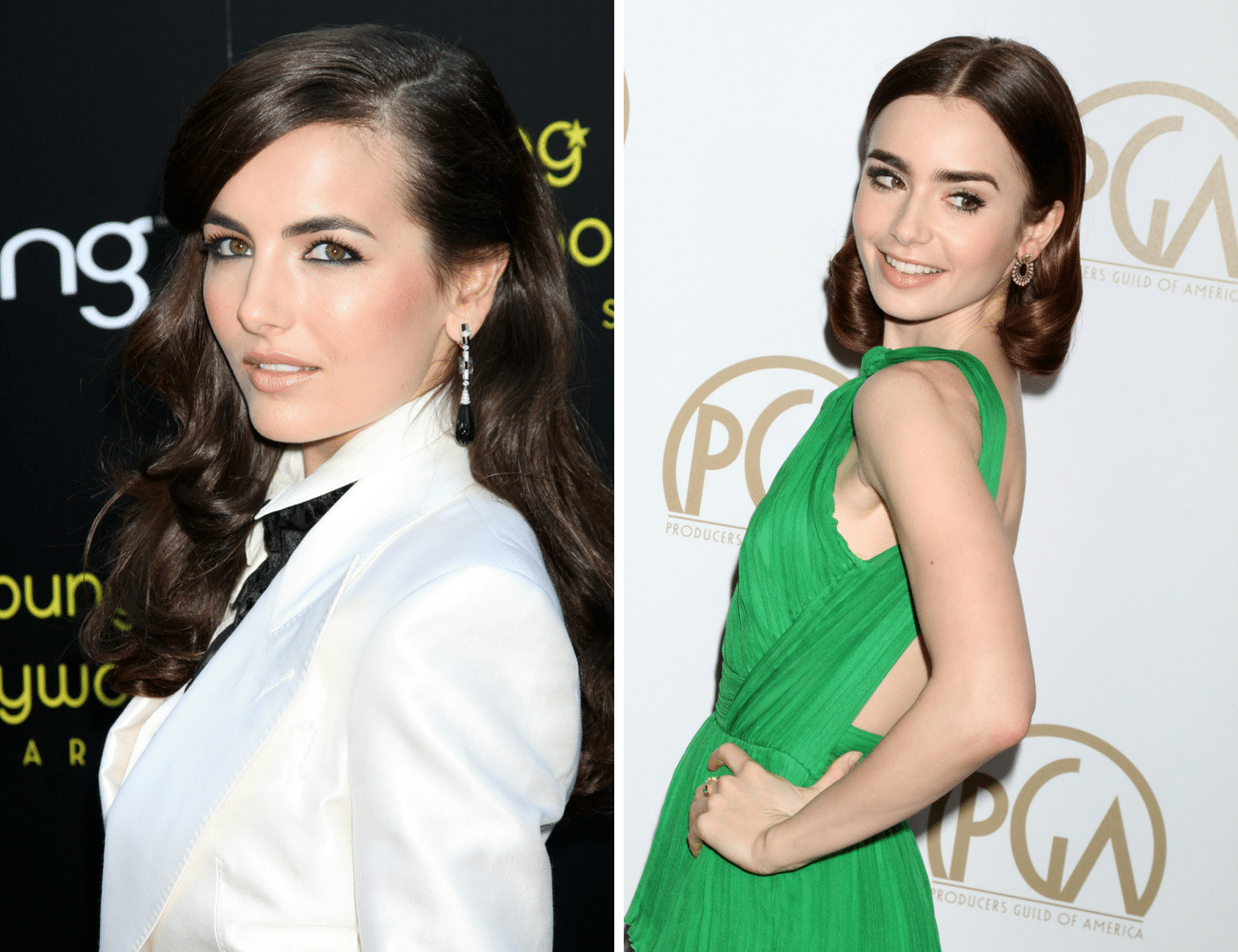 29-year-old British-American actress Lily Collins is a dark-haired beauty with striking eyes. 31-year-old American actress Camilla Belle shares the same dark features. Who else sees the resemblance? Although we haven't seen Belle lately she says: "I always make sure to maintain a rich life outside of work so that when I'm not working, I'm not staying in bed depressed. I'm always proactive—I have a great life." We look forward to seeing both of these dark-haired beauties on the big screen soon.
Jaime Pressly and Margot Robbie
Although actress Jamie Pressly is 13 years older than 27-year-old Margot Robbie, movie fans have been talking up a storm on social media that they look like long lost twins. Robbie recently starred in I, Tonya as a disgraced ice skater and it got everyone excited about how much the Australian actress looks like My Name Is Earl star Pressly. Pressly even commented on the similarity: "Right, right, well that would be she looks like me! I think she's great yeah, I've loved everything she's done."
Minka Kelly and Leighton Meester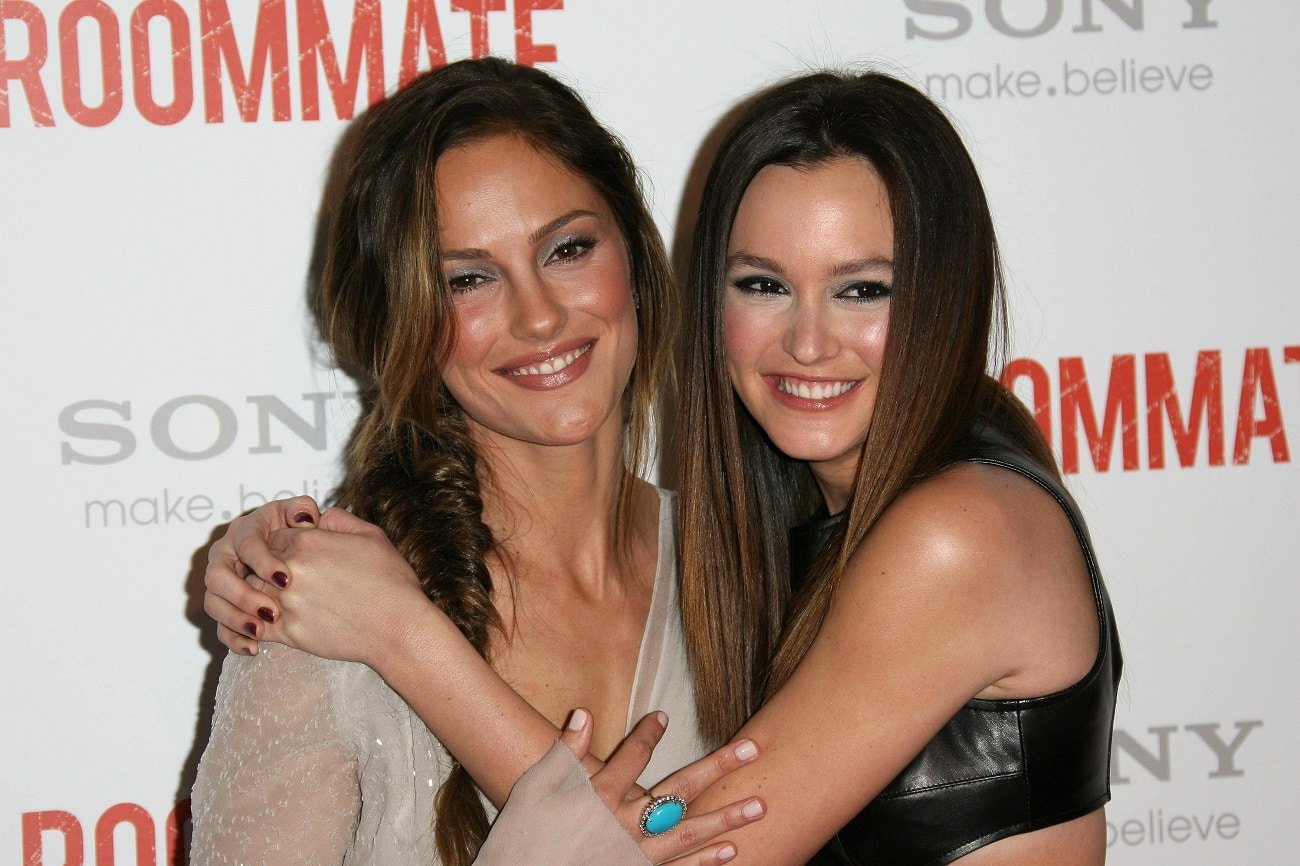 These two brunette beauties look so much alike that they were both cast in the same thriller "The Roommate", which plays off of the fact that they are so similar. Minka is 38 and has been busy acting on the small screen. Leighton is 32 and also a TV star. Both Minka and Leighton are 5'5′ tall!
Mark Wahlberg and Matt Damon
Although we totally don't see the resemblance, Matt Damon and Mark Wahlberg have revealed that their fans do get confused. In one interview Damon confessed, "I've talked to Mark about this because he gets people [who] come up and say, 'I love you in The Bourne Identity!' So Mark and I have a deal. If we're mistaken for one another, we have to be as polite as possible." What nice guys!
Rhona Mitra and Kate Beckinsale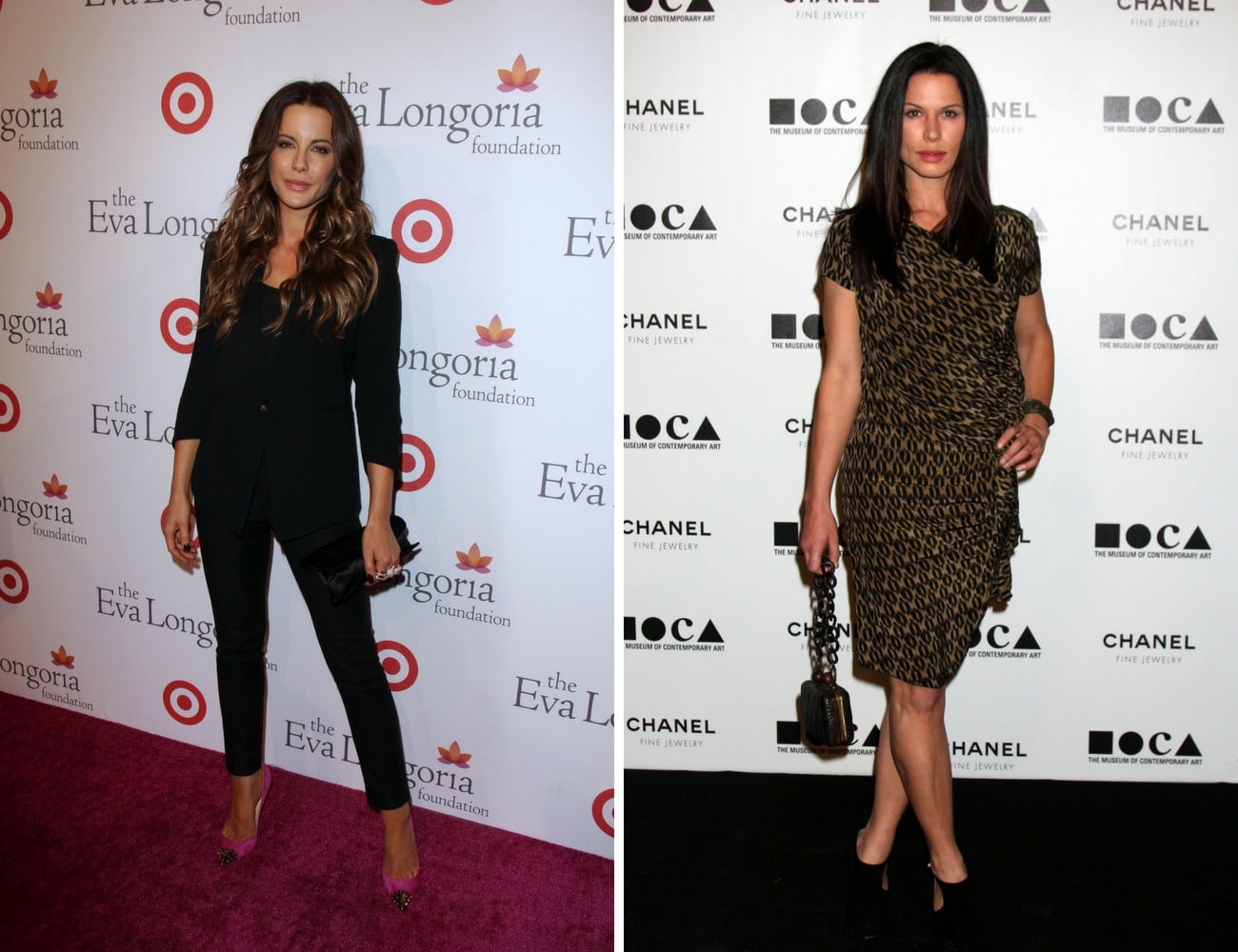 Whether Kate Beckinsale is a hot vampire in the "Underworld" franchise or a gorgeous nurse in love with two fighter pilots in "Pearl Harbor," she is a fan favorite. And there is an excellent reason that why her lookalike Rhona Mitra is the only other female lead in an "Underworld" movie. Like Beckinsale, Mitra grew up in London, has long dark hair and soulful eyes and was born in the 70s.
Mila Kunis and Vanessa Hudgens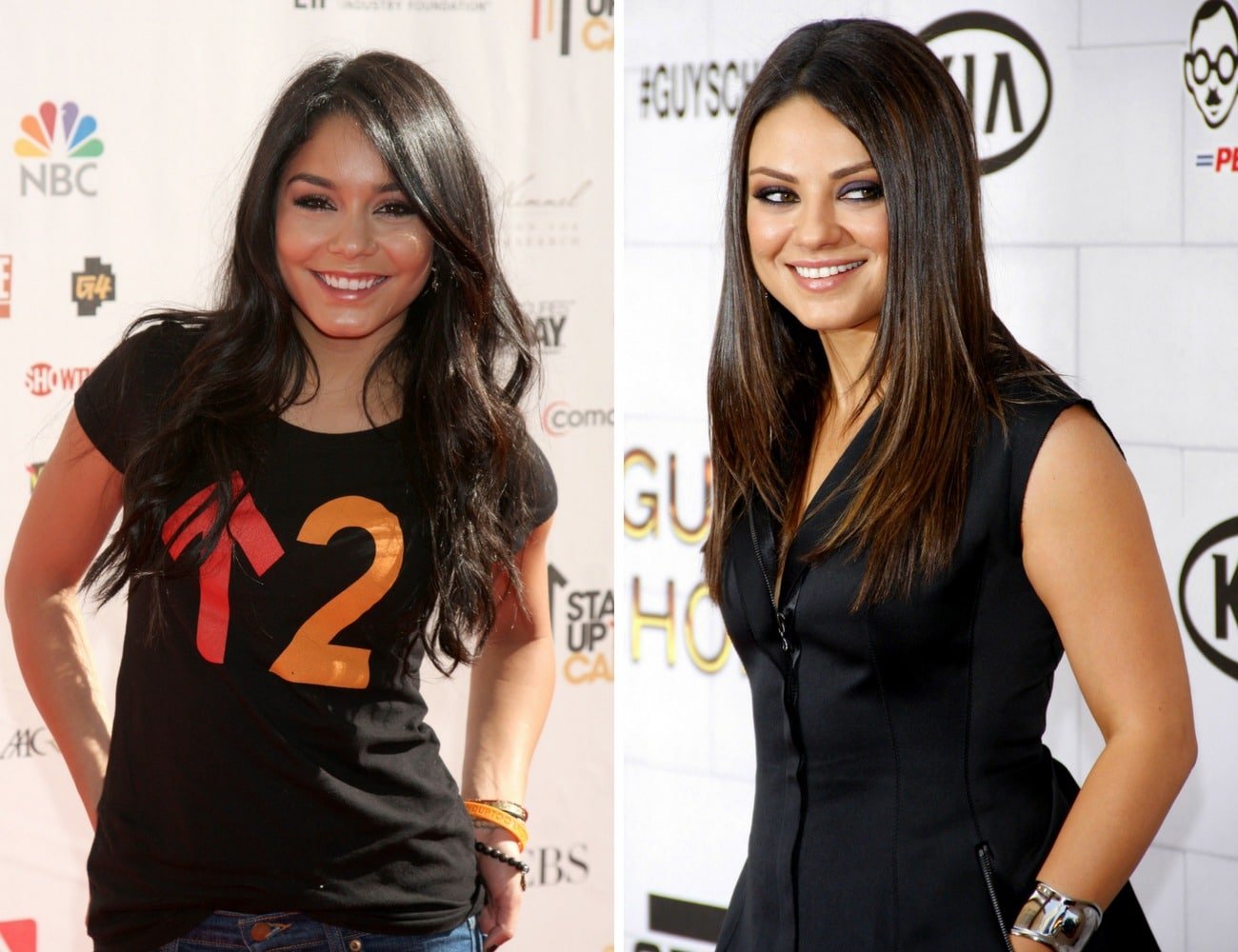 Both That 70s Show star Mila Kunis and High School Musical star Vanessa Hudgens are stunning brunettes with open faces and friendly smiles. So why is Kunis so much more famous? Hudgens' three big movies after HSM all flopped while Kunis picked some really popular films to work in and so fate handed Kunis the better deal. Kunis also managed to snare hottie Ashton Kutcher.
Ian Somerhalder and Chace Crawford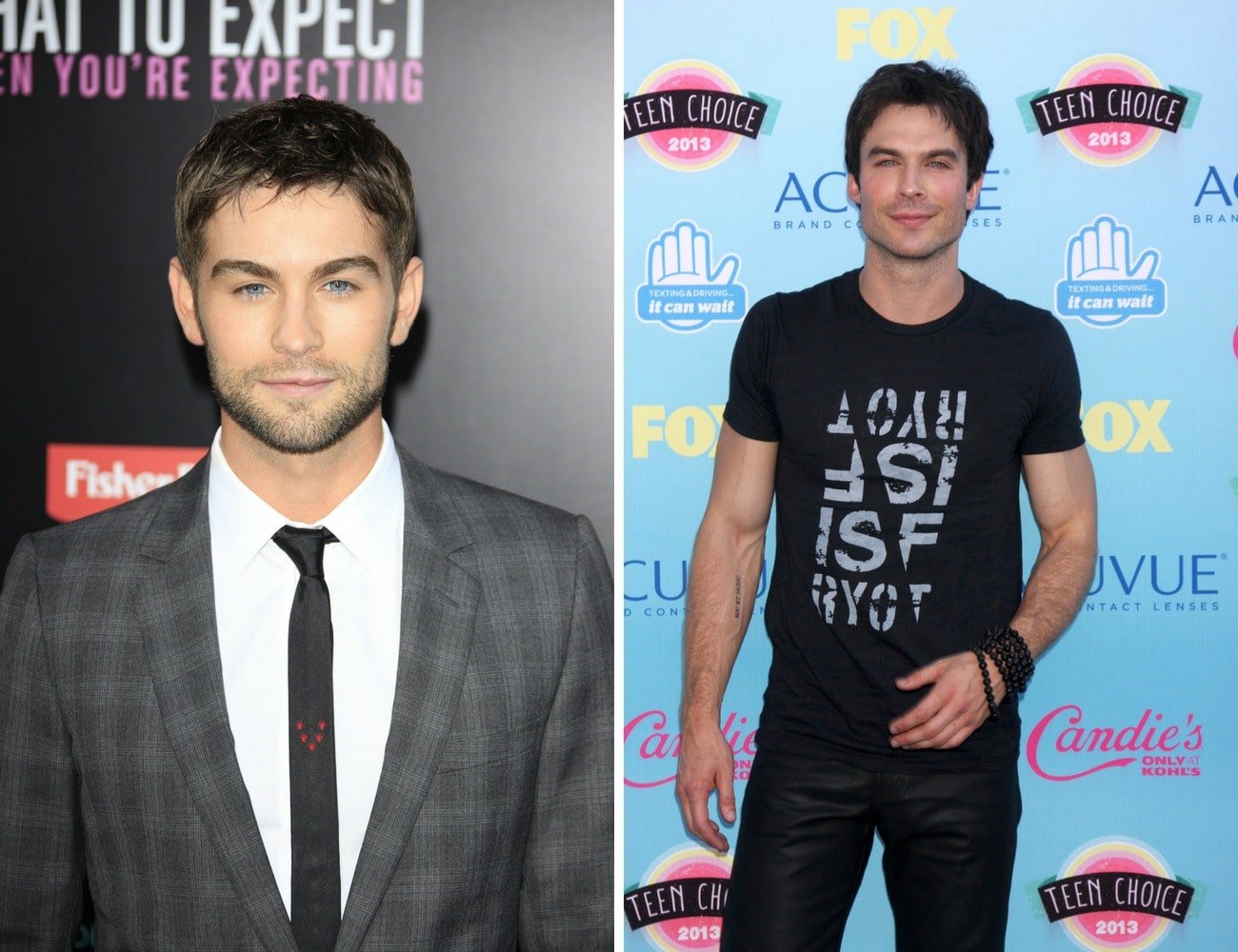 Gossip Girl's Chace Crawford and Vampire Diaries' Ian Somerhalder could easily pass as brothers. They have piercing blue eyes, model bodies, and charming personalities. They are practically the same height and despite the seven-year age difference, they are both disarmingly handsome. Somerhalder is married to Twilight actress Nikki Reed and they have one child.
Michael Cera and Jesse Eisenberg
Superbad actor Michael Cera has admitted that he and actor Jesse Eisenberg get mistaken for each other on a regular basis. "I bumped into Jesse on the street once and he told me he gets it once a day," Cera told the New York Post. "People think he's Michael Cera." Both were born in the 80s and while they look similar Eisenberg has curly hair whereas Cera wears his hair shorter.
Liam Neeson and Ralph Fiennes
Liam Neeson and Ralph Fiennes not only look alike but they're besties too! The 66-year-old Taken actor admitted on the Jonathan Ross Show that he and the 55-year-old Fiennes get mixed up a lot. "So I've been complimented on winning a Tony Award for my Hamlet, he's been complimented on the Taken movies." Neeson revealed he has even signed Fiennes autograph! It happened in Paris when he passed two elderly couples, "They got up and this lady said, 'Excuse me, can I introduce you to my husband and his best friend who landed on D Day 50 years ago and they're now going up to the beaches of Normandy to work by themselves and honour their comrades who died", he said choking up as he recalled the encounter. "So, I'm just floored by this and we shake hands. I was about to move away and the lady said, 'Would you mind signing this?' She brought out a menu. "I said, 'I'd be honoured.' So I get this and as I'm just about to write my name she says, 'We love The English Patient.' So, I just wrote, with love, Ralph Fiennes."
Jodie Foster and Helen Hunt
Helen Hunt and Jodie Foster are Oscar winners, in their mid-fifties with fair-hair parted on the same side confusing even their fans. Jodie Foster revealed in an interview with Daily Mail Australia, 'I've been mistaken for Helen Hunt so many times and she for me. We talk about it a lot every time we see each other." A Starbucks barista thought Hunt was Foster and wrote 'Jody' on her cup. The As Good As It Gets star found the incident amusing and wrote in a Twitter post: 'Ordered my drink @Starbucks asked the barista if she wanted my name. She winked and said "We gotcha".' But this isn't the first time, Hunt admitted to David Letterman in a 1994 interview that a supermarket cashier had once made the same mistake.
Jennifer Lawrence and Bella Hadid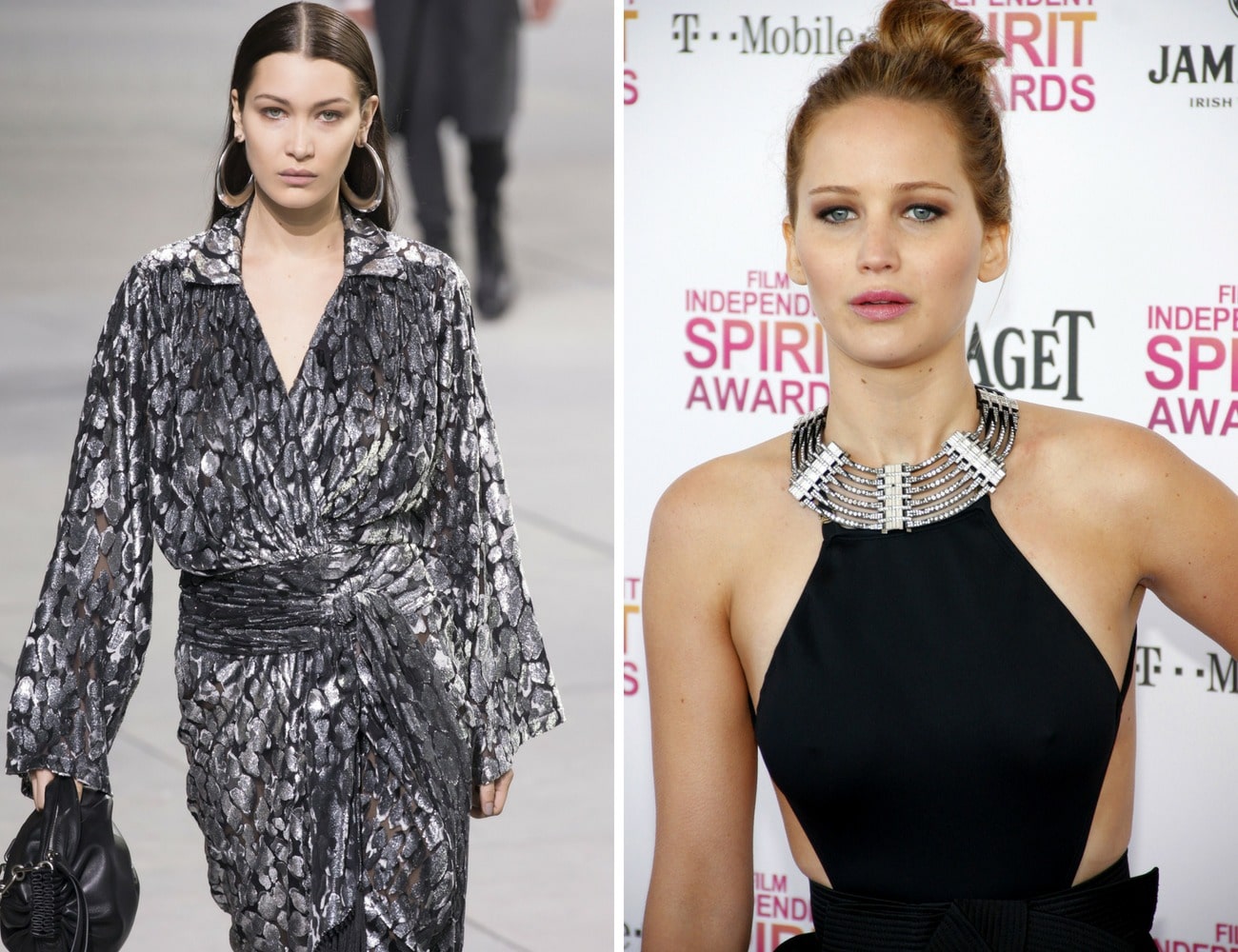 Supermodel Bella Hadid is only 21 years old and is world famous. Jennifer Lawrence is a 28-year-old Oscar-winning actress. While Hadid is normally brunette and Lawrence blond that doesn't stop people from confusing the two of them. Hadid said in a Seventeen magazine interview that she's aware of the similarity: "I never saw it, but there are some photos that it's really weird, and we look very similar. People say it all the time. I'll walk onto set and five people will say, 'You know who you look like?' and I'm like, 'Jennifer Lawrence?' then they'll say, 'How'd you know I was going to say that?' and I'll go, 'Because I hear it five times a day.'"
Lea Michele and Idina Menzel
31-year-old Lea Michele and 47-year-old Idina Menzel share so many similarities, how do we count the ways? They are both talented sopranos born in New York. They both worked on Broadway. Menzel started singing as a teenager while Michele was just eight years old. Menzel played Michele's mom on Glee. They both have had albums in the Billboard top ten. They both volunteer for charities. They've both suffered heartbreak: Menzel split with her husband of 10 years (they have one child together) and Michele's boyfriend, Glee star Cory Monteith died of a drug overdose.
Amber Heard and Scarlett Johansson
32-year-old blonde beauty Amber Heard is probably more famous for her short-lived, turbulent marriage to her Rum Diary co-star Johnny Depp than for her movies roles. But that all might change with her upcoming movie Aquaman with Jason Momoa on December 21st. On the other hand, her "long-lost sister" 33-year-old Scarlett Johansson is not only gorgeous but very well-known for her role as the Black Widow in the Marvel Superhero movies. She is twice divorced with one child.
Reese Witherspoon and Brittany Snow
42-year-old Academy Award winner Reese Witherspoon is most famous for her movies Legally Blonde and Walk the Line. This mother of three can be currently seen on the small screen in the popular Big Little Lies. We wouldn't blame you if you thought 32-year-old Brittany Snow is her younger sister. They are both blonde, pretty and wholesome. Brittany is popular for her musical role in the Pitch Perfect series.
Michelle Williams and Carey Mulligan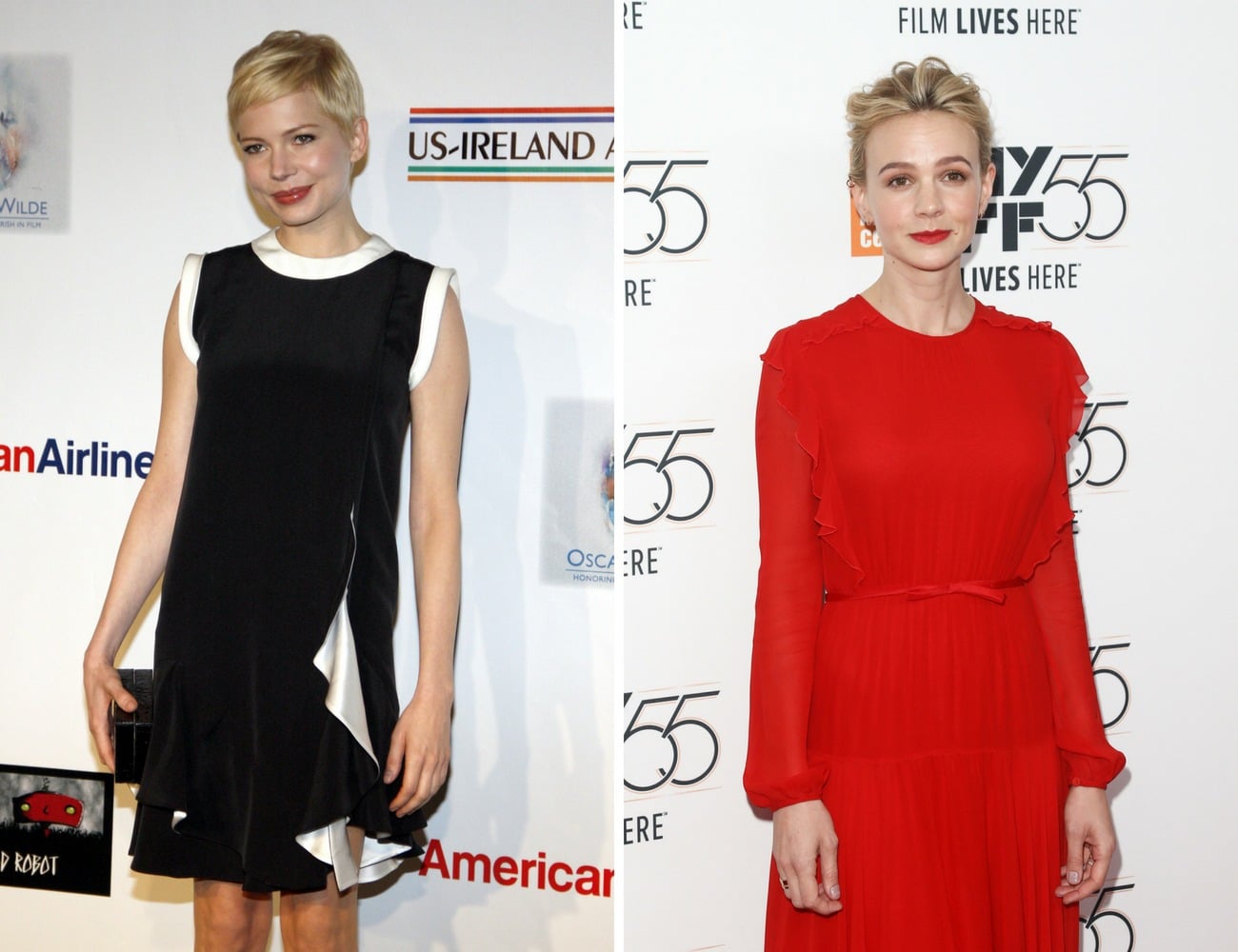 33-year-old Carey Mulligan is the British version of Michelle Williams. They both have short blond hair, fair complexions, and similar styles. Mulligan has starred in hits such as "Drive," "Shame" and "The Great Gatsby." She can be currently seen on the TV mini-series Collateral. Mulligan is married to musician Marcus Mumford and they have two children. The Greatest Showman co-star Michelle Williams, 37, has a daughter with the late Australian actor Heath Ledger and is currently married to composer Phil Elvrum. While the two are not related they might share the same stylists.
Tobey Maguire and Jake Gyllenhaal
These two underrated cuties actually played siblings in the drama "Brothers". Not only that, but Jake Gyllenhaal, 37, almost replaced Tobey Maguire, 43, in the Spiderman series. It happened when the Spiderman director met with Jake Gyllenhaal when it appeared that Maguire wasn't going to return for the sequel if he didn't receive a higher salary. After begging his way back into the franchise, Maguire was paid $17 million to return for the sequel, so his stalling tactics worked and he actually got a $13 million raise.
Heath Ledger and Charlie Hunnam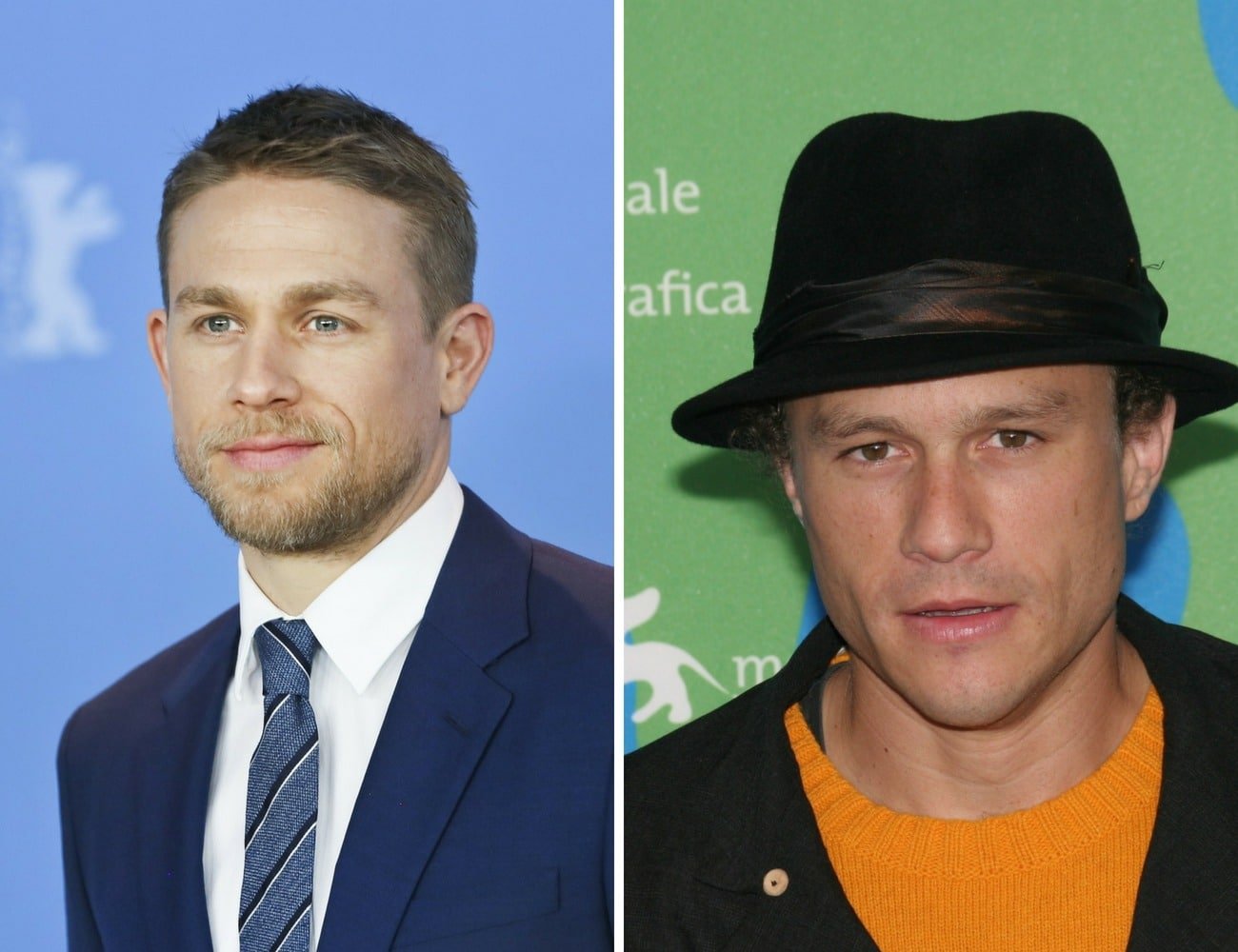 British hunk Charlie Hunnam admits that people used to mix him up with Heath Ledger as they both share a rugged and cool masculinity. Hunnam gets his excellent physique from boxing, swimming, and weightlifting. He is most famous for his role in the TV series The Sons of Anarchy. Tragically Ledger left us much too soon at only 28. He is remembered for his role as the Joker in The Dark Knight for which he won an Oscar posthumously.
Carey Mulligan and Ginnifer Goodwin
Ginnifer Goodwin, The Once Upon a Time actress, revealed in an interview with InStyle Magazine: "I get mistaken for other actresses with short hair, which cracks me up. Actresses I look nothing like, but actresses who at some point had short hair. Lately, I've been getting a lot of Carey Mulligan or Maggie Gyllenhaal."
Goodwin is married to actor Josh Dallas and they have two children. Truth to tell the two cute actresses do share a passing resemblance.
Amanda Seyfried and Dakota Fanning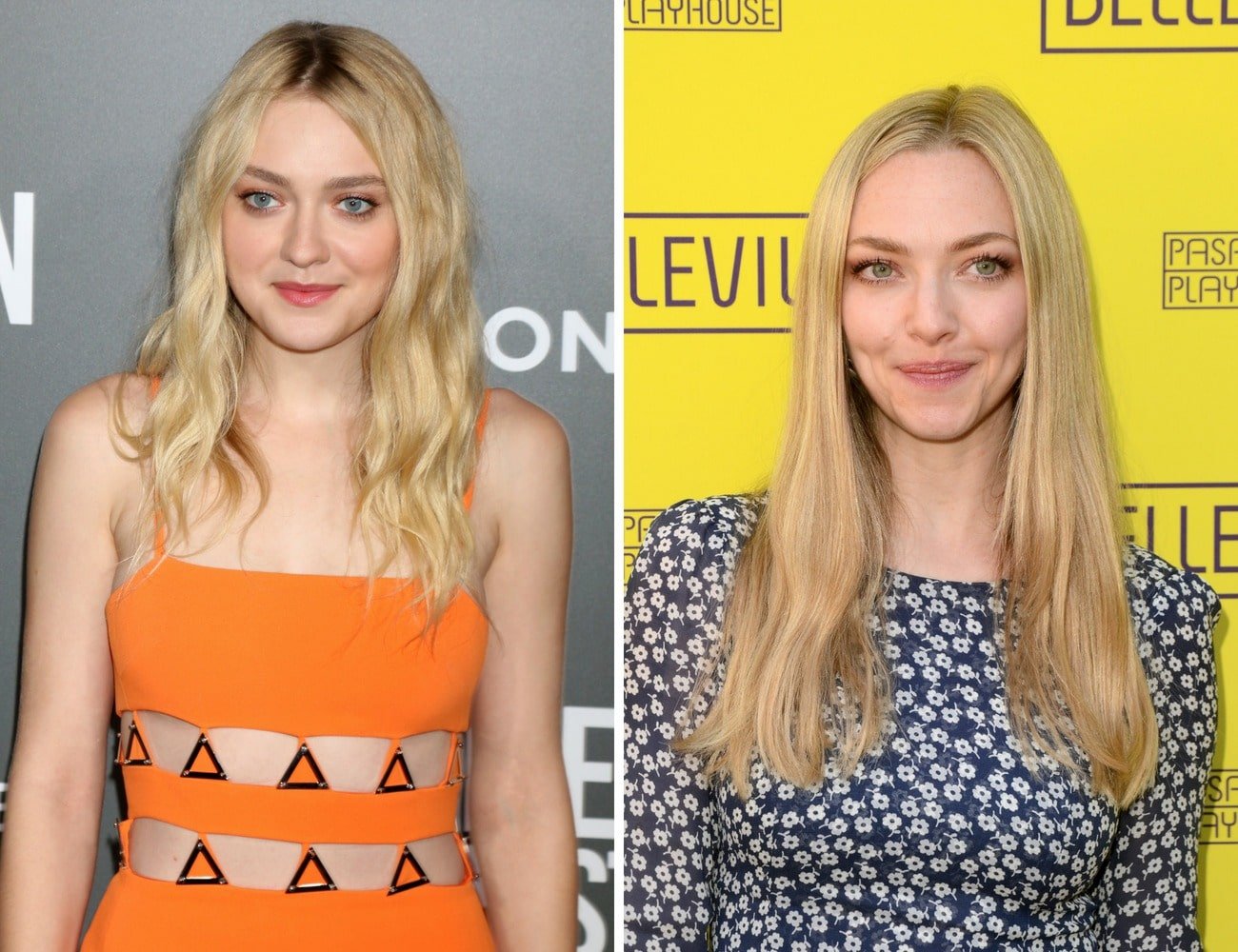 Big blue eyes, long blonde hair, and great figures, who can blame us for seeing double? Amanda Seyfried, 32, is famous for her musical role in Mama Mia. She is married to actor Thomas Sadoski and they have one daughter together. Former child actress Dakota Fanning is already 24 years old and appeared recently in the hit movie Ocean's Eight.
Penelope Cruz and Paz Vega
These two raven-haired beauties were both born in Spain! Pen?lope Cruz, 44, is famous for her role in Pirates of the Caribbean. She is married to her Vicky Cristina Barcelona co-star Javier Bardem and they have two children. Paz Vega has starred in dozens of films in Europe and North America and is currently starring in the Spanish language show "Fugitiva". Vega, who starred opposite Adam Sandler in the totally underrated Spanglish, is 42 years old and has three children.
James McAvoy and Ewan McGregor
39-year-old actor James McAvoy has admitted that fans have approached him on several occasions because they think he is the 47-year-old Scottish star, Ewan McGregor. Speaking about one particular incident on 'The Late Show with David Letterman' the actor recalled: "I was in the gym not too long ago and this really nice little Argentinian girl came up to me and she was like, 'I love your films' and I was like, 'Thank you very much.' [She asked] 'Is there any chance of getting a picture?' …She said to me, 'I also love your TV shows by the way,' and I was like, 'That's interesting, I haven't done a TV show in a good few years.' "[Then] she goes, 'Especially the ones when you're on the motorbikes going around the world,' and I was like, 'Oh, she thinks I'm Ewan McGregor!' The fellow Scot also joked that he only got his role in the movie 'The Last King of Scotland' because he was the cheapest actor with a Scottish accent.
Heather Graham and Teri Polo
Heather Graham's first starring role was as Felicity Shagwell in the 1999 Austin Powers sequel which was a box-office hit. Ten years later she played the stripper-with-a-heart-of-gold Jade in The Hangover, which was also a box-office hit. Graham can currently be seen in the TV Series Bliss. Not only does she look like actress Teri Polo but turned down the role in Meet the Parents that ultimately went to Polo making her famous. Polo is divorced with one child. She can be seen nowadays in the TV Series, The Fosters.
Mamie Gummer and Leelee Sobieski
Mamie Gummer, 35, came to fame playing the daughter of Meryl Streep on the big screen in Ricki and the Flash and the two are actually mother and daughter in real life! While Mamie has three siblings she shares a strong resemblance to Indie actress Leelee Sobieski who is also 35 years old. Sobieski made a name for herself in Deep Impact when she was just a teenager. The movie was a hit, grossing over $349 million worldwide. However, you won't find her on the big screen anymore as Sobieski admitted: "I don't do movie stuff anymore. I am just focused on my kids. I think that's mainly why I stopped…Also, ninety percent of acting roles involve so much sexual stuff with other people, and I don't want to do that."
Adam Sandler and Jason Biggs
American Pie star Jason Biggs, 40, says that fans rarely remember his name and instead confuse him for funnyman Adam Sandler, 51, who is currently starring in Netflix films. "I don't just get recognized for being myself. I find that a lot of people, especially abroad, will recognize me but they don't know my name and they can't put it together," he said. "The more famous version I guess they put in their mind is Adam Sandler. I get that a lot. They recognize the face, [but] they certainly don't know who Jason Biggs is."
Matt Craven and Robert Englund
Matt Craven and Robert Englund are both very busy character actors. Canadian-born Craven appeared in the Academy-Award-nominated "Crimson Tide" and "A Few Good Men" as well as the popular "X-Men: First Class." California-born Englund has appeared in over 75 feature films and is internationally famous as the iconic boogeyman Freddy Krueger in the hit franchise A Nightmare on Elm Street and its seven sequels. If you mentally remove Englund's glasses and beard you'll see he looks like Craven's brother!
Amanda Seyfried and Rebecca Gayheart

Credit: Big Stock Photo
Rebecca Gayheart is fifteen years older than Amanda Seyfried and could easily be her older sister. They both have striking blue eyes and curly, wavy blonde hair. Gayheart, 47, is remembered as being Dylan's wife on Beverly Hills 90210. She is separated from heartthrob Eric Dane from Grey's Anatomy. They have two children together. Mamma Mia star, Amanda Seyfried, 32, is married to actor Thomas Sadoski and they just had a baby girl.
Don Cheadle and Tim Meadows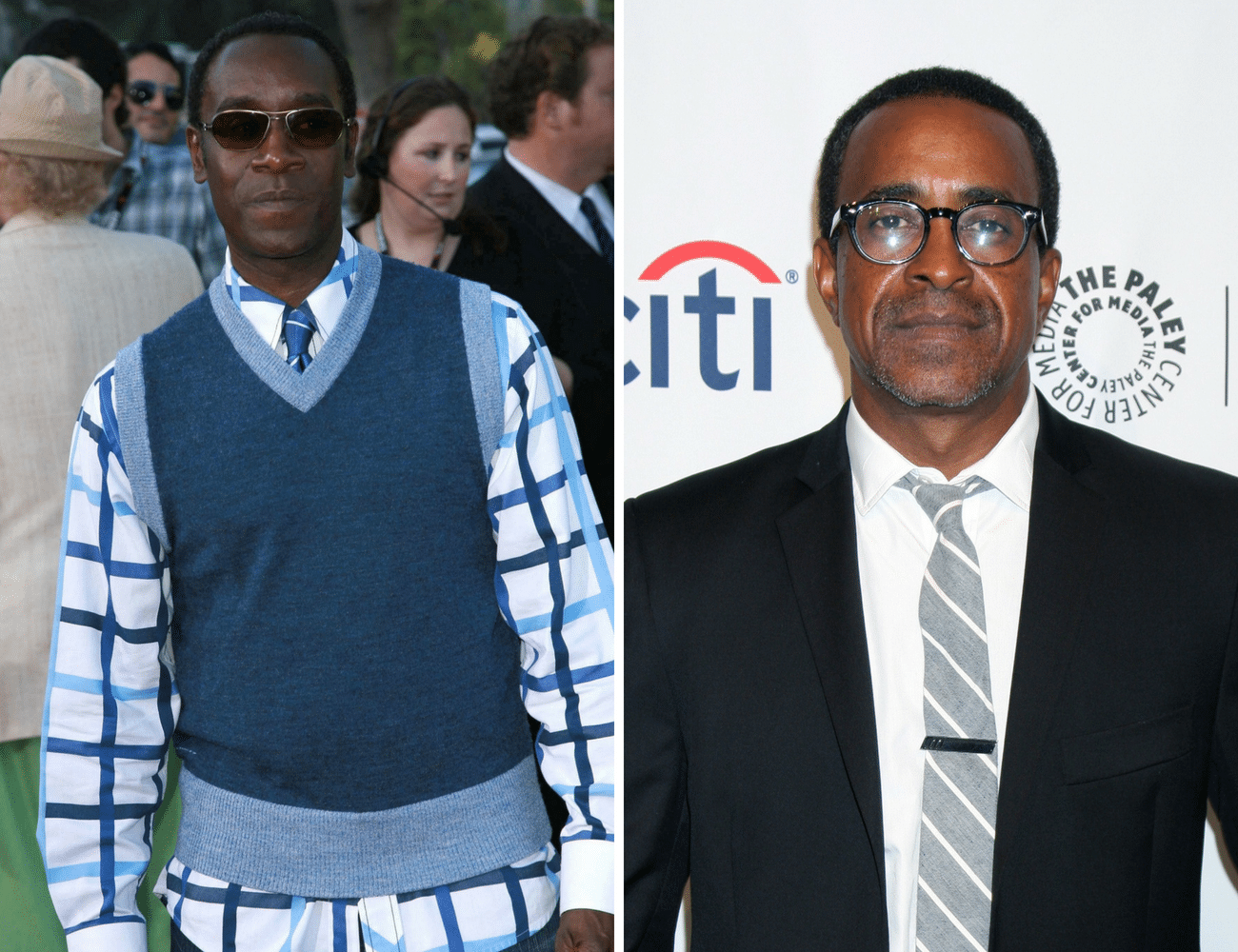 Credit: Big Stock Photo
Actor Don Cheadle, 53, said he is constantly mistaken for fellow actor Tim Meadows. In an interview with TV host Craig Ferguson, he talked about being mistaken for Meadows, who is best known for his movie and television character, Leon Phelps, The Ladies' Man. Cheadle recalled when he was on a flight, the attendant put two bottles of the cognac Courvoisier on his seat – the drink that Meadows' character consistently enjoyed in the movie, The Ladies Man. Cheadle is known for his performances in Crash and Hotel Rwanda. He and his longtime girlfriend, Bridgid Coulter have two children. The 57-year-old Meadows is married with two children.
Sofia Vergara and Madison Beer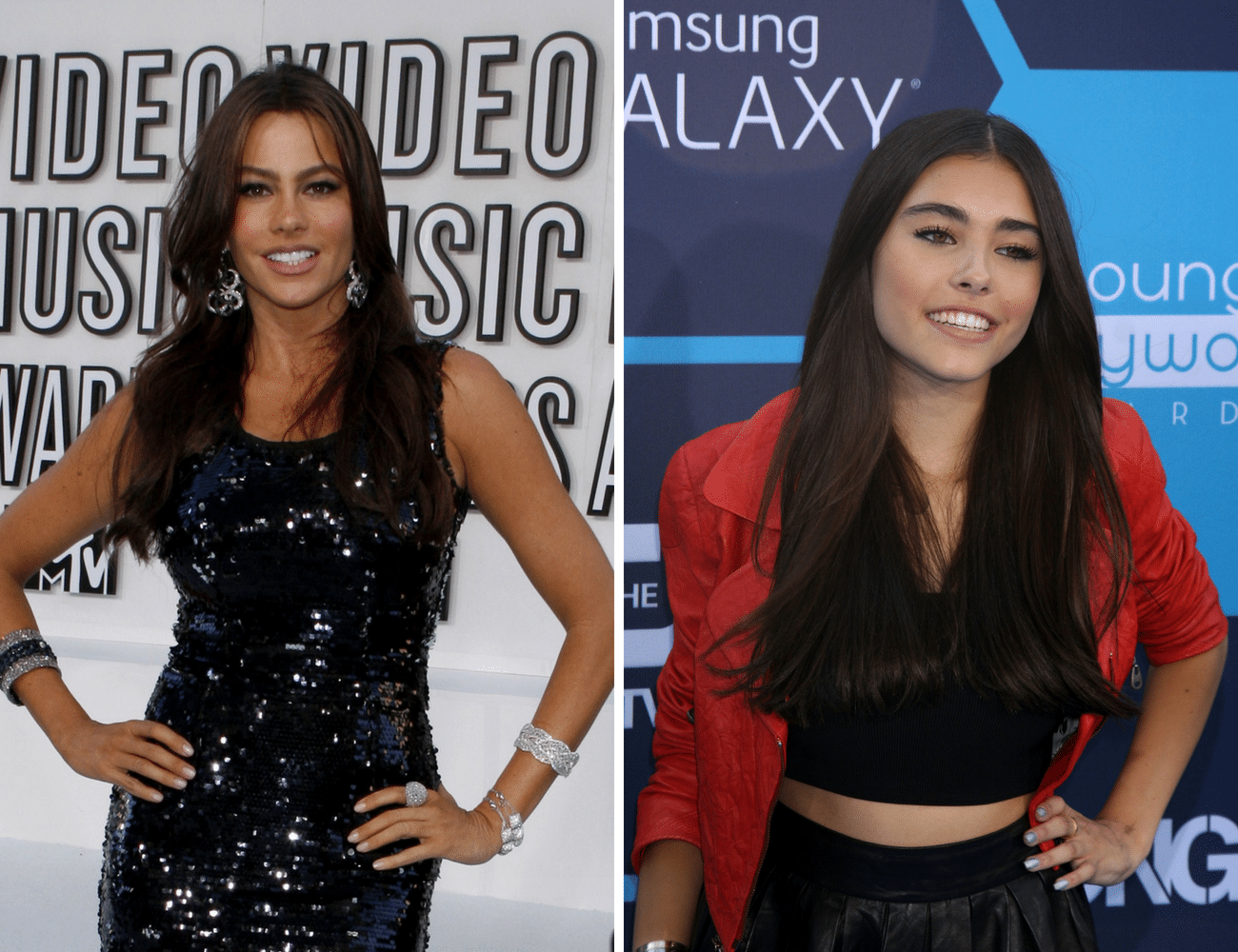 Credit: Big Stock Photo
New-York native, Madison Beer, 19, looks exactly like a younger version of actress Sofia Vergara. Beer is a singer who became popular after Justin Bieber tweeted a link to a video of her singing a cover of Etta James' "At Last" to millions of his followers. Bieber then signed Beer to the record label, Island Records, which Bieber is signed to as well. Beer has Bieber's manager too, Scooter Braun. Colombian-born Vergara, 46, stars on the ABC series Modern Family for which she has been nominated for four Golden Globe Awards, four Primetime Emmy Awards, and seven Screen Actors Guild Awards. In real life, she is married to actor Joe Manganiello and has a son from a previous marriage.
David O'Donnell and Patrick Dempsey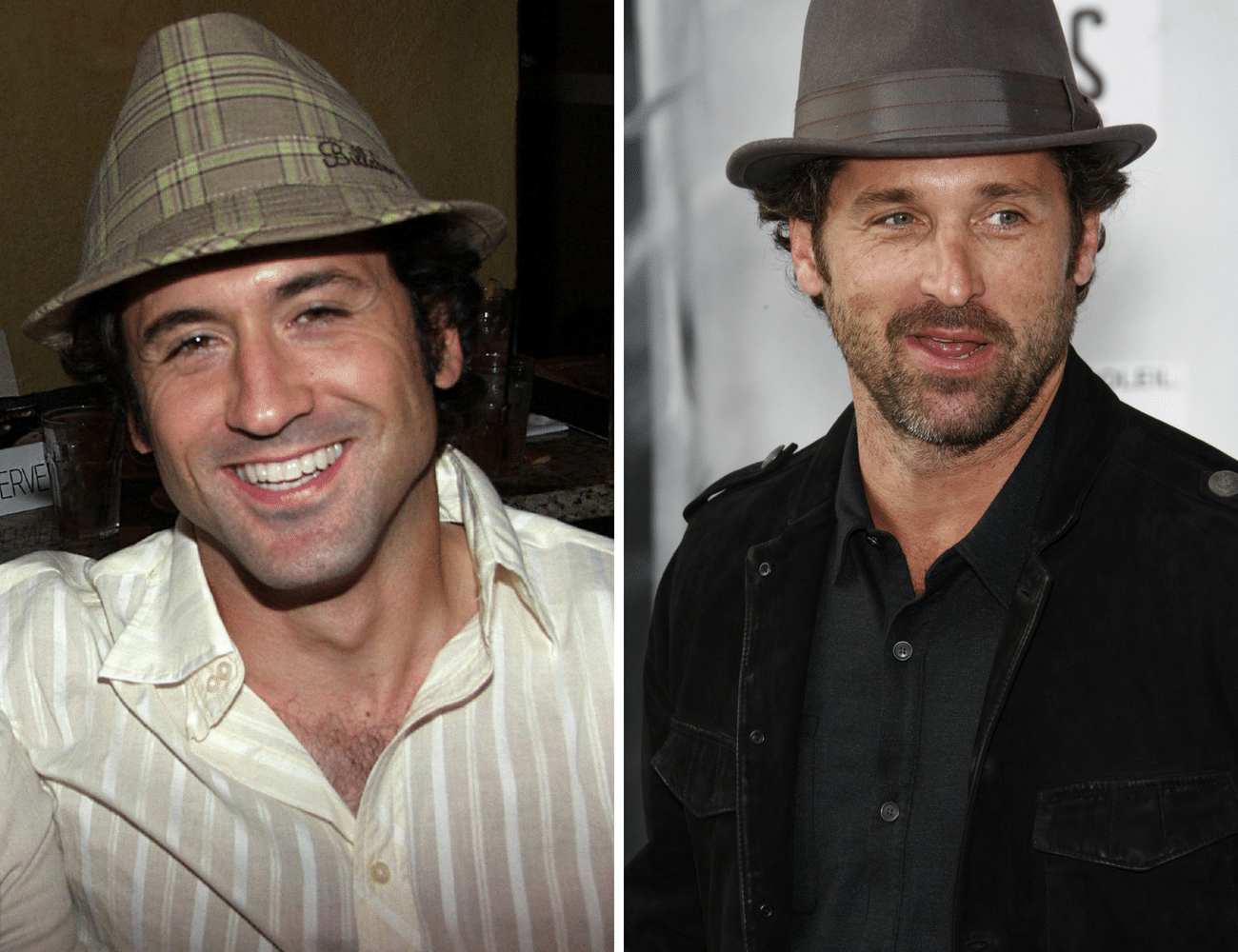 Credit: Gstatic
Patrick Dempsey AKA "Dr. McDreamy" stole our hearts in Grey's Anatomy has a celeb double, David O'Donnell. While O'Donnell, 43, isn't a household name, he has had over 25 guest starring roles on TV and appeared in over 30 films including Thirteen Days with Kevin Costner. Dempsey, 52, is married and has three children. He is also a philanthropist starting the Patrick Dempsey Center for Cancer Hope and Healing after his mother developed cancer.
America Ferrera and Jordin Sparks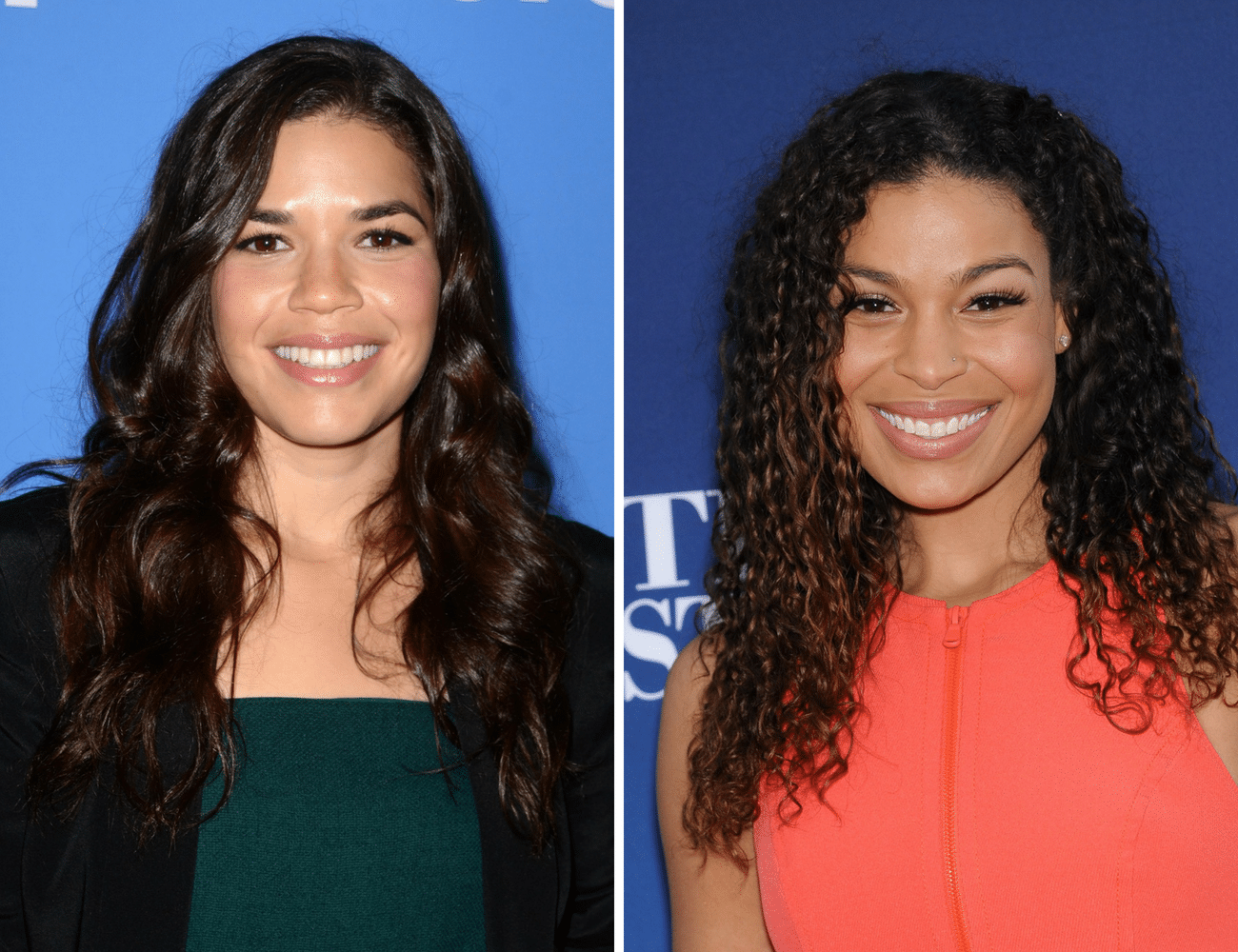 Credit: Big Stock Photo
Jordin Sparks, took the 'American Idol,' crown in its sixth season at age 17. Funny how she looks similar to Ugly Betty actress America Ferrera. Although Sparks is half-African-American and half-Caucasian and Ferrera's parents are from Honduras they could be sisters. Sparks is married to model Dana Isaiah and they have one child together. Ferrera is married to actor/producer Ryan Piers Williams and they have one child together.
Rob Lowe and Ian Somerhalder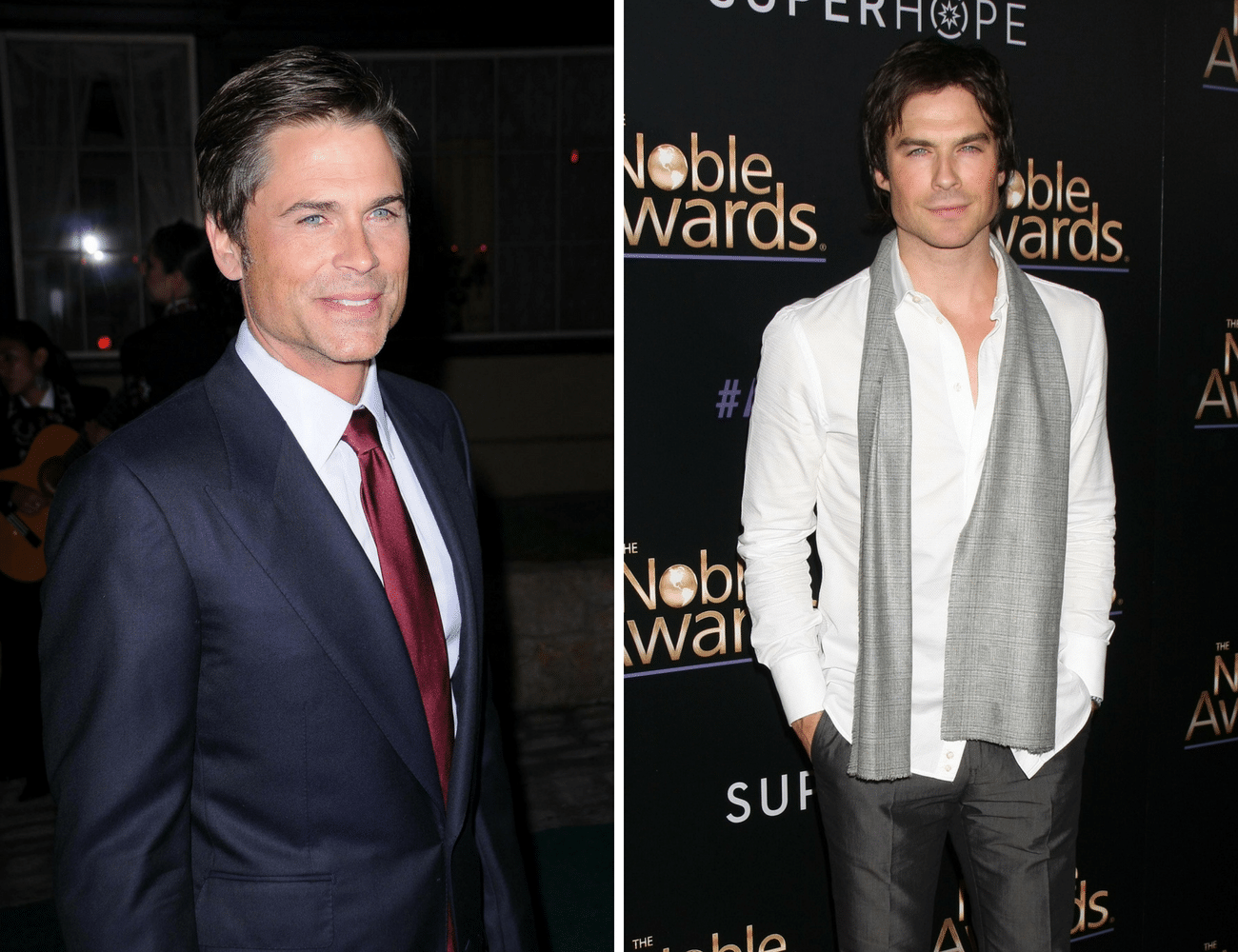 Credit: Big Stock Photo
Ian Somerhalder, 39, could look like Rob Lowe, 54, in a few years time. West Wing star, Lowe was most recently seen on TV as Dr. Ethan Willis in Code Black. He is married with two sons. Somerhalder seems to be attracted to the supernatural as he co-starred in The Vampire Diaries and is married to Twilight actress Nikki Reed, they have one daughter Bodhi Soleil.
Alyssa Milano and Jennifer Love Hewitt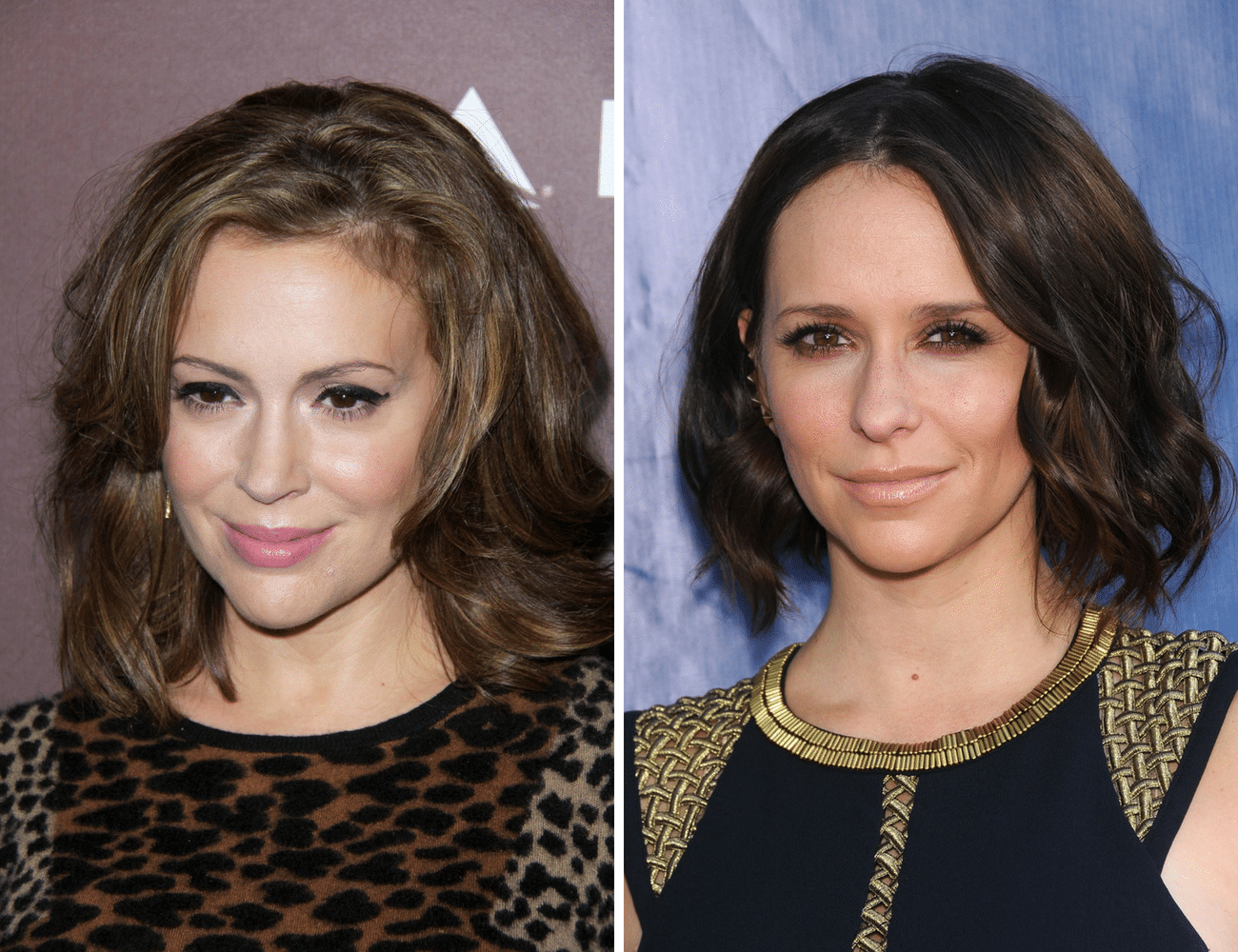 Credit: Big Stock Photo
Attractive, petite brunettes Jennifer Love Hewitt and Alyssa Milano are both American-born TV actresses who look a lot alike. Milano is best known for Who's the Boss? and Mistresses. Jennifer Love Hewitt co-starred in the Ghost Whisperer and The Client List. Hewitt is married to actor Brian Hallisay and they have two children. Milano is married to talent agent Dave Bugliari and they have two children.
Eric Dane and Leonardo Dicaprio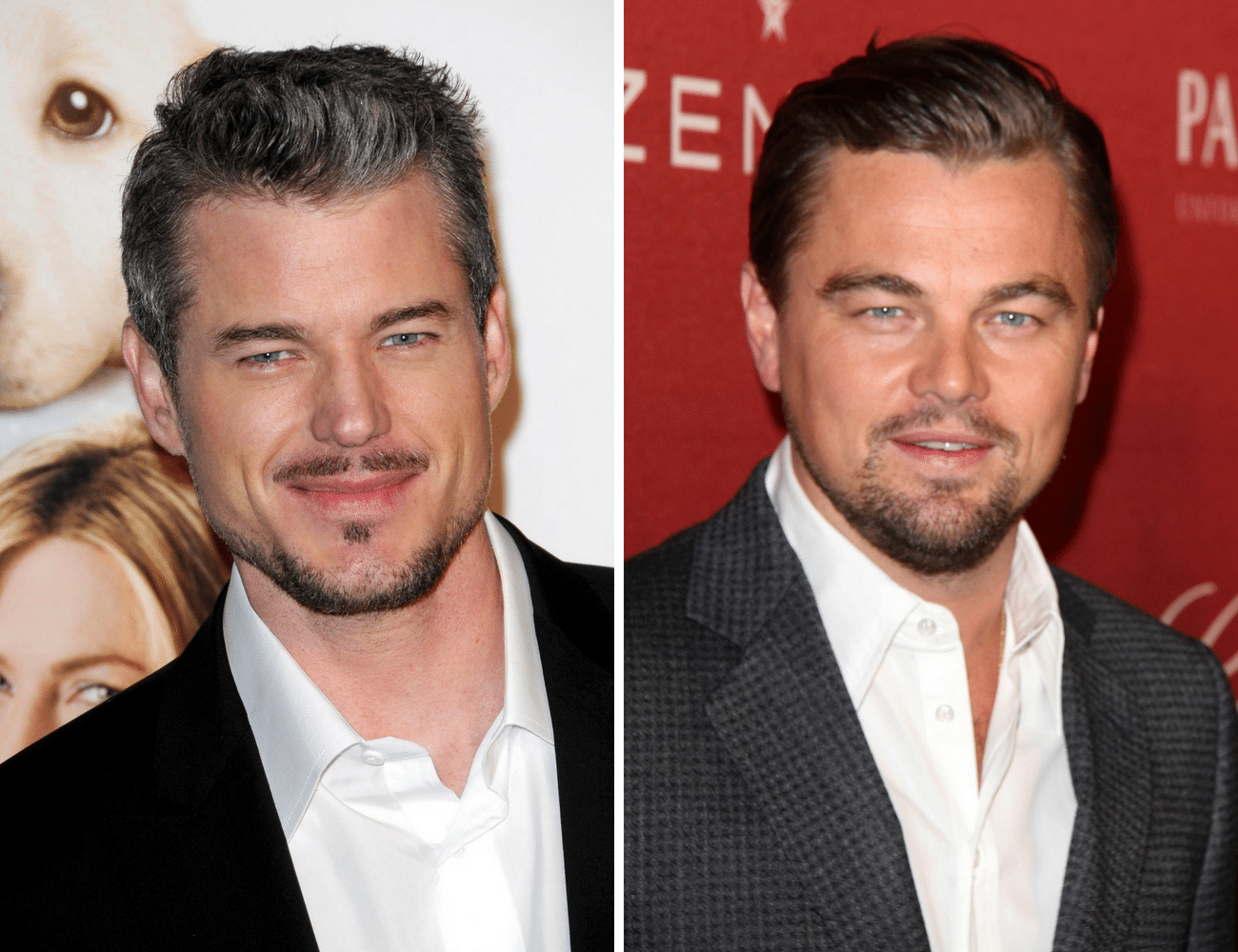 Credit: Big Stock Photo
Grey's Anatomy actor, Eric Dane, 45, definitely has a similar vibe to Titanic star Leonardo Dicaprio. They are both tall, blue-eyed and good looking. However, that's where the similarity ends. Dane is a family man at heart who was married to actress Rebecca Gayheart for 14 years with two children. His last TV role was in The Last Ship. Dicaprio, 43, is a serial playboy – who dated model Gisele B?ndchen and actress Blake Lively among many others – and is currently dating 21-year-old Argentinian model Camila Morrone. Dicaprio's latest movie success was starring in The Revenant.
Demi Moore and Courteney Cox

Credit: Big Stock Photo
In the 90s these two brunette beauties were on top of their game. Moore had a string of movie hits on her resume including A Few Good Men and GI Jane. Cox was a TV star on the popular show Friends. Today they are both in their 50s, look great for their age and could be sisters. Both are divorced. Cox is divorced from David Arquette with one child and Moore split from both Bruce Willis and Ashton Kutcher and has three children with Willis.
Oliver Jackson Cohen & Armie Hammer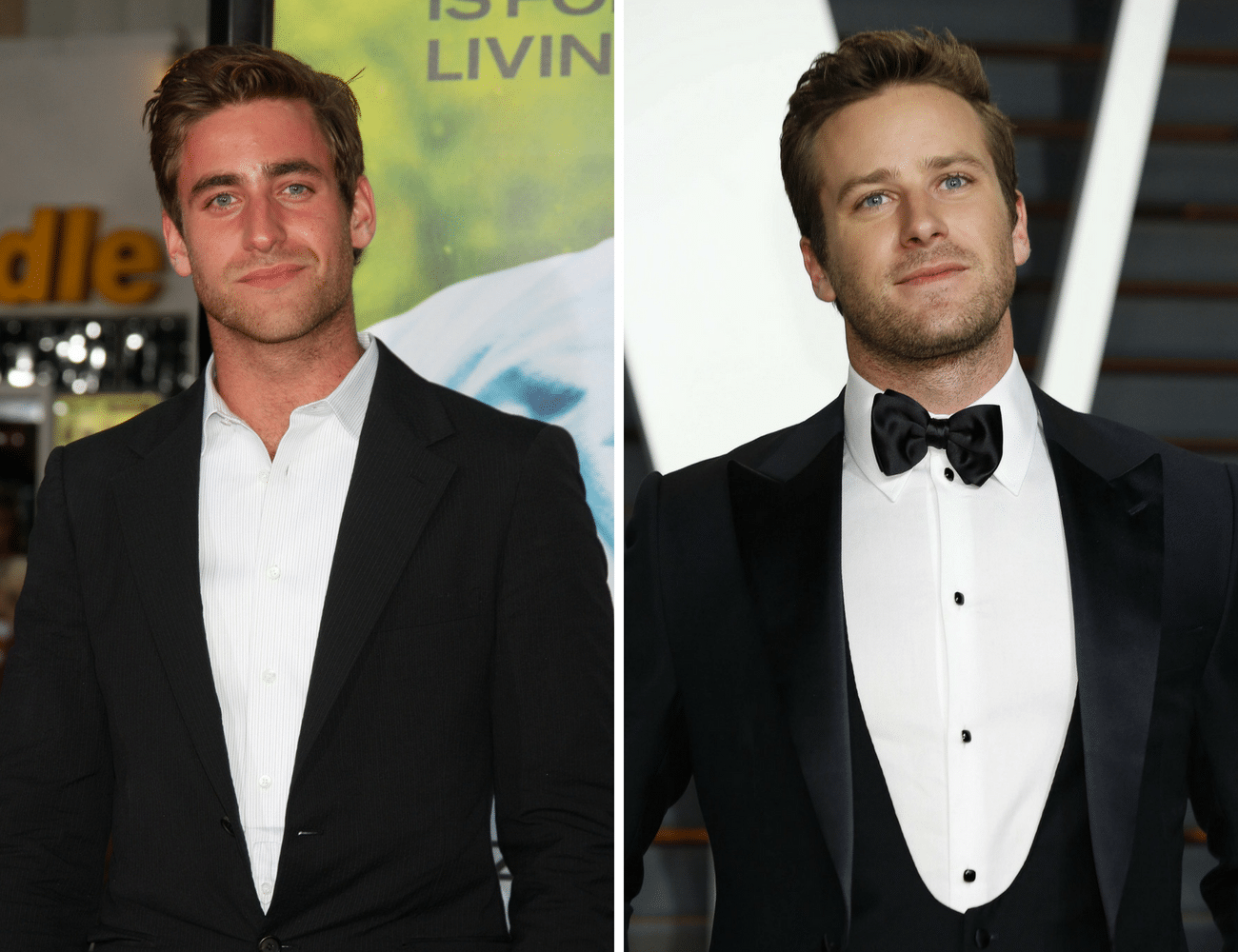 Credit: Big Stock Photo
Armie Hammer came to fame in the hit movie The Social Network playing twin brothers. Well, it's too bad the director didn't cast English actor Oliver Jackson-Cohen to be his twin! They are both well over 6 feet tall, 32 years old and are so good looking they melt hearts wherever they go. Jackson-Cohen has found his niche on TV playing in a wide range of shows. Hammer is married to actress Elizabeth Chambers and they have two children.
Hilary Swank and Jennifer Garner

Credit: Big Stock Photo
For true fans, these actresses don't look alike but the general public certainly gets them confused. Oscar-winner Hilary Swank, 44, revealed in an interview that she gets mistaken for Alias star Jennifer Garner, 46, all the time. Apparently, this can get uncomfortable for both Swank and Garner, because zealous fans don't take "no" for an answer. Swank admitted that fans got angry with her because they thought she didn't want to sign autographs. So Swank was sometimes forced to play along and in order not to give Garner a bad rep so she took photos as Garner. Maybe someone will look at those photos and say someday, 'That's not Jennifer Garner!'"
Alyson Hannigan and Lindsey Stirling

Credit: Big Stock Photo
Buffy the Vampire Slayer actress Alyson Hannigan, 44, has a look-alike in American violinist, Lindsey Stirling, 31. Hannigan starred on the sitcom How I Met Your Mother and in the American Pie film series. Hannigan married her Buffy the Vampire Slayer co-star Alexis Denisof and they have two daughters. Musician Stirling has teamed up with the rock group Evanescence and they are currently touring this summer across the US.
Johnny Depp & Skeet Ulrich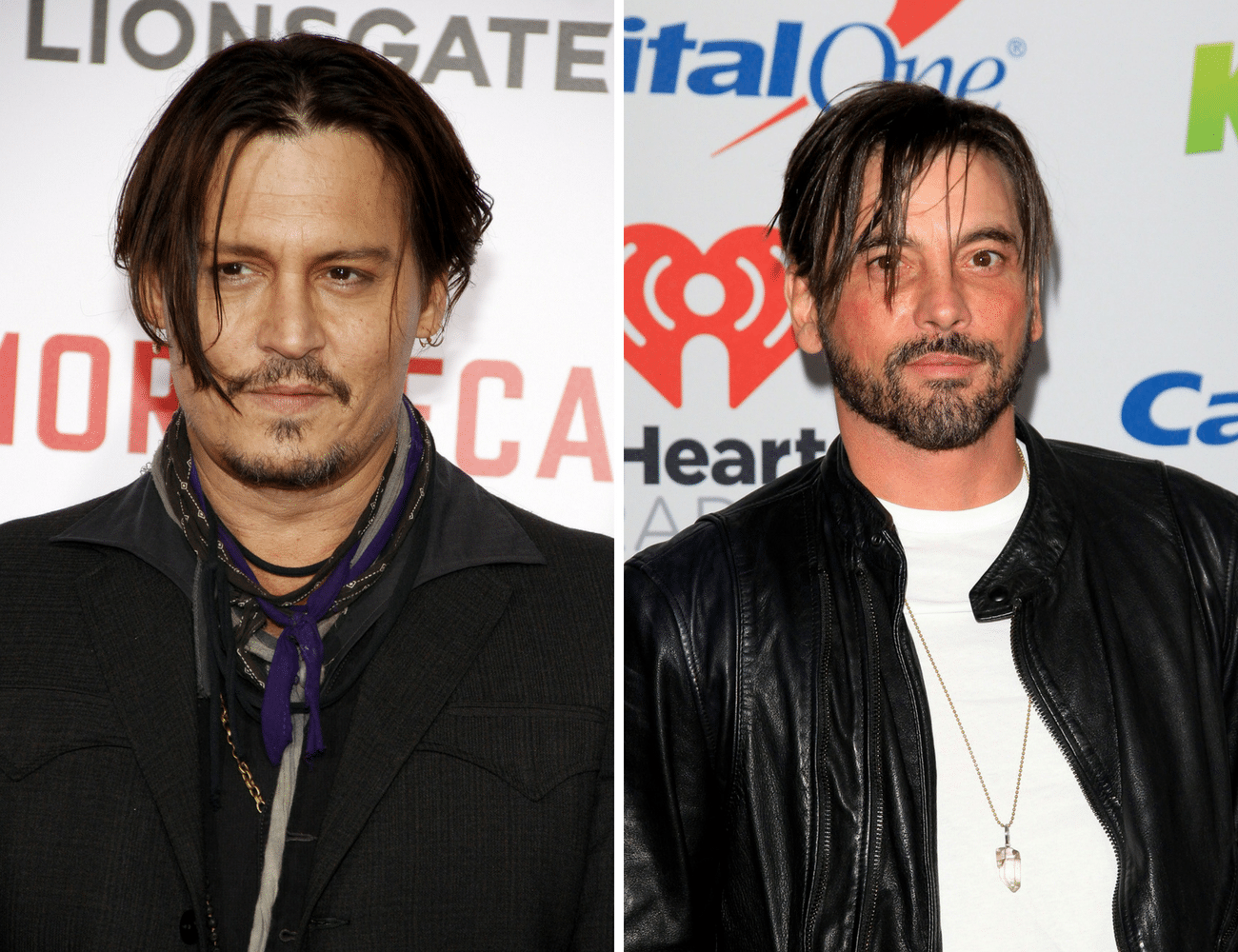 Credit: Big Stock Photo
Skeet Ulrich, 48, would rather not be compared to Johnny Depp, 55, but everybody seems to think the two actors look totally alike. Even 'Saturday Night Live' has made Ulrich-Depp clone jokes. David Spade flashed a picture of the good-looking Ulrich and announced: "Skeet, Johnny Depp called. He wants his DNA back." Not only are they handsome, dark-haired, 5′ 10″ tall, they have also both starred in films by the director Wes Craven. Craven gave Depp his first role, "A Nightmare on Elm Street," and directed Ulrich in the horror spoof "Scream". Both Ulrich and Depp are divorced with two children.
Emily Blunt and Alexis Bledel

Credit: Big Stock Photo
These blue-eyed beauties are both 5′ 7″, in their mid-thirties and happily married. British actress Emily Blunt recently won praise for her role in the movie The Girl on the Train. In 2018, Blunt starred alongside her husband, John Krasinski, in the horror film A Quiet Place, and will star as Mary Poppins in the musical film Mary Poppins Returns to be released this December. American-born Alexis Bledel is best known for appearing on the TV series Gilmore Girls and in The Sisterhood of the Traveling Pants film series. Since 2017, she has appeared in the Hulu drama series The Handmaid's Tale. She is married to Mad Men actor Vincent Paul Kartheiser and they have one son.
Rachel Bilson and Atlanta De Cadenet Taylor

Credit: Big Stock Photo
Atlanta de Cadenet Taylor, 26, is one of Britain's coolest models and Rachel Bilson, 37, is one of Hollywood's hottest TV actresses. The O.C star is like the girl next door who you just want to hang out with. She has a daughter with ex-husband Hayden Christensen. Her look-alike is Taylor, a model who has her own line of vintage swimsuits LPA x ATL. She is the daughter of Duran Duran guitarist, Atlanta de Cadenet.
Lauren Conrad and Carmen Electra

Credit: Big Stock Photo
Singer, dancer, actress, Carmen Electra, 46, has done it all. This glamour queen sang with Prince, acted with David Hasselhoff and danced with the Pussycat Dolls. She is twice divorced. Her look-alike is reality star Lauren Conrad, 32. The Hills star attended the Fashion Institute of Design & Merchandising, worked for Teen Vogue and Kelly Cutrone's PR firm People's Revolution. Conrad is the founder of the fashion lines LC Lauren Conrad and Paper Crown, and the co-founder of the fair trade online store The Little Market. She has published nine books, including L.A. Candy and The Fame Game trilogies. Conrad married former musician and law school graduate William Tell, they have one child together.
Nina Dobrev and Victoria Justice
"Vampire Diaries" star Nina Dobrev 29, and "Victorious" star Victoria Justice 25, both admit that people get them totally mixed up. Victoria recalls: "I met her and she was like, 'Everyone thinks I'm you!' And I was like 'Everyone thinks I'm you! We hugged it out, and it was all good."
Taylor Swift and Karlie Kloss
Not only do musician Taylor Swift and model Karlie Kloss look alike but they're good friends too! They are both tall, blonde, slender and enjoy dressing alike. The 28-year-old singer is currently on her sold-out Reputation Tour. At 25, Karlie Kloss is one of the world's highest-paid models and has worked for brands such as L'Or?al, Swarovski, and Carolina Herrera.
Zac Efron and Kevin Zegers

Credit: Big Stock Photo
High School Musical star Zac Efron stole our hearts when he was just a teenager. Can you believe he is already 30? Efron has quite a few hits and misses under his acting belt. From Hairspray and 17 Again to Paperboy and Dirty Grandpa to his latest sleeper hit The Greatest Showman, Efron has been in the limelight. His brother from another mother is Canadian actor and model Kevin Zegers. The 33-year-old is primarily known for his roles in The Mortal Instruments: City of Bones, the Air Bud film series, and TV series Gossip Girl. Zegers is married with two children.
Kristin Chenoweth and Amy Sedaris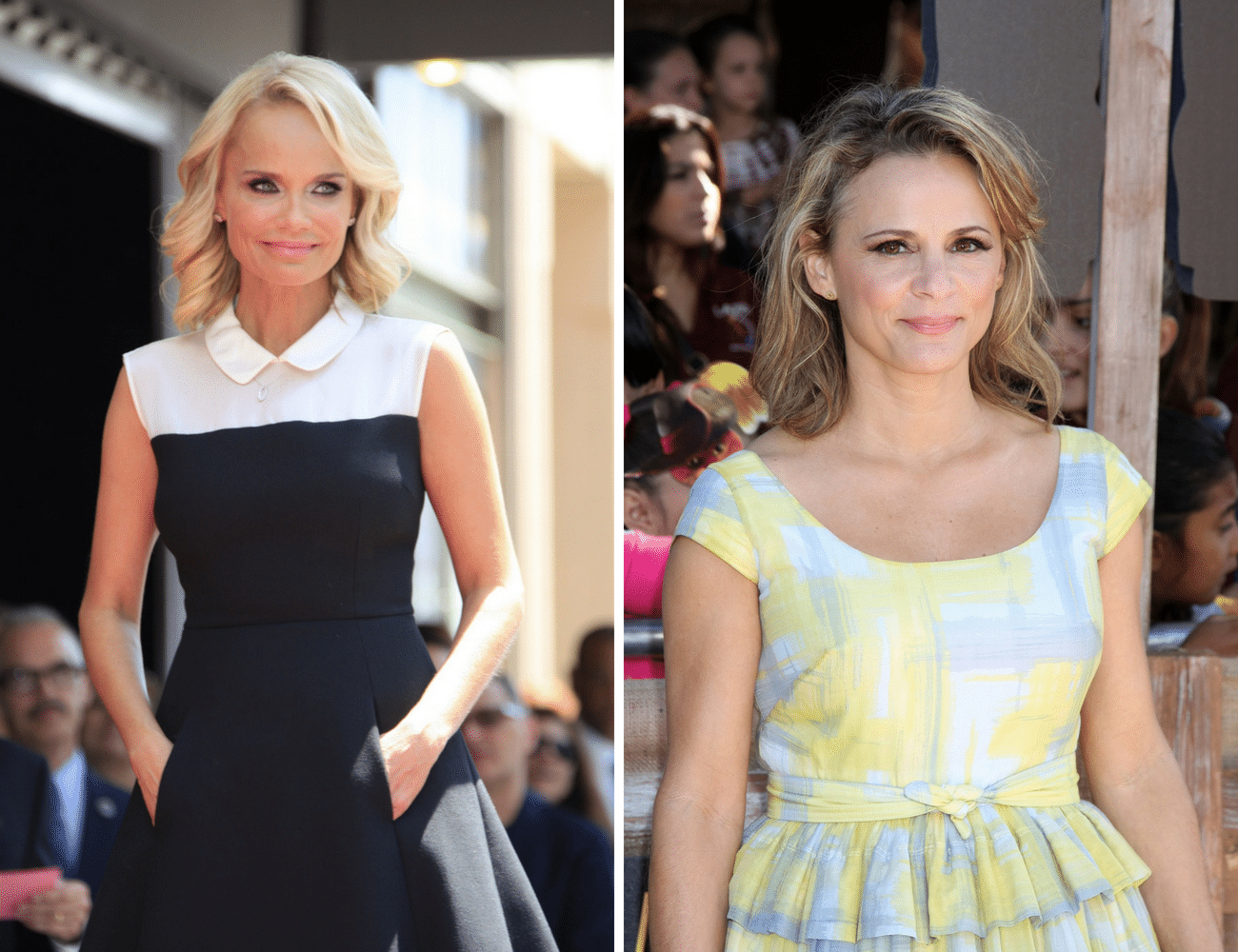 Credit: Big Stock Photo
Broadway actress and singer, Kristin Chenoweth, 50, looks adorably similar to comedian Amy Sedaris, 57. Their eyes and smiles are similar – and so are those dimples. Chenoweth won a Tony Award for her performance as Sally Brown in You're a Good Man, Charlie Brown. Since then the Wicked actress has appeared on the big screen, in made-for-TV movies, done voice work in animated films, hosted several award shows, and released several albums. Her look alike, Amy Sedaris is famous for playing Jerri Blank in the TV series Strangers with Candy. Since 2014, Sedaris has voiced the character Princess Carolyn in the Netflix animated series BoJack Horseman. Both women are single.
Lauren Conrad And Kate Middleton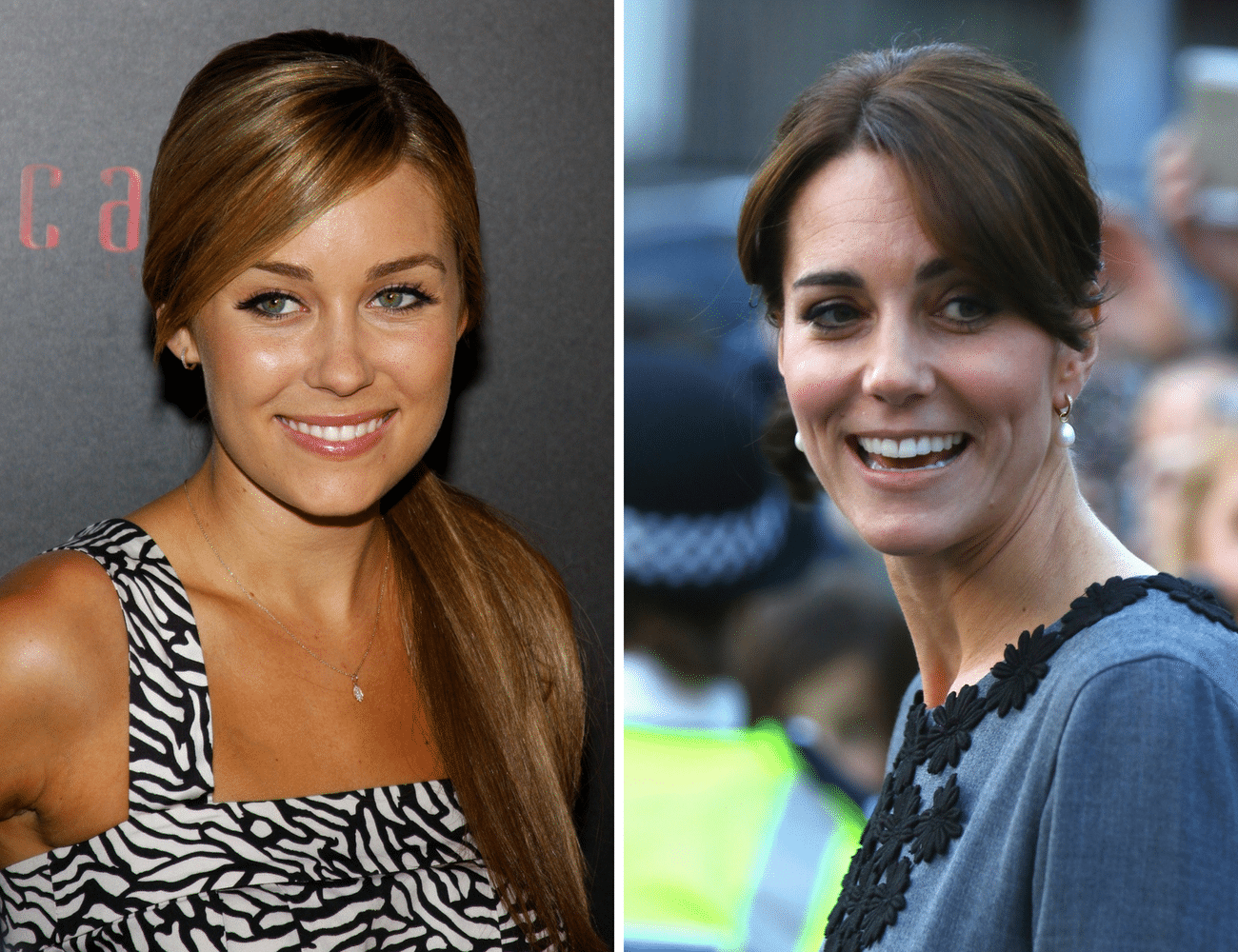 Credit: Big Stock Photo
Are we the only ones that noticed that The Hills star, Lauren Conrad, 32, looks a lot like the Duchess of Cambridge, Kate Middleton, 36? Same face shape, green eyes, and sweet smile. But they live such different lives! The Duchess is a full-time mom to her three children, actively volunteers for a number of charities and accompanies husband Prince William on royal duties assigned by his grandmother, the Queen of England. While Lauren Conrad, is a reality star, fashion designer, and book author.
Taylor Lautner and Kris Humphries

Credit: Big Stock PhotoA
Twilight hunk, Taylor Lautner has a brother from another mother, professional basketball player, Kris Humphries. While Humphries is taller and older they still bear an uncanny resemblance. In addition to his successful basketball career, Humphries is famous for being married to Kim Kardashian for 72 days what many believe was a publicity stunt on the part of the Kardashian family. Lautner, on the other hand, is a famous actor but is a serious athlete as well. Lautner earned his black belt in Karate by the age of eight and won several junior world championships. Both men are currently single.
Leonardo DiCaprio and Jack Nicholson
Actors Leonardo DiCaprio and Jack Nicholson may have 37 years between them in age, but their resemblance is uncanny. No, this duo is not father and son, but both are Oscar-winning legendary actors who won for their respective roles in The Wolf of Wallstreet, The Revenant, As Good as It Gets, and One Flew Over the Cuckoo's Nest. In fact, the two both enjoy net worths in the stratosphere- New Jersey native Nicholson's net worth is valued at $400 million and native Angeleno Dicaprio's at $225 million. Both seem like fun guys who just like to have a good time, as these two can often be spotted siding courtside at NBA Lakers games.
Animals That Totally Look Like Celebrities
Snoop Dog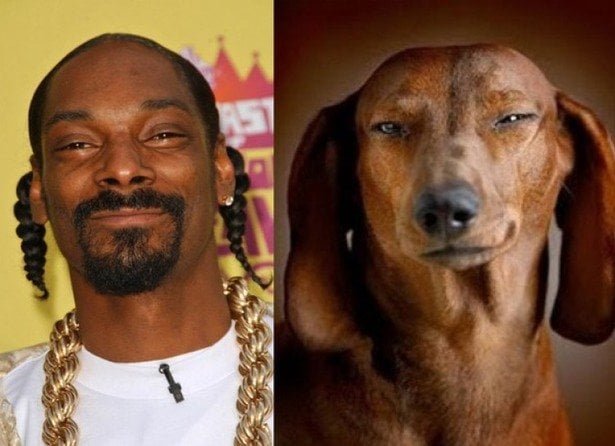 It's the D. O to the DOUBLE GG- and guess what animal he looks like? I know not very original but Snoop Dogg's notorious cheeky grin perfectly matches and resembles this long-necked smiley dog, maybe that's where the name Snoop Dog came from? Rapper Snoop Dogg (real name: Calvin Cordozar Broadus Jr) is famously known for enjoying Marijuana and we have to note the uncanny similarities between Snoops eyes and those of the dog in question… maybe the dog too enjoys Marijuana, who are we to judge? Either way, I think that it is fair to say that these two look incredibly similar.
The Dog: We think it's fair to say that it's all in the eyes and the grin, this dog looks as content as Snoop
Anderson Cooper
That silvery white fur, those piercing blue eyes. There's no doubt that Cooper and this cat have a similar look.
Animals That Totally Look Like Celebrities
Samuel L Jackson
The stern look of famous award-winning actor Samuel L. Jackson is well-known but did you think a dog could have that same menacing look? It even looks like he, like Jackson, is flaring its nostrils! Granted, Jackson is an actor and we know that he doesn't look like this on a day-to-day basis, however, the same can't be said for the pit-bull looking dog.
Jackson has appeared in over 100 movies- but this dog is hopefully never going to be seen again, the blood-shot eyes look as if he's staring you down, knows where you live and will probably enjoy harassing you. And so, it can be said that Samuel L.Jackson has been known to turn that frown upside down, but that dog looks like he has two levels of emotion, angry and angrier.
Iggy Pop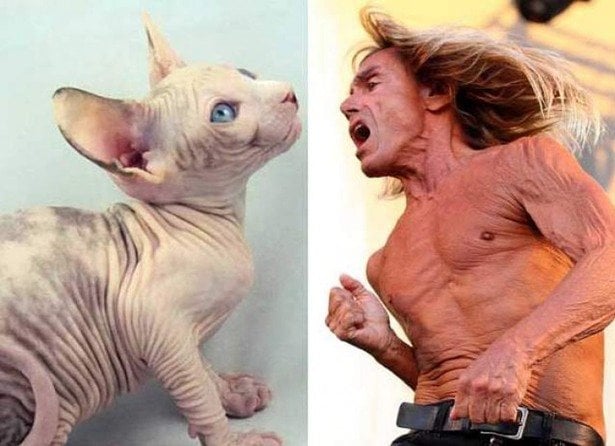 Unfortunately for Iggy Pop, his skin hasn't held up very well over the years. He looks kind of like a hairless cat nowadays.
Animals That Totally Look Like Celebrities
John Travolta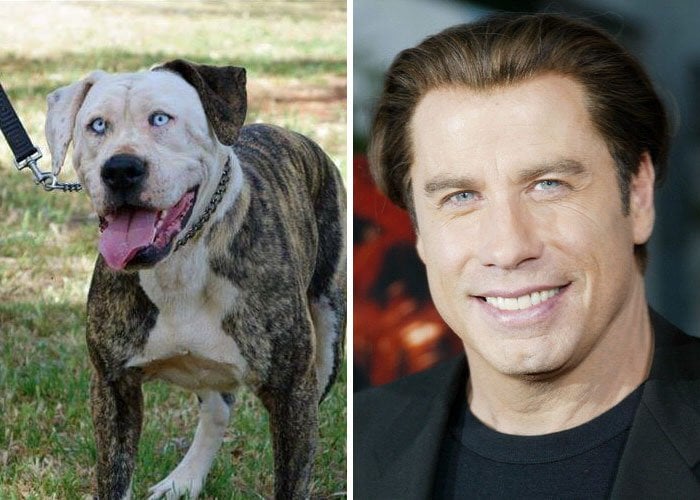 John Travolta- the man with the piercing blue eyes and handsome grin from the movies Greece unfortunately also resembles this strange-looking dog. Don't get me wrong, back in the day Travolta was a good-looking man, in fact, he was THE good-looking man, however, after seeing a photo of him now, next to this dog, one could say his looks have faded?
Travolta has always had those piercing eyes, it's definitely part of his charm, however, those eyes on a dog… more terrifying than charming, wouldn't you agree? Which leaves us asking, who resembles whom?
Nick Offerman

Nick Offerman Totally Looks Like Grumpy Cat
Animals That Totally Look Like Celebrities
Richard Branson
Sir Richard Charles Nicholas Branson is an English Businessman, Billionaire and most known for founding the Virgin group. His success is undeniable, and do you know what is also undeniable? His resemblance to this dog. Branson, a white-haired, blue-eyed, older gentleman looks perfectly fine for his age, however, has no changed his hair-style for 30 years, and well this dog has the same hair-style.
Granted this dog is not the most aesthetically pleasing looking animal and this comparison is rather mean, however, the two do look remarkably similar…
Prince
The fella on the left won the fancy dress competition at Visions Festival Dog Show in London last year. Little guy, U Got The Look.
Animals That Totally Look Like Celebrities
William H. Macy
Willaim H. Macy Jr. is an American actor, who has mostly stared in independent films and is probably most known for his role as Frank Gallagher in the hit show Shameless.
Frank Gallagher is a washed-up crook who is incredibly endearing and loveable and the same can be said for the dog has Macy resembles, I mean look at those puppy-dog eyes. I think that it is fair to say that this dog is as loveable as Frank Gallagher.
William H. Macy
Andi Dick
And what about andy dick, wouldn't you agree that the comedian looks like a sheep in desperate need of a haircut?
Animals That Totally Look Like Celebrities
Ron Perlman

Ron Perman is an American actor and voice actor who has appeared in countless plays and movies and is probably most known for starring in the movie 'Hell-boy'. His beard and hair, combined with his kind eyes make him a perfect doppelganger for this sweet-looking puppy.
Clint Eastwood

What can we say about clint eastwood, the resemblance with this monkey is uncanny!
Animals That Totally Look Like Celebrities
Adolf Hitler
Now, this is probably in bad taste… but… this cat looks exactly like Hitler and it is simultaneously hysterical and terrifying. The name 'Snowball the Kitler-cat' is fitting that's for sure! There's no need to introduce Hitler, because frankly if you don't know who he was you should leave this post and go and read a history book.
It is a shame that this cat (who I'm sure is innocent) looks exactly like this fascist dictator but even Hitler's iconic mustache seems to appear on our new little feline friend and itis fair to say it's really funny. Poor Kitty cat.
Danny Devito

Who doesn't love pandas? And who doesn't love danny devito? There you have it!
Animals That Totally Look Like Celebrities
Donald Trump
Donald Trump, The President of the United States, an introduction is not necessary but we will give it anyway. The man with the funny hair, the orange skin and well.. the poor choice of words. There are numerous memes about him, however, I think that we have found the best one yet! So this animal is a comparison to THE Donald's hair… but it is his most well-known feature… or most made fun of.
The animal is a caterpillar, although I have never seen one that looks like this before that's is for sure but it does, however, seem to perfectly resemble the President's hair… which to me personally looks like a toupe but that' s a whole other debate.
Gary Busey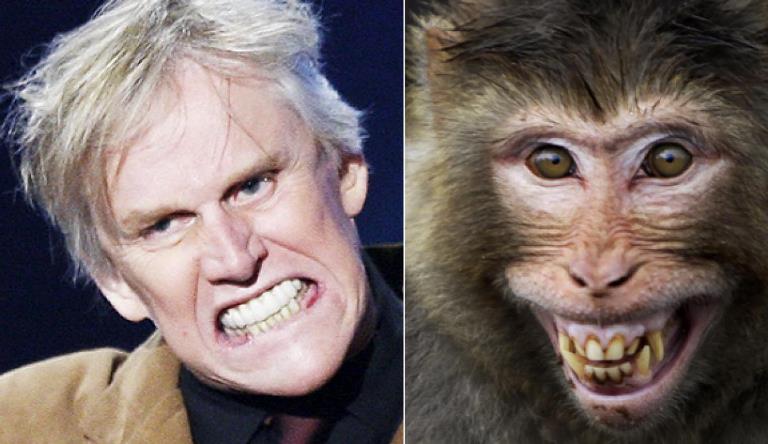 I don't think words are required here: gary busey, crazy monkey!
Animals That Totally Look Like Celebrities
Adrienne Brody
The Lesula Monkey looks like Adrienne Brody, there no doubting it.
Actor and producer Adrienne Brody is an academy award winner and has starred in numerous movies and T.V. shows such as the Pianist and Peaky Blinders.
The Lesula Monkey is native to the Congo, unlike Brody who is a native of New York. However, in spite of their geographical differences, the physical similarities of their faces are uncanny such as their long noses and the pondering look!
Ice Cube
Both Ice Cube and this puppy have an intense look
Animals That Totally Look Like Celebrities
Harrison Ford
Harrison Ford (Indiana Jones) Ford is an American actor, writer, and film producer. He gained worldwide fame for his starring roles as Han Solo in the Star Wars film series. He's endearing, kind looking and just a stand-up guy, so it makes sense that he resembles this kind-looking, typical Golden Retriever, known for their loyalty.
Fun fact: Golden retrievers were named retriever because were named 'retriever' because of their ability to retrieve shot game undamaged soft mouths.
Justin Timberlake

What about Justin Timberlake without the noodles and his boy band locks?
Animals That Totally Look Like Celebrities
Maddona

The Queen of Pop Maddona is famous for her outlandish outfit choices, risque performances and well too often spreading of her long legs. Therefore it comes as no surprise that we have decided that this long-legged frog is Madonna's animal doppelganger. Okay so she doesn't actually look like a frog, however, this position is very common for Madonna, especially whilst performing on stage, and so we thought it would be abt to draw the unique comparison.
Fun fact: Madonna's real name is Louise Veronica
Jack Black

Jack Black has a moggy doppelganger with this kitty
Animals That Totally Look Like Celebrities
Peyton Manning
Peyton Williams Manning is a former American football quarterback who played 18 seasons in the National Football League, primarily with the Indianapolis Colts. He's not exactly the worlds most known celeb… but in the football world, he's a pretty big deal. And do you know what is also a pretty big deal? Peyton's remarkable and uncanny resemblance to this cute little sad puppy.
We all know that in sports you win some and you lose some, but for professional athletes losing can be soul-crushing. Therefore, Petyon, whilst losing with colts during a pretty game definitely rembled this big-eyed, sad-faced dog.
Animals That Totally Look Like Celebrities
Kim Kardashian West
We ALL know who Kim K is, she and her famous sisters are everywhere, from magazines to the modeling and make-up world and let us not forget her husband is the out-spoken Kanye West. The media have been known to criticize Kim's outlandish fashion and her nude selfies, however, the media was never crueler during the times that Kim has been pregnant.
Kim definitely did not know how to dress her bump in more ways than one, but it was this particular ensemble that had anyone and everyone comparing her to a Black and White Whale. We are not body-shaming her at all, but this was a terrible outfit choice, a terrible angle but an incredible resemblance to this water creature.
The Dali Lama
Well, they both have the lama thing going for them, but they also have a sunny demeanor and look alike too.
Animals That Totally Look Like Celebrities
Leonardo DiCaprio

Award-winning actor Leonardo DiCaprio is an American actor and film producer. DiCaprio began his career by appearing in television commercials in the late 1980s. Leo is notorious for dating models, actresses, blondes, well he is just a famous bachelor. He cheeky grin, golden locks, and remarkable acting skills have made him one of the highest paid actors in Hollywood and quite rightly so. He is known for his smile and always has a spring in his step, which is why this strutting Kitty looks exactly like our beloved Leo.
The confidence of both Leo and the Cat are remarkably similar!
Salvador Dali

This cat looks a lot happier and a lot less weird looking than Salvador Dali but we see the likeness.
Animals That Totally Look Like Celebrities
Adam Driver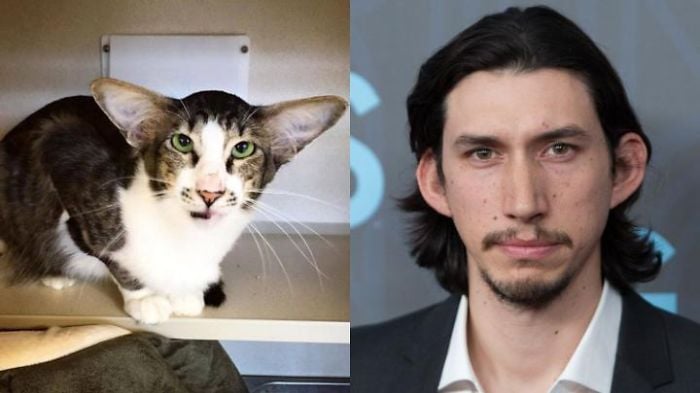 Adam Douglas Driver is an American actor. He rose to prominence in the supporting role of Adam Sackler in the HBO comedy-drama series Girls, for which he received three consecutive nominations for the Primetime Emmy Award for Outstanding Supporting Actor in a Comedy Series. Driver often has female audiences divided over his appearance, as his rugged charm and looks are not for everyone. However let us tell you what is for everyone,
the resemblance between Adam and this black and white kitty is undeniable and anyone who disagrees is just wrong!
From the large stand-out ears to the green eyes, there is no denying that Adam Driver and this Cat are long-lost siblings.
Animals That Totally Look Like Celebrities
Rihanna

RiRi, the Queen, the sexy and beautiful Barbados Babe! Rihanna is known for her curvaceous figure, sexy accent, and epic vocals. However, like many of the celebrities on this list has been known to rock some crazy outfits and some even crazier hair-styles… she may be able to get away with it far easier than some people. And so the animal that we believe Rihanna looks the most like is definitely this most definitely this Alpaca. Obviously, Rihanna's somewhat questionable hair-style has led us to come up with this conclusion, but we also have to note how beautiful this Alpaca is.
From its large brown eyes to its beautiful bone-structure we don't even think that this comparison is insulting.
Animals That Totally Look Like Celebrities
Miley Cyrus

Disney Star, Marijuana Advocate, Pop sensation and Tongue Wagger! There are all titles that fit Miley Cyrus. Although Cyrus has calmed down considerably since here 2014 VMA antics pictures do last forever and that is why we have decided that this photo of Miley from 2014 looks exactly like this long-tounged Giraffe.
Animals That Totally Look Like Celebrities
Cher

Cher is an American singer and actress. Commonly referred to by the media as the Goddess of Pop, she has been described as embodying female autonomy in a male-dominated industry. Cher is undoubtedly an Icon and at the age of 72 in our opinion looks better than ever. However, this is an old picture of Cher, when her hair was ridiculous and her costumes were barely there.
The singer has had Curls, mullets, wigs and great long extensions, and this poor hair choice is what led us to compare her with the Sea Urchin.
Animals That Totally Look Like Celebrities
Lady Gaga
Stefani Joanne Angelina Germanotta, known professionally as Lady Gaga, is an American singer, songwriter, and actress. Again, like Cher, Gaga has been known for her outlandish costumes and her previously ever-changing hair. Although Gaga, like Cyrus, has tamed her look back considerably is rocking the old-Hollywood glamour look she, unfortunately, made some questionable fashion decision.
Unfortunately, this picture of Gaga is not only unflattering, but she looks simultaneously dirty, miserable and cold, which is exactly how we would describe this dog, who looks more like a naked mole rat than anything else.
Animals That Totally Look Like Celebrities
Albert Einstein

German-born physicist Einstein developed the special and general theories of relativity and won the Nobel Prize for Physics in 1921 for his explanation of the photoelectric effect. Einstein is generally considered the most influential physicist of the 20th century.
He was often pictured with his tongue out, which is why this grey old cat is the perfect match for this German Physicist.
Animals That Totally Look Like Celebrities
Julia Roberts

Julia Fiona Roberts is an American actress and producer. She became a Hollywood star after headlining the romantic comedy Pretty Woman, which grossed $464 million worldwide, she is also the aunt of young actress Emma Roberts, who rose to fame on the popular Nickelodeon T.V. show 'Unfabulous". In our opinion, Julia Roberts is not only one of the best actresses in Hollywood but she is also one of if not THE most naturally beautiful.
Her perfect lips that sit below her cupids bow, long golden locks and her gorgeous smile definitely make her a star. Therefore we have decided that his Dod looks exactly like Roberts, but we mean it in the nicest way possible of course.
Animals That Totally Look Like Celebrities
Nicky Minaj

Nicky Minaj- yes she chose that name… is a female rapper who came onto the scene with her famous song Superbase. She is known for her incredibly large backside… one to Rival Kim Kardashians and garishly colored hair.
She's pretty much had every hair color under the sun, which is why we have decided that she looks like a melon head with her green hair, leading us to compare her to his angry-looking cat with a melon on its head.
Animals That Totally Look Like Celebrities
Rowan Atkinson

Rowan Atkinson, famously known as 'Mr. Bean' can often look creepy when he opens his eyes as big as he does when portraying this character.
Fun Fact: The eyes of an owl are not true "eyeballs." Their tube-shaped eyes are completely immobile, providing a binocular vision which fully focuses on their prey and boosts depth perception.
Owls can rotate their necks 270 degrees
Animals That Totally Look Like Celebrities
Eric Stonestreet

Eric Allen Stonestreet is an American actor and comedian. He is best known for portraying Cameron Tucker in the ABC mockumentary sitcom Modern Family, for which he received two Emmy Awards for Outstanding Supporting Actor in a Comedy Series out of three nominations.
Stonestreet is loveable, cute and hysterically funny, which is exactly how we would describe this dog, I mean look at his face!
Animals That Totally Look Like Celebrities
Vladimir Putin
President of Russia Vladimir Putin really needs no introduction, he is the President of Mother Russia… He runs an authoritarian regime and he allegedly helped Donald Trump come to power.

Fun Fact: Putin plays ice hockey and practices for hours in an ice rink outside town. Does he love that sport? We don't know! But we do know that ice hockey being Russia's national sport, playing it will gain sympathy points just as in case of Germans who happen to love soccer.
Moreover, there's no denying that Putin 100 % looks like this dog… poor, poor dog, what did he do to look like Putin? It's all in the eyes, they're full of secrets.
Animals That Totally Look Like Celebrities
Whoopi Goldberg
Comedian, Actress, and co-host of the view Whoopi Goldberg is outspoken, funny and for sure one of a kind. Now please do not take this next comparison as cultural appropriation, it's supposed to be funny… but Whoopies famous dreads look remarkably similar to those of this somewhat overgrown dog.
Animals That Totally Look Like Celebrities
Justin Bieber
Justin Bieber may be Married/ Getting Married (we're not sure) to Hailey Baldwin… but what we are 100 percent sure of is that he looks a lot like this dog with ridiculously arched eye-brows… Baby, Baby, Baby ooo NO!
Animals That Totally Look Like Celebrities
Taylor Lautner
Team Jacob or Team Edward? Because this Alpaca is definitely Team Jacob. Taylor Lautner, who played Jacob in Twilight was every 00's girls crush, his brooding manliness combined with his stunningly dark features had most girls head over heels. This Alpaca has a smoldering squint going on just like our favorite teen wolf and so it shouldn't really come as a surprise that Taylor's lookalike is this Alpaca.
Fun Fact: Much like llamas, alpacas are known to spit when they're annoyed with someone or angry with someone.
Animals That Totally Look Like Celebrities
Charlie Chaplain

Sir Charles Spencer Chaplin KBE was an English comic actor, filmmaker, and composer who rose to fame in the era of silent film. Chaplin became a worldwide icon through his screen persona "the Tramp" and is considered one of the most important figures in the history of the film industry.
Granted that most/ all pictures of Charlie are in Black and White that any Black and White cat we deduce that there is a remarkable similarity.
Animals That Totally Look Like Celebrities
Snooki
Nicole/ Snooki from Jersey Shore is famously small, round and orange, like a baby Orangutang some would say. Snooki's bouffant hair in this photo resembles various show-dogs but we think that this one, in particular, is Snooki's doppelganger.
Fun Fact: Snooki is A Published Author — Of Multiple Books! … I bet that makes you feel stupid doesn't it
[/two_third]